Exhibition 1: Canada Vs. Sweden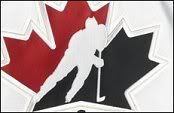 Team Quinn does exactly what the former NHL head coach always demanded from his team. An all out hard hitting war, and that's exactly what fans have gotten.

Victor Hedman is welcomed to the tournament after a huge hit by Dana Tyrell. Whoever said this Canadian team wasn't big and strong enough, take note – Canada is flying and smashing through anything and everything that gets in their way.
Canada gets a powerplay and Cody Hodgson and John Tavares go to work quickly as they make the game 1-0 after a patient play by Hodgson. The Vancouver draft pick grabbed the rebound off Ryan Ellis' low hard shot from the point, circled around the net, and threw it in front for a perfect tape to tape pass to Tavares waiting on the side – a sign of more things to come. As good as Tavares has looked so far, it could be Cody Hodgson who steals the show.
Speaking of Ryan Ellis, the team kept him around specifically for the man advantage situations, but he's quickly showed that he most definitely can play a solid shut down game in his own end. After Alex Pietrangelo decided to step in and send another yellow-jersey body to the ice, the Swedes came through the neutral zone with a 3-1. Ryan Ellis, the lone Canadian back to defend goaltender Dustin Tokarski, played his position perfectly and deflected the only pass provided on the play to break up the scoring opportunity. This kid could very well be the real deal.
The challenge for Canada's defense core was put to the test midway through the first and looked sluggish at times, but managed to stay solid in preventing a powerplay goal against. Keep in mind, it is the first game for this team in the tournament, and the chemistry will surely come.
***
Chemistry is everything, and the second period proved that it is most definitely there. Cody Hodgson and Zach Boychuk are clicking fast; John Tavares and… well, anyone is also clicking. Insert the puck carrying genius of Ryan Ellis who independently covered the entire blueline during Canada's powerplay in and you have a deadly line combination for the man advantage.
In the first period, Chris DiDomenico looked a bit out of place. He's a natural center playing the wing on a line with Angelo Esposito and initially Angelo seemed to be the better of the two. In the second period, Angelo was almost unnoticeable while Chris is getting more and more comfortable on the wing. DiDomenico plays on Canada's second PP unit, and showed strong signs of playmaking capabilities.
What is dangerous about this Canadian team is that they will only get better from here. With certain line combinations already showing "flashy signs of chemistry" (try saying that 3 times fast), Canada's "weak but finesse" team still provides that same edge that Canadian hockey is all about. Sweden is trying to equal their physical play, but their checks are receiving penalties for head shot, charges or late hits.
It is likely that Sweden's goal should not have counted based on IIHF rules where the play must be blown dead if the puck strikes the goaltender in the mask, but instead of trusting the officials to make the right call, half way netminder replacement Chet Pickard should have continued with the play until the whistle was blown. His defense needs to close off the shooting lane a bit better in future penalty kills. That being said, Oscar Mollar of team Sweden is no slouch in the scoring department.
***
Canada skates to a 4-2 victory over Victor Hedman and the Swedes, but team Canada cannot get too comfortable with their play. On a few occasions, their confidence in each other provided a few mistakes that the Swedes managed to capitalize on late in the third period, most notably the shorthanded goal by Victor Hedman. My only criticism on the play, despite the talent on behalf of Hedman and his incredible skating ability, is why P.K. Subban gave up on the play. Ryan Ellis played his part to take the shooter and try to eliminate the pass, while Subban appeared to make little attempt on the play. The play ultimately left Pickard out to dry and let Sweden get the final say in the game.
That being said, Pierre McGuire made a statement that Team Sweden was the co-favourite of the tournament. All I have to say is based on that outing, there doesn't seem to be that much similarity between the two teams, but Canada has yet to see Sweden's number one goalie. Not playing him was a win win for Sweden. If they won the game they could state "we won without our number 1 goalie", and if they lost, well "we didn't play our top goalie". Needless to say, the next meeting between these two will be one to tune in for.
Canada made clean hard hits, and in return the Swedes got checking from behind penalties and seem to enjoy leaving their feet on their hits. The glorified Victor Hedman, despite good speed and size, seemed easily shaken and intimidated after playing very few minutes in the first two periods, and even leaving the puck to protect himself thus allowing a breakaway goal by Jamie Benn. The only sign of true stardom on behalf of Hedman was in the last minute of the game, which adds more excitement to see how good this kid could be.
The injury to Dana Tyrell, if serious, could bring Evander Kane back into the World Juniors as all rosters do not have to be completely set by Christmas. As much as it would be a treat to add the Western Hockey League force that is Kane, it would be disappointing to losing the physical presence of Dana Tyrell. His hit on Hedman will be on the highlight reel for weeks to come.
Canada is all that we had hoped for, and I look forward to watching them progress as the tournament approaches. Their next game is Sunday night against Team Finland.
It's the most wonderful time of the year.
Micheal A. Aldred