Post-Game: Firesale? How 'bout a mini-sale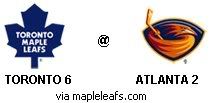 Ron Wilson appears to have assembled a winning combination up front. After an 8-5 beating at the hands of the Boston Bruins, Wilson re-united the line of Nik Antropov, Matt Stajan and Alexei Ponikarovsky atop the roster, kept in tact the dynamic third line of Jason Blake, Dominic Moore and Jeremy Williams and it's resulted in two dominating wins by a collective score of 13-5. For the first time since early October, the Leafs have surpassed the .500 mark at 14-13-6 after winning five of their last six.
To say the Stajan-centered top unit was superlative in tonight's 6-2 win over Atlanta would be an understatement. The trio combined for three of the Leafs' six goals, including a beauty of a tic-tac-toe finished off by Stajan. Their offensive-zone pressure was relentless and they possessed the puck for an estimated 90% of their time-on-ice. Stajan looked like a bona fide number one center as he performed perhaps his best ever game in a Leafs uni. Thrashers head coach John Anderson looked like he didn't know what just hit his team, although that look may be on permanent status as of October. The trio had three points a piece on the night and even managed to turn an empty net goal into a thing of beauty.
The Leafs' third-line looked similarly inspired as they caused problems for the Thrashers' maligned D with speed and finesse. Jeremy Williams sniped again to record his fifth goal in six call-up appearances. It's safe to say we can just about slash that call-up label. You can't say enough about his release and offensive bent around goal.
The Leafs' offense is firing on just about all cylinders at the moment. The lone exception I would make is for Lee Stempniak. Stempniak's been tried in every situation with a plethora of different line-mates but can't seem to find chemistry no matter where he plays. I guess the only option is to hope Stempniak comes around and establishes a connection somewhere in the line-up, but I certainly don't like to see Kulemin playing eight minutes on the fourth line while Stempniak provides a dead weight on the Leafs' second unit.
Onto Justin Pogge. The Leafs as a team did a tremendous job defensively in blocking shooting lanes and limiting the Thrashers' forwards to peripheral shots which made the night fairly easy on Pogge for the most part as he faced but 21 shots. The 22-year-old made his stamp on the game with a sensational toe-save in the second period. Otherwise, he was there when called upon and couldn't be blamed for either of the Thrashers' goals. He was very nonchalant for a youngster admittedly nervous before the game. It was an impressive debut performance and it should be interesting to see if he gets the call against Dallas tomorrow night in the ACC. I would think after this performance Wilson and Burke will want to see how he handles the next step, performing in front of a home crowd against a better team (although an underachieving one standings-wise).
Defensively, the Leafs have limited the opposition to but 41 shots over the past two outings.
It's games like these that make you truly realize that the Leafs are not a bottom three team by any stretch of the imagination. In fact, I don't think they're even bottom five.
The Leafs' success has been keyed by their now-seventh placed offense (just passed the Capitals). Repeat – seventh best offense. When you look at the forward core, it's by no means veteran heavy. The top performers up front have been Matty Stajan, Antropov, Poni, Grabovski, Williams and to a lesser extent Kulemin and Mitchell. This is not an offense that's being kept afloat by veterans that are on their last legs. When you hear talk of this roster being "blown-up" by Brian Burke, I can only wonder what there is exactly to blow up? Stajan, Ponikarovsky and Antropov have proven the real deal sans Sundin and are just entering the prime of their careers. Williams has the potential of becoming a top six sniper from the looks of it and Grabovski has also shown promise. There is definitely a need to peddle one of Kubina or Kaberle (and possibly Toskala) in order to pick up an additional first-rounder so that Brian Burke can locate a couple of top six forwards via the draft. A pair of skilled forwards are what this team lacks. I'm not sure if the need to re-build goes too much further than that. To move future components such as Stajan, Antropov and Poni as has been suggested seems like backwards thinking.
But maybe it's the win talking.