D'Amigo Officially Signs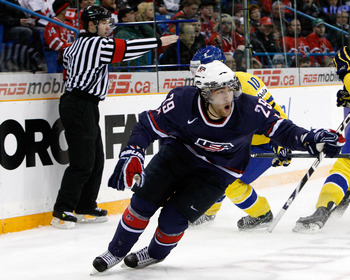 It's been rumored for a few days now, but on Wednesday afternoon, prospect Jerry D'Amigo has finally put pen to paper to sign a 3 year entry-level contract with the Maple Leafs. This signing certainly comes as a surprise as D'Amigo was originally expected to complete a full four year commitment with RPI before turning pro. After a fantastic '09-'10 season that saw him produce a near point-a-game campaign en route to ECAC Rookie of the Year honours, he rocketed up the team's depth charts and could find himself in a position to earn a roster spot as early as this fall. Like Tyler Bozak last season, D'Amigo will have two overriding motivations in joining the Maple Leafs.
One, the money is pretty good: The Toronto Star's Damien Cox explains that Jerry will earn a "max contract". Update: D'Amigo's maximum cap hit if he hits all his bonuses would be $1.125 million. Two, there is opportunity: the team's forward outlook is still in flux and D'Amigo will be given every opportunity to compete for a full-time job at camp. Cox explains that the organization was willing to give D'Amigo a maximum contract because they feel that if the 2009 draft were redone, Jerry would find himself going in the bottom third of the first round. It'll be interesting to see how the club will attempt to fit D'Amigo into their financial picture if he is indeed deemed NHL ready to start the season.
Tags: Damien Cox, Jerry D'Amigo, National Hockey League, NHL, the Toronto Star, Toronto Maple Leafs, Toronto Star, Tyler Bozak, USD Print article