Alec Brownscombe
Just received an update from a source. Nothing concrete, as pretty much all rumours concerning Brian Burke's potential moves are speculative at this point. However, a few interesting tidbits were mentioned.
Anton Stralman has been sent down to the Marlies presumably to accommodate the return of Jonas Frogren off the injury reserve come Tuesday against New Jersey (or possibly because he was sitting the press box & not playing). In keeping with the "if you come to play you stay" mantra that Ron Wilson has been preaching, Jaime Sifers' run with the big club has been extended.
Stralman was outwardly displeased last time he was demoted to the AHL, which makes one a little uneasy about his potential reaction this time around. Due to waiver restrictions, it was going to have to be one of Sifers or Stralman, and there's no doubt Sifers is deserving of an extended stay with the big club based on his performance so far.
"Jeff Jackson, General Manager of the Toronto Marlies, announced today that the club has signed defenceman Joe Ryan to a professional try-out contract. In keeping with club policy, terms of the contract were not disclosed.
Ryan, 21, is in his first professional season with the Cincinnati Cyclones of the ECHL. In 20 games this season with the Cyclones, he's collected seven points (one goal, six assists) and 31 penalty minutes. The 6'1, 204-pound defenceman ranks second (tie) on the club's defence with six assists."
-Toronto Marlies.com [more…]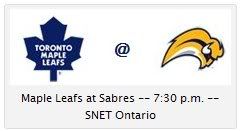 Williams & White score to rally Leafs to 2-1 win at the HSBC
The Maple Leafs escaped from the House of Pain with two points tonight and, better yet, their two call-ups were superlative in the process. Jeremy Williams sniped his second in as many games from the half boards to even the game at ones late in the second frame before Ian White beat Ryan Miller with a seeing eye double to give the Leafs the edge in the third. Fellow call-up Jaime Sifers was a physical force on the blue-line, throwing a team-leading three hits and finishing second only to Jeff Finger in terms of ice-time (a resounding 21 minutes including 5 minutes of short-handed time). Sifers played a role in a critical penalty kill in the late stages.
Be sure to check out Scot Louck's post-game thoughts below.
First of six meetings between Leafs & Sabres this season
The Maple Leafs renew acquaintances with their northeast rival Buffalo Sabres at the HBSC tonight, a building home to both some chilling and some rosy Leaf memories, from the Bryan McCabe own goal and other monumental Leaf collapses to some pretty all-around satisfying Ws.
[more…]
After enjoying his much-deserved holiday, Cliff Fletcher will sit down with Brian Burke in early January to structure his new role within the organization as per the man himself. It is expected he'll assume a role in the senior adviser capacity.
The passing of Pit Martin this past weekend prompted me to look up his hometown, which was reported as Rouyn-Noranda, Quebec, a town I most closely associated with my favourite Maple Leaf of all time, Dave Keon.
You couldn't help but feel the Southwest Coast whammy was afflicting the Maple Leafs once again as Alexander Frolov streaked in alone and beat Vesa Toskala less than a minute into the three game road spread.
[more…]
Brian Burke's exact intentions with the Toronto Maple Leafs will be the source of much speculation likely until after the Christmas season, but there may just be one tweak made in shorter order: locating a genuine heavyweight pugilist as a bottom six "hardhat" in his roster.
Lee Stempniak appears to be another high-cost, low-profile acquisition for Trader Cliff, who has developed a penchant for paying whatever-it-takes to land players that he feels are underrated and on the brink of a breakout.
November 20, 1974
Toronto's Dave Keon played in his 1,000th career NHL game, and scored his fifth career hat trick, as the Maple Leafs lost [more…]