Blue Chip Prospects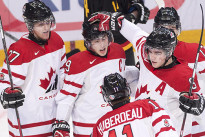 Welcome back, fellow lunatics!
After giving the Russians a run for their money on Wednesday, the Slovakian Juniors will probably being feeling pretty good about [more…]
Good morning, ladies and gents!
Playing the World Juniors in Russia presents an interesting dilemma for hockey die-hards in Canada: wake up early or stay [more…]
Welcome back, Josh Leivo.
After missing time with a concussion, Leivo returned to the Sudbury Wolves lineup last week and he did so with a vengeance.  The Wolves had 3 games in 3 nights this weekend and Leivo put up 2 goals and 5 assists.  Leivo now has 34 points in 29 games on a pretty weak Sudbury team. [more…]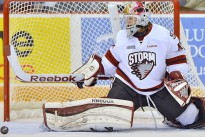 With World Junior selection camps getting under way this week, a handful of Leafs prospects will be leaving their CHL teams to join up with their national all-star teams. Â If you'd like a quick breakdown on the Leafs prospects who will be involved in the World Junior Championships, here's a short post I put together over at Pension Plan Puppets. Â This natural break in the schedule seems like as good a time as any to check in with where our kids are sitting among their peers at this stage of the season. [more…]
This is it, folks! Â Morgan Rielly skating in WHL regular season action against one of the better teams in the league on national television.
Many [more…]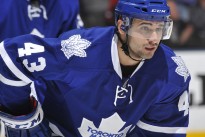 A slow start to the AHL year was probably the last thing Nazem Kadri needed.
Kadri is the most polarizing Leafs prospect in recent memory [more…]
For most of the Leafs CHL prospects, this was a pretty lacklustre week.
Tyler Biggs picked up a pair of assists in Friday's game but [more…]
Forget all that I've said about Tyler Biggs to date because he's decided that he's a completely different player. Â It's almost as though he read [more…]
Brought to you by Blue Chip Prospects
With Sportsnet televising Tyler Biggs' Friday night showdown with Matt Finn (also: Garret Sparks will likely man the pipes for Guelph), I thought it would be a great opportunity for me to share some things that I've noticed about the two Leafs prospects in the early stages of the year. Â Think of these points as some things to watch for or consider while taking in the game -- I'd love to hear where you agree, disagree, or if you'd just like to talk things out. [more…]
Brought to you by Blue Chip Prospects
Really exciting night for Leafs fans on a day that was otherwise full of depressing lockout news. [more…]
Brought to you by Blue Chip Prospects
Strong statistical night for Leafs prospects on Wednesday as both Biggs and Percy put up a pair of points while Rielly and Brown each managed a goal of their own. [more…]