Brian Huddle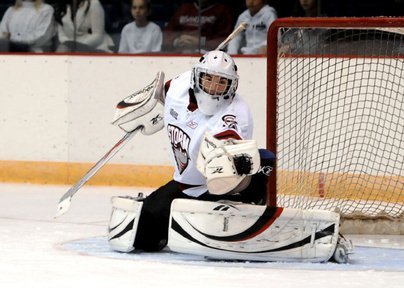 A big (6'2, 205lb) technical goaltender for the Allaire System, Sparks played 19 games this past season for the Guelph Storm. Posting a .890 Save [more…]
Day 1 is done, and the Leafs have walked away with two prospects to add to a growing cupboard of young up-and-comers. Though that elusive number one centre has yet to be added via trade, talent has been added to the organization long term, and that's never a bad thing.
What I enjoyed seeing last night; both kids in blue and white grew up members of Leafs Nation. Maybe, possibly, one or both might have read this site at one point. But that opportunity to bleed for the team you grew up idolizing is such a huge thing, and an attribute Burke clearly values, as both kids should push hard for opportunities over the next few years.
In Tyler Biggs, Burke brought in a player to play his smash mouth brand of hockey with some offensive upside. At 6'2 and 210 lbs, Biggs is physically mature and when combined with his long stride, mobile and balanced skating, Biggs is a hard kid to get off the puck. Physically, he hits like a train, and will leave a lot of damage in his path; he's got fan favourite potential written all over him. There were some names on the draft board with more offensive upside and projection, but this is what one would expect of Burke with a late round pick; find someone that fits the tough-to-play-against team identity and has a good shot at contributing at the NHL level. [more…]
Not only our present, but our future will be shaped over the next two weeks. Both free agency and the NHL Entry Draft are quickly approaching, and the Leafs figure to be highly active at both.
The Maple Leafs, under General Manager, Brian Burke, have built a deep system of prospects which boasts the likes of Nazem Kadri, Joe Colborne and Jesse Blacker, to highlight a few. Most experts who have been consulted on the issue believe it to stack up anywhere between tenth and thirteenth in the National Hockey League as far as prospect stables go, and it should continue to grow this Friday. [more…]
NHL Prospect writer Brian Huddle of Hockeybuzz.com and FutureConsiderations.ca stops by MLHS to provide a look at what the Leafs' future might hold:
The rebuild 'officially' began June 20th, 2008.
"The Toronto Maple Leafs are proud to select, with their first pick in this year's draft, from the Kelowna Rockets – Luke Schenn."
We've all heard those words, and likely relived that moment on Youtube. Mike Penny and his staff were all too happy to pick their future defensive stud. It was a moment that would tell the hockey world exactly what the Maple Leafs were going to be; big, tough and physical. No more pushing us over. [more…]