Clayton Hansler
Toronto has not seen a Providence Bruin since the team last visited on March 4th, 2009. But as rumours of Tomas Kaberle's trade to Boston slowly turned to fact, the Rhode Island AHL club certainly received a spike in their traffic from North of the border.
Brian Burke, President and General Manager of the Toronto Maple Leafs, announced Friday that the Toronto Maple Leafs had acquired former first-round pick Joe Colborne along with a first round selection in the upcoming draft as well as a conditional 2012 second round pick. Colborne, hailing from Calgary, Alberta, has spent 55 games of his very first professional season working with the Providence Bruins, AHL affiliate to the NHL's Boston team of the same name. [more…]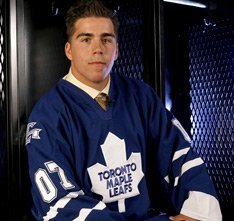 On Tuesday it was announced Ryan Hamilton will miss 4-6 weeks with a knee injury. And so it starts… again.
Devastated by injuries and call-ups last season, the Marlies failed to make the playoffs for only the second time since the AHL club returned to Toronto. 425 man games lost. That equates to a 5.3 players sitting out each and every game of a 80 game season - so let's say, five and a backup goaltender.
Already this season the Marlies have seen talented forwards Christian Hanson and Luca Caputi get the call up to the show, as well as physical defenceman Korbinian Holzer. Ryan Hamilton joins Simon Gysbers and Danny Richmond in the press box, all suffering from separate ailments. All this is on top of Jay Rosehill, Alex Foster and James Reimer who had already spent time on the day-to-day list.
It is by no means the end of his career, strictly the next step.
On Monday, Nazem Kadri, 7th overall selection in the 2009 draft, was assigned to the Toronto Marlies. The player in whom a whole city had welcomed, became enamoured with and inked into their own starting lineup will not appear at ACC at all… at least not yet. It will prove to be a powerful lesson for the 19 year old, if not the whole city of Toronto; the Toronto Maple Leafs are about winning hockey games, not necessarily selling tickets.
"Being a kid growing up just outside Toronto, you always want to play for your team you watched growing up, and Toronto's my team."
It was one of the last things Andrew Engelage said after a lengthy discussion at the Ricoh Coliseum, but it definitely resonated the loudest.
There's nothing quite like the story of the home-grown athlete. Everyone likes asking Oakville's John Mitchell what it's like to put on the Leafs sweater every day, or trying to find some way to relate to Jesse Blacker's being drafted by his local club. But when adversity is thrown into the mix, when a player has to go through some degree of hardship to make it to not only the level he wants to be, but for the team he wants to play for, that's when a story becomes a best seller.
It was no less than two months ago that I was pondering this same question, that of captaincy, and examining the same factors. Thinking of all the tangibles – speed, talent and scoring – along with attributes that are harder to judge – the ability to command the respect of the team, lead with strength of character and handle the Toronto media through success and failure. The lone difference is that last time, it was the Leafs.
It's not every day the Maple Leafs name a new captain. In fact, it's not every decade. Sundin was named in 1997, 13 years prior to the Leafs appointment of Phaneuf. And with the announcement being made in front of a room of roughly 100 media personnel, the message was relayed to the world using every different angle imaginable.
Instead of weighing the pros and cons, balancing the collective good choices of Burke and Wilson against the bad, MLHS is going to bring you into the event. Thousands of writers have provided their opinion but little time has been spent enabling the reader to form their own. So please, if you will, grab your notepad and follow us past the security and the media media check-in, and into the press conference that will see Dion Phaneuf named the 18th captain of the Toronto Maple Leafs. [more…]
Whitby born, Ryan Hamilton has signed a 1-year, 2-way deal worth $500k (at NHL level) with the Toronto Maple Leafs. Hamilton, who came to the Leafs organization in a trade with the NHL Wild (AHL Aeros) during the 08/09 season, was scheduled to test the free agent market if unable to resign with Toronto.
Though he finished the season leading the team in goals and among the top-five in assists, Hamilton's contribution to the Toronto AHL club is far deeper than what can be recorded on score card. [more…]
Date of Birth: April 19, 1991
Hometown: Toronto, ON
Height: 6'2" | Weight: 190lbs | Shoots: Right
Drafted: Toronto's 3rd Choice, 58th Overall, in 2009
Price Tag: AHL $67,500Â | NHL $640,000
Signed Through: 2013
Career Notes:
Won the Memorial Cup with the Windsor Spitfires in 2009
Lead all Owen Sound defensemen during 09/10 in goals (6), assists (24) and points (30)
Made his AHL debut on March 20th 2010 vs. Hamilton
Registered one assist and a plus-two rating in first AHL appearance
Is it just me, or has the hockey season passed us by far quicker than usual? It seems like I just finished making arrangements for the home opener against Hamilton (which, might I add was a win) and here I am already looking back at the season that was.
It was an absolute blur of call-ups and injuries. The bright young stars that comprised the frat-pack line (Tyler Bozak, Christian Hanson and Viktor Stalberg) all found their way up to the Leafs. Carl Gunnarsson, the player I was most keen on going into the season, left the Marlies early on for the big club and never looked back. [more…]
I really had so many options with this title. With all the Anaheim prospects on Toronto, I thought of calling it "Duck, Duck, Duck, Moose!" With many players returning from injury, I pondered using "I've got 99 Problems, but a Stitch Ain't One." But really, being five points out with five games remaining, the Marlies truly are on a wild Moose chase.
As it stands now, the Marlies will have to win all of their final five games to have a hope of extending the season past April 12th. The two most important of these will need to come this weekend as Toronto faces Manitoba, the current occupant of the 4th and final spot. [more…]
#NHLAnagrams have been a big thing on twitter over the past week, and what a riot we've had. Some of the creations have been strictly comical (Daniel Alfredsson = An Idle Ass Fondler), some have been ridiculous (Brian Burke = Urban Biker) and others have fit so perfectly, you would think that it was by some magical force that their name and anagram had come to be (Zdeno Chara = A Hazard Cone, Vesa Toskala = aka Lost).
With the Toronto Marlies seven points back with 12 games to go, I'm torn as to my thoughts of the post-season and based on the Marlies' anagram, Realism Torn Too. [more…]
Naz Tracker. Kadri Nation. Kaptain Kadri...
... Kadri, Kadri, Kadri!
Who would have guessed that with all the attention surrounding the Leafs 2009 1st round pick, it would actually be the Toronto kid selected in the 2nd round that would be first to string some games together on a pro club. Though not officially announced, Jesse Blacker has left the OHL and joined the Toronto Marlies for the remainder of the season.