Declan Kerin
John Tavares has the last-place New York Islanders surging. He's also on the verge of the team's longest scoring streak in 12 years.
The third-year centre will try to lead the Islanders to a season-high fourth straight win when they visit the Toronto Maple Leafs on Monday night to open a home-and-home set.
Tavares has eight goals and 13 assists during a career-high 12-game point streak, while the Islanders (19-21-6) have gone 8-4-0 in those contests. He had just four points over his previous nine games and New York went 2-6-1.
Now Tavares is on the brink of becoming the first Islander to go 13 consecutive games with a point since Mariusz Czerkawski from Jan. 22-Feb. 19, 2000. [more…]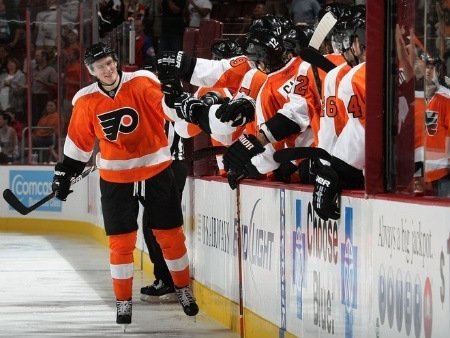 Brian Burke's radio interview on Wednesday seemed to speak volumes about what he was looking for and what he was willing to part with to improve the Leafs. It's no secret that the main parts of any potential deal with the Flyers, if it were to happen, would be Luke Schenn and the highly skilled and big bodied James van Riemsdyk. The merits of Schenn and his contributions to the Toronto Maple Leafs are great, but if you want a great player, you have to move another one, unless you're dealing with Darryl Sutter.
What exactly do we get with James van Riemsdyk? Well, Gus Katsaros was kind enough to provide us with the full scouting report on JVR and it is tantalizing to say the least. [more…]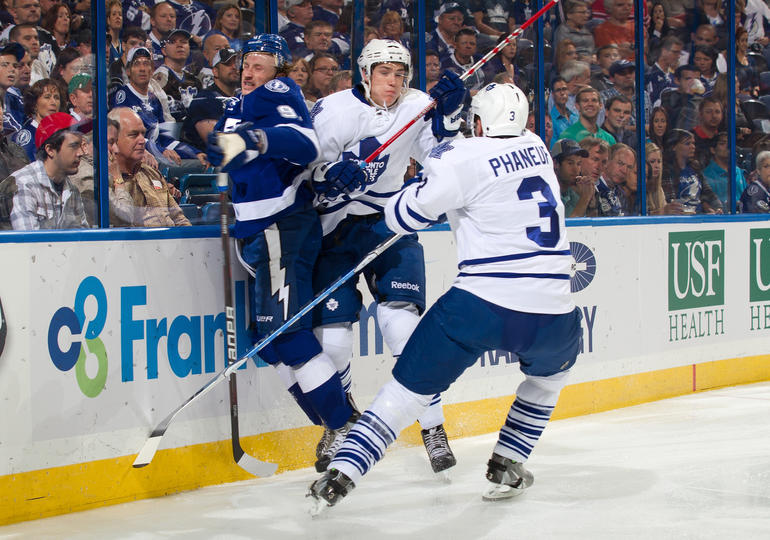 The Toronto Maple Leafs and their penalty kill get set to take on the Tampa Bay Lighting tonight. It's the start of a long January home stand which sees the Leafs try and turn around a slide that has taken them from 6th to 10th in only 3 games. Poor discipline and one of the worst penalty kills the NHL has seen in recent history have lost Toronto 3 games they could of—and should have won.
Jonas Gustavsson gets the start in goal, and hopes to continue his play that saw him getting in a good groove before he was sat in favour of a struggling James Reimer. He probably should have started in Winnipeg, but curious coaching decisions are curious coaching decisions. [more…]
The Tampa Bay Lightning look to rebound from their first home loss in more than a month Tuesday night when they face a Toronto Maple Leafs team that hasn't scored in its last two visits to the St. Pete Times Forum.
Toronto has been stumbling of late and have be decimated by 7 injuries to their regular line-up. Good news on that front—James Reimer is expected to return later this week (reported elsewhere, not in that article) and Clarke McArthur is dressed to play against the Lighting.
The Tampa Bay Lightning have been red-hot at home this season with a 6-2-0 record and the Leafs have been mediocre on the road with a 5-5-0 and have a 4-5-1 record in their last 10 games.
Phil Kessel will look to distance himself from the rest of the pack in the scoring and points race tonight. He has 4 goals, 2 assists in the last 5 games. After a slow start (for him), Steve Stamkos has started to find his touch around the net and has 5 points in his last 5 games. [more…]
It feels good, doesn't it? The Toronto Maple Leafs were certainly outplayed by the Columbus Blue Jackets for a good portion of the game and their specialty teams are still holding the team back, but the standings don't lie - the team is winning consistently at the end of the day. Toronto's team is a fast, high-powered, offensive juggernaut that has made the NHL stand up and take notice (their 45 goals put them 2nd in the league next to Philly). That isn't going to go away from what we have seen from them so far in the early season.
Enter: Ben Scrivens
Scrivens has lived up to the promise that the Toronto Maple Leafs front office and coaching staff have seen in him since they picked him up as an undrafted free agent. Scrivens plays a Francois Allaire style that has made his transition from College, to the ECHL, to the AHL—and now the NHL, a natural progression. His style is reminiscent of that of James Reimer; while not having the same size advantage as the other Toronto Maple Leafs goaltenders, Scrivens is positionally sound, economical and has a reasonable amount of athleticism. He played pretty much a perfect game, much more than you'd expect from someone making his first NHL start. Kudos to the coaching staff for starting him in such an enviable position. On the road, against the worst team in the league, after a win. After that, it was all Scrivens. [more…]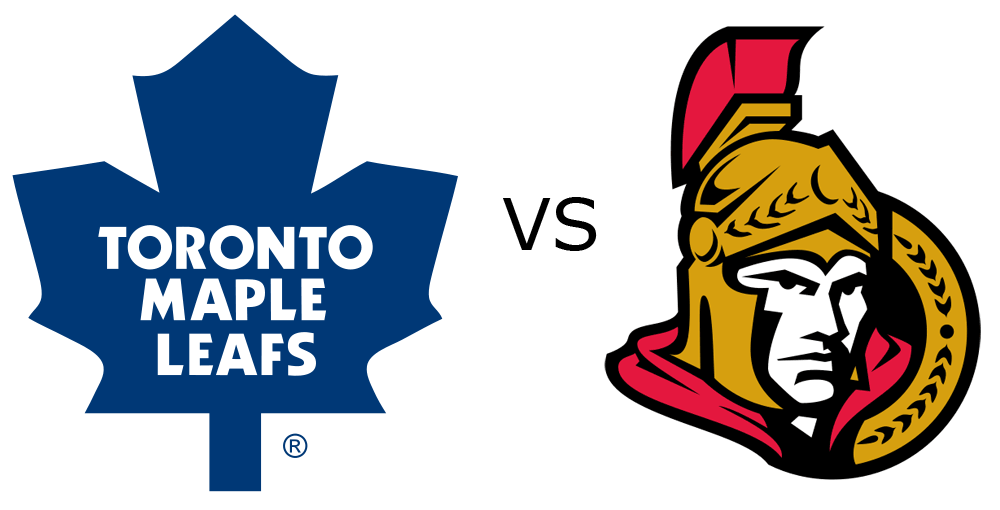 MAPLE LEAFS (7-2-1)
at SENATORS (6-5-0)
TV: SNET-Ontario, SNET-East, TVA
LAST 10: Toronto 7-2-1, Ottawa 5-5-0
Kessel: 16pts in 12 games versus Senators.
The Battle of Ontario resumes tonight with the second matchup in a six-game series between the two clubs this season. The Toronto Maple Leafs, by many accounts, are the best team in the Eastern Conference right now and it's not unreasonable to say, possibly the entire league. After convincingly outplaying and beating perennial Stanley Cup contenders, the Pittsburgh Penguins, 4-3 Saturday night, Toronto's team looks to be figuring out who they are and how they play. There was a palpable buzz in the City of Toronto after last night's win—a demonstration that they can run with any team in the league. Toronto is starting to win all types of games, but what they're showing in a general sense is that  they can force teams to play their fast, chance-for-chance brand of game, one which allows their now-potent offense to make the difference. Also encouraging is Toronto's ability to quickly bounce back after conceding. [more…]
The Toronto Maple Leafs face-off against the New York Rangers in what seems like an impossible home opener—impossible in the sense that we are 3 weeks into the season and all of New York's games have been on the road thus far. Having started off their season in Europe, New York returns home to their newly renovated arena, the hollowed Madison Square Garden. Their season has started off very poorly, but they had a hard fought win over Winnipeg their last game and are looking to harness some momentum going into their home opener.
New York Rangers 2011/2012 record
Fri Oct 7, 2011, (Stockholm, SE) NYR (2) - LAK (3) OT
Sat Oct 8, 2011 (Stockholm, SE) NYR (1) - ANA (2) SO
Sat Oct 15, 2011 NYR (2) - NYI (4)
Tue Oct 18, 2011 NYR (4) - VAN (0)
Thu Oct 20, 2011 NYR (3) - CGY (2) OT
Sat Oct 22, 2011 NYR (0) - EDM (2)
Mon Oct 24, 2011 NYR (2) - WPG (1)
New York has been leaning on their start goaltender, Henrik Lundqvist, and have had a dreadful time trying to generate any offense. At last count, Phil Kessel was only 3 goals behind their entire team in scoring this season. That says a lot about both Kessel's season and New York's. [more…]
The Toronto Maple Leafs met their first serious opponent this season, facing the defending champions, the Boston Bruins, last night at TD Garden. It was a wake-up call for the Leafs, who have mostly faced non-playoff teams as opponents and have received out worldly performances from Phil Kessel to save the game for them, game-after-game. Toronto has had glaring issues with their specialty teams, and even their 5-on-5 play, that has to be raising big concern for the players and coaches involved despite a 4-1-1 start. Facing the Boston Bruins brought this team back to earth and revealed a number of areas in need of work, merely covered up by Phil Kessel's dominance in the four games preceding last night's tilt.
It's not inconceivable that the Leafs would have had a 1-4 or 2-3 record going into the game against Boston if not for their offensive leader's best streak in a Leafs sweater. This team has not clicked as a unit from game one and it finally caught up with them in the form of an embarrassing 6-2 loss. There was very little to like about Toronto's game and, as has become tradition, Toronto's stacked defence core largely underperformed. [more…]
Two of the youngest teams in the NHL are set to face-off against each other tonight for Toronto's 2nd last game at home to start the season. Toronto had easily the worst schedule of all the teams: two games, a 7 day break in between and all 5 games to start the season are at home. Very strange to say the least. Road trips are important—and especially on young teams—for bonding and getting away from the media and distractions of playing at home. Travelling planes, trains and automobiles, rooming together, eating together all helps expedite the gelling process.
Colorado are certainly red-hot, as are the Leafs. After getting shutout by the the Detroit Red Wings 3-0, Colorado have been on a small tear to start the season, winning their last 4 games. Their young, talented forwards, lead by Matt Duchene, have started to blossom as a young team and GM Greg Sherman has done a marvelous job of making moves for all the right positions. Semyon Varlamov was the biggest off-season acquisition for the Avalanche and they paid a lofty price for him—a 1st and a 2nd round pick for an unproven goalie. Having said that, he has oodles of natural talent and this could work out wonderfully for them. Adding former Maple Leaf, J.S. Giguere (who gets the start against the buds) as mentor, goalie coach and backup goalie, was a savvy move by Avalanche GM, Greg Sherman. While their forwards look solid, their defence is thin on talent, but they have started to address that with last season acquisition then St. Louis Blue and former 1st overall pick stud defenceman, Erik Johnson. They sent young power forward Chris Stewart back the other way in exchange for what they think will be a franchise defenceman. [more…]
Ron Wilson isn't happy about Cody Franson's comments this week and has made it known that the defenceman is now under the gun to perform. As I said yesterday morning, it's a lose-lose situation complaining to the coach and to the media like that. Now, he has to play his way out of his gaff. Another thing working against Franson is that he will be playing on his wrong side—something he said he is not used to and doesn't typically fare well at. Pair this with his being teamed up with Mike Komisarek for the first time and they will need to keep their game super simple to see any success. This will be small potatoes in a few weeks time, but right now—with no games in 7 days—there is little else to talk about. Player/coach friction happens and happens a lot with Ron Wilson.
The one positive to take away from this is that there is a lot of competition from good players trying to make a spot on this team. Having NHL ready defencemen, rather than AHL'ers thrust into a role they are not capable of, bodes well when (not if) one of the defencemen go down with an injury. Franson is teteering on the edge of the depth chart and he's a established two-year NHLer, not to mention current Marlie Keith Aulie, who didn't have the best of preseasons but is where he is due to this depth.
[more…]
"As the pages turn". It was a lite week for Toronto Maple Leafs News with the Leafs on their unusual 7-day-off cheduling glitch. They made good use of the time and made their way down the highway of heros to Trenton for a few days of practice, military drills, team building/bonding and gun shooting.
Cody Franson had his first experience in dealing with the Toronto media and set off a small fire when he said he was upset at not playing and that it was not how he had envisioned things panning out playing for the Leafs. Fair enough comments coming from a fiery competitor, but slow news days will get the better of people and this story quickly had legs, with people crying for him to be traded and on the first plane out of here. When you listen to the interview in context, it's a frustrated player dying to get on the ice after five months out of regular season action. Given Franson found out he was scratched for the opener by watching an online interview, whether or not Ron Wilson has communicated this properly to the player is worthy discussion fodder. [more…]
After receiving a superb outing from James Reimer in the season opener, the Toronto Maple Leafs will try to ride the young goaltender to a 2-0 start when they host the Ottawa Senators tonight at Air Canada Centre.
Reimer, who had an impressive rookie season with the Maple Leafs last season, made 32 saves on Thursday to help Toronto notch a 2-0 shutout victory over the visiting Montreal Canadiens. It was the third straight year the NHL's oldest rivals played each other to open the season and the Maple Leafs have won the last two. [more…]