@Dudgee
A Leafs win and a Jets loss would mean the Leafs are officially post-season bound. Oh my god, it's been so long I don't remember how to feel. What boggles my mind is how many Leafs fans weren't even 10 years old when it happened. God, that makes a man in his 30s feel old. Let's see what happens… [more…]
Toronto Maple Leafs (22-13-5) vs. Montreal Canadiens (26-9-5)
Hopefully you have power, and hopefully you and your loved ones survived the Great Ice Storm of 2013 over the past 48 hours.  Mother Nature is clearly a pissed off Flyers fan.
Toronto looks to make a dent in the 8-point lead Montreal has on them in the standings tonight but will likely have to do it without Mikhail Grabovski, who is sidelined with an apparent 2-year old stomach ailment.  As a father myself, it's no coincidence that this ailment has been around the same amount of time as his children. [more…]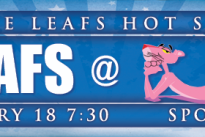 The 9-6-0 Toronto Maple Leafs kick off their first of two games in Florida tonight vs. the 4-6-4 Panthers, who have lost their last three [more…]
Editor's Note: We're pleased to welcome Ian Dudgeon to the MLHS blogging team. Ian was one of the co-founders of McKeen's Hockey.com. He's been busy at work assembling a database of profiles on Leafs prospects for MLHS, which you'll be able to enjoy before long. He's also going to be chiming in with a blog here and there.
Everyone please calm down and resume taking your medication. I have some extra Valium if you need some. There is no imminent NHL lockout. You will not be forced to watch basketball in October or November, or whenever they start playing that alleged sport. I think we will have hockey when we are supposed to and the threat of a lockout or strike is being artificially inflated by sports media who love, live for and need controversy.
The NHL tabled a proposal to the NHLPA this weekend and the collective reaction was as if everyone's favourite commish, Gary "The Count" Bettman took the Stanley cup and used it to prop up his car while he rotated the tires. From fans and media alike, it was one of the craziest overreactions I have heard since.. well since the Leafs last made a move. But really, I should stop being surprised at how sports media react to things and how fans take their cues from them. The little picture numbers seemed scary but stepping back and seeing the bigger landscape, the NHL's proposal was really not that concerning. [more…]