Joe Cino
In a Leaf era fraught with frustration and mistrust, nobody brought forth these feelings in fans more than Luke Schenn over the past couple years. After what many would call a promising start, Schenn's career became known more for blunders than smart defensive plays. Though I have written on how Schenn's stats seem to indicate underlying problems in his defensive game, I will admit that the goalies in Toronto have made everyone look bad lately. Brian Burke eventually saw what the fans saw in Schenn, trading him for James van Riemsdyk, another young player who had been somewhat soured in management (though that was due to injuries).
Will there be a 2012-13 season? Probably not. Will I do a 'What to Expect' for van Riemsdyk anyway? Absolutely. Come with me on a journey down the rabbit hole of advanced statistics. [more…]
When Brian Burke took over the GM job in Toronto, there was nothing but talk about building from the net out. A defence first philosophy is a valid one, though recent Stanley Cup winners have shed light on the benefits of fast offence. Ultimately, Burke's initial plan was sidetracked by players like Mike Komisarek and Colby Armstrong. It should therefore have come as little surprise to see Burke dip back into the defensive forward game, snagging Jay McClement for an AAV of $1.5 million.
McClement comes with more defensive pedigree than Colby Armstrong ever did. Avalanche fans were noticeably upset with his departure. In anticipation of the (hopefully) upcoming Maple Leafs training camp, I've decided to delve into the depths of McClement's stats in order to properly gauge expectations for the (hopeful) 2012/13 season.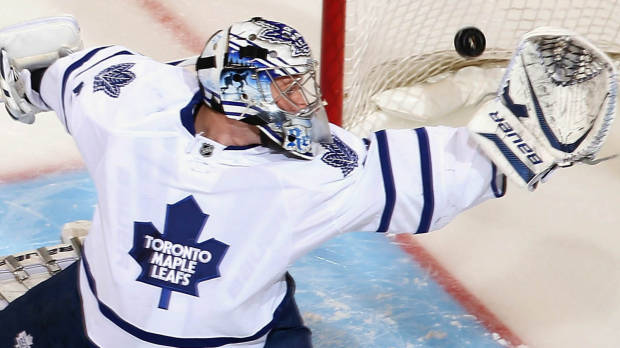 2011-12 Season in Review: Top 6 Forwards | Bottom 6 Forwards | Defence | Goalies
A new year, same as the old one. Goaltending has been a constant battle for the Leafs since the lockout. Last season, James Reimer gave some hope to a goaltending deprived fanbase only to have it be dashed away the very next year. The Leafs' goaltending in 2011-12 was atrocious and there's no getting around that. So in evaluating goalies, threads must be found that can indicate potential future improved play. Let's see if any of those threads can be found.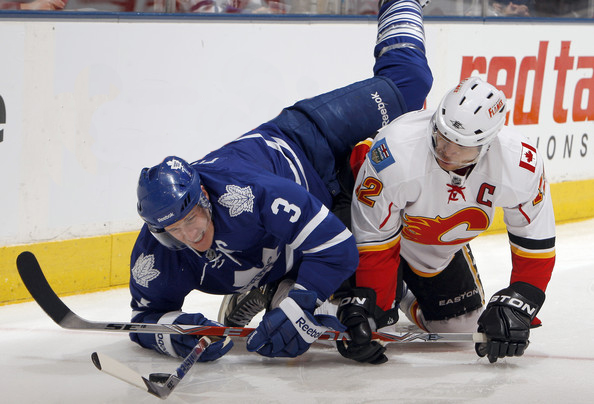 Last week's review focused on the Leafs' top 6 forwards, while the week before that saw us take a peek at the bottom 6's production. Now we'll switch our attention to the defence, which always seems so promising before the season starts and it crumbles to pieces. Again, we're only counting players that skated in at least 20 games for the Leafs, leaving us with seven players: Cody Franson, Jake Gardiner, Dion Phaneuf, John-Michael Liles, Carl Gunnarsson, Luke Schenn and Mike Komisarek.
Last week we reviewed the bottom 6 forwards for the Toronto Maple Leafs in 2011-12. There were some good observations, but let's be honest: it isn't an area where the Leafs need to address nearly as many problems as other segments of the roster. That's mostly why I chose to review them first; it's easy to see why many of them are no good and why some are worth keeping. The top 6, defence and goaltending, on the other hand, are much harder problems to solve.  All we can do is look at the stats and hope management sees what we do. To that end, we look at the top 6 forwards today, of which the Leafs had seven: Mikhail Grabovski, Clarke MacArthur, Nikolai Kulemin, Nazem Kadri, Phil Kessel, Joffrey Lupul and Tyler Bozak.
Another year, another disappointing season for the Toronto Maple Leafs. A fantastic start was soured completely by a late season collapse from top to bottom, culminating in another post-season disqualification. So here we arrive again at my end of the year review. This week we'll be focusing on the bottom 6 forwards on the Leafs, of which there were eight: Matt Frattin, Philippe Dupuis, Tim Connolly, Joey Crabb, Dave Steckel, Mike Brown, Colby Armstrong and Matthew Lombardi. I ended up deciding on who to include based on the number of games played, with 20 being the minimum. This took out a few players, like Jay Rosehill and Colton Orr. With all of that said, let's take a look.
When Grabovski got his new 5 year, $5.5 million per year contract, it was met with mixed reviews. You'd be hard pressed to find a Leaf fan who dislikes Grabovski. He's the hardest worker on the team and puts up a fair number of points. However, it isn't difficult to be lulled into a sense of disbelief when one learns that Grabovski now makes more than beloved team star Phil Kessel. So how does Grabovski's contract compare to other players around the NHL and, more importantly, what are his stats in comparison to these players
Finding cap hit comparables is not a difficult assignment. Cap Geek has a comparables function built right into their website. So I pulled the names from their list of comparables for Grabovski and inflated their cap hits to 2011-12 money. By looking at the percentage that a player's contract chipped away at the salary cap when it was signed, you can inflate their cap hit by making it the same percentage of the salary cap in 2011-12. Here's the list, minus players under 25 and adding a few of my own: [more…]
Much has already been said of the struggles of Grabovski, Kulemin and MacArthur this season when playing with each other, so I won't bore you further with another long diatribe. Instead we're going to take a look at what it is that stats can show us about areas that have led to these decreased levels of play. Of course, I had the concept of this article all done before they had that amazing game against the Islanders on Tuesday, so I sound a little like a crazy person but that's life.
As far as point production goes, only Grabovski is on a good pace. His 16 goals and 32 points puts him on an 82 game pace of 30 goals and 61 points. Kulemin is on an 82 game pace of 8 goals and 33 points while MacArthur is on a 27 goal, 46 point pace. This was easily the most productive line last season, so the drop off in production is quite surprising to many. [more…]
In what has been an incredibly positive season for the Maple Leafs thus far, it is Joffrey Lupul who stands out the most. Sure, Phil Kessel has been great, but with his skill set we all knew he would break out soon enough. With Lupul, the massive jump in production (1.07 PPG) has been the best surprise of the year. After a promising start to his career, back injuries took him down a notch with the ultimate result of being a salary dump in the Beauchemin trade. The important question to ask is whether this season is an aberration or if Joffrey Lupul has finally succeeded in living up to his potential.
Let's look at a few basic stats for Lupul, going all the way back to his 07/08 season with the Flyers: [more…]
The Toronto Maple Leafs have gone through a rollercoaster almost halfway into the 2011-12 season. Though December's tough scheduled slowed them some, the team is still on pace for 95 points and a playoff berth for the first time since before the NHL lockout. The question then becomes whether the Leafs' play is sustainable, with the best avenue to find out being a statistical overview. Today we're going to dig into some of the good, bad and ugly aspects statistically to the Leafs thus far. Unless otherwise stated, all stats are at even strength. [more…]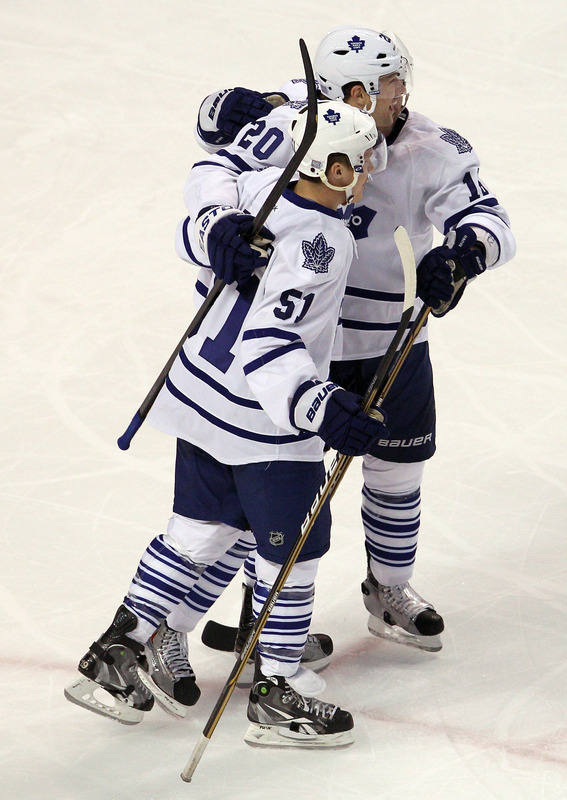 We're now 18 games into the 2011-12 season. Though the Leafs have hit a bit of a rough patch in the last few weeks, there is much to be optimistic about with regards to playoff hopes. Kessel has emerged as a new player, Lupul is back to old form and though not scoring as much as last year, Grabovski and MacArthur have played well. The oft injured Connolly has been excellent in limited action so far. However, there will be several nights this season where the top six forwards don't produce. On those nights, a good complimentary package in the bottom six is required to pull out the win. In my review of the bottom six from last season, I stated that without increased scoring from them, the playoffs would be a far more difficult goal. Unfortunately, not much seems to have changed thus far in the 2011-12 season.
The top six for the Leafs have scored 81 points so far, 37 of which are goals. The defence has scored 42 points, 5 of which have been goals. Finally, the bottom six has scored a miniscule 17 points and 9 goals. So they've accounted for only 12.1% of Toronto's points this season. For reference, the Blackhawks have 35 points and 18 goals from their bottom six so far this year, meaning they've contributed 22% of the Blackhawks' points so far. This lack of production can likely account for a few of the losses so far this season and if it keeps up, many more in the future. So the question then becomes what in particular has lead to this lack of production. [more…]
Last night, only two days before the Leafs' season opener against the Montreal Canadiens, Brian Burke added Dave Steckel to the roster in exchange for a fourth round pick in 2012. Although drafted in the first round, no one would mistake the 29 year old Steckel for an offensive forward. He's kept himself in the league through his defensive play, made significantly easier by his big size, despite his inclination to not use said size. So tonight, one night before the regular season begins, we're going to take a peek at Steckel's defensive stats and see how he measures up with other centers on the two teams he played for in 2010-11.
Steckel split time between Washington and New Jersey in 2010-11, totalling 75 games played. His ice time at even strength was extremely limited, coming out to 10:04 minutes per game. This put him below centers Boyd Gordon, Marcus Johansson, Brooks Laich, Jason Arnott and Nicklas Backstrom on Washington and Jacob Josefson, Brian Rolston, Dainius Zubrus and Travis Zajac on New Jersey. The team's save percentage (Sv%) when Steckel was on the ice was .924, which puts him ahead of all of the aforementioned except Josefson (.943) on New Jersey and Backstrom (.934), Laich (.940) and Johansson (.929) on Washington. A high Sv% indicates that attacking forwards were forced to the outside by strong defensive play.