junior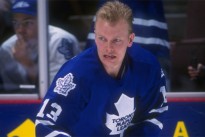 Junior wraps up the MLHS 'Memories of Mats' series:
On June 28th of 1994, Cliff Fletcher, the General Manager of the Toronto Maple Leafs, traded Wendel Clark, Sylvain Lefebvre, Landon Wilson and a first round draft choice to the Quebec Nordiques for Mats Sundin, Garth Butcher, Todd Warriner and a 1st round draft choice.
I resolved that day to hate that bastard Sundin forever.
I was 27 years old and had been a Leaf fan all my life.  I can remember the Dave Keon posters my Dad hung for me on my bedroom wall, around about the time I was starting kindergarten; inspiration for a smallish six year old wondering whether a little guy could play hockey against bigger opponents.  When I got a bit older, and Keon had been lost to the WHA, Darryl Sittler was the Leaf player I focussed on, curly hair flying as he racked up his ten point night, suiting up with the game's best on Team Canada - and beating the Czechs in the Canada Cup.  I liked those players well enough, but my admiration for them couldn't hold a candle to the way I felt about Wendel Clark. [more…]
What man that sees the ever whirling wheel
Of Change, the which all mortal things doth sway,
But that thereby doth find, and plainly feel,
How Mutability in them doth play
Her cruel sports, to many men's decay?

-Edmund Spenser, The Faerie Queen
Change surrounds us.  So powerful and pervasive a part of nature is it that the ancient Greek philosopher Heraclitus saw in it the unity of all things.  Change played such a central role in the Ephesian philosopher's beliefs that he became famous (among philosophy geeks, anyway) for his pronouncement that because everywhere things are always becoming, always in flux, a man cannot step in the same river twice.  Heraclitus insisted that our eyes and ears were "evil witnesses" that deceived us, making humans perceive certain things (like mountains or rivers) as static or permanent when in reality, there is only an endless succession of transitory moments.
Just finished watching the Brian Burke press conference on my PVR (damn our angry Irish overlord for choosing afternoon drive time to play Meet the Press on this one).  First, a few of the press conference highlights that I noted.  Following that, I'll share my (hurried) analysis.
Burke's Presser
The basic structure of the deal (which had previously been widely reported - what an afternoon on Twitter) was confirmed, Beauchemin to Anaheim for RW Joffrey Lupul, D Jake Gardiner and a conditional draft pick;
Burke pointed out that Gardiner had played for Wisconsin as a true freshman, and noted "that's hard".  Gardiner's schooling will not be disrupted by the Leafs until (at the very earliest) the end of the season;
Okay, so it took a while to get to the post game wrap up 'round here.  What can I tell you, I was waylaid by ecstasy (NOT the pharmaceutical kind); and that sort of joy has been in kind of short supply for Leaf fans since the lockout.  Aside from the 4-3 Leaf OT Victory, I was enjoying (via the wonders of the PVR) the Ticats' triumphant 30-3 curbstomping of the Argonauts to formally clinch a playoff berth.  I can tell you from personal experience as a Leafs fan for more than 35 years and a Ticats fan since the days of Jason Maas, there haven't been a lot of nights like that in recent days.  Good times.
Here's how the Leafs game went as I saw it (note: this is an impressionist recap, not an excursion into hyper-reality. If you want that, wait for James Cameron's next 3-D extravaganza): [more…]
Anybody still want to debate the wisdom of starting Gustavsson against the Penguins?
For my money, this was the right play.   Anyway you slice it, after a 2-0 start against two undermanned/terrible teams,  tonight's game against the Penguins was set to be a measuring stick of sorts (despite the fact that they were somewhat undermanned themselves).  If Wilson runs his number one guy out there and he gets torched, the Leafs' momentum comes to a crashing halt: we are measured, and found wanting.  Instead, the coach pitches the Monster at a talented (and desperate for a home win) Pittsburgh team, and sends a message to the rest of the squad: bring your lunchpail and hardhat, it will be necessary to win the little battles along the boards and elsewhere on the ice to have a chance at two points in this game. [more…]
It begins tonight - the 2010-2011 Toronto [more…]
Be sure to check out Nikhil's post-game thoughts from last night.
Tuesday night, September 21st, about 6:40 p.m.  I am dancing - yes, dancing, provided you can call a kind of frenetic spasticism punctuated with finger snaps and some twirling hands "dancing" - to no music in my kitchen as I cook our pasta for dinner.  I am in a rush, and I am excited, because after a long summer of legal wrangling over the Kovalchuk contract, eternal speculation about Tomas Kaberle's status and apparently endless MSM vs. blogger hissy fits, the puck is finally dropping on the preseason.  Don't get me wrong, I know that the preseason sucks.  I know it's not reflective or in any way predictive of how the team will do during the regular season - I've been a hockey fan long enough to know that, and last year's brilliant exhibition campaign is still fresh in my memory.  Almost as fresh as the oh-and-eight start that followed it, once the games counted.
So the curtain comes down on the 2009-2010 Maple Leafs season. I know many readers are upset because we as Leaf fans must once again adopt and follow an entirely different team as a sort of playoff hockey avatar in order to fully enjoy the postseason (I find the only way to really get in to it is to pick a surrogate rooting interest). The angst is ramped up in Leaf land as well because the team finished so low in the standings, yet come draft day the guys clustered around our table won't be studying anything more intently than the lunch menu, because we won't likely have a pick for the first day and a half (unless Burkie has a miracle relating to a certain Czech defenceman tucked up inside those French cuffs).
I know, I know, when last we met, I promised you that the next installment in these studies in positivity would focus on Nikolai Kulemin.
Well, I lied.  Sue me.  Instead of discussing an individual player, I'm going to make some more general team-wide observations.  Don't like it?  Line up at window 106 between the hours of 1 and 1:05 p.m., fill out the forms in triplicate, be sure to bring your receipt and three forms of photo I.D. and  the counter staff will be happy to refund in full the money you paid for these charming and entertaining visits to my mind.  Really, though, following Bruce Boudreau's logic concerning the Ovechkin hit on Brian Campbell (and the obvious liability of the end boards and equally obvious innocence of Ovie), it's not my fault that I broke my promise to you;  it's your fault for reading that promise in the first place. [more…]
Twice in the last week - once after the Tampa Bay game, once during the first intermission of the Oilers game - we've had the opportunity to watch Tyler Bozak do interviews for television. Twice during the past week, he's stood there in the hallway outside the Leaf dressing room, spiky hair soaked with sweat, talking first to Paul Hendrick, then to Elliotte Friedman, with a giant freaking grin on his face. The big grin on his face tells you that Tyler Bozak is a happy young man. He's got six goals and eleven assists in twenty-three games as a twenty-three year old rookie centreman for the Toronto Maple Leafs, and he's making $875,000 with another 2.8 million dollars worth of bonuses on the table. Of course he's happy. Why the hell wouldn't he be happy?
The big grin also tells you he's a young man. Those of a certain age can't help but be struck immediately by Bozak's youthful appearance. He seems to have a little acne here and there, which makes him look even more like the kid behind the counter at Taco Bell than he otherwise might, but more than anything else you can see the excitement of a young man in his eyes and in the corners of his mouth when he simply cannot supress the grin that wants to get out. Doing those interviews, you can tell that he is absolutely stoked, the way only a young player - who hasn't been doing this sort of thing since Chelios was a child - can possibly be. [more…]
Let's get one thing straight:  this year is a write-off.  The rest of the games scheduled for the Maple Leafs are not happening, at least not in any meaningful sense.  Instead, the events  you will be watching on your large-screen TVs  over the course of twenty-six evenings littered throughout the next two and a half months are best considered nought but a demonstration or experiment of sorts.
Since posting the parable of Owen the other day, and most especially since reviewing the commentary appended thereto, it has come to my attention that:
The Tragically Hip suck or else the Tragically Hip are the very Platonic embodiment of the concept of "win".   It is not at all clear which of these two statements concerning the properties of the Tragically Hip inclines towards truth, yet the truth is said to be obvious, immutable and beyond the realm of debate;
It is a very good idea to proofread what you have frantically typed in a guilty paroxysm of nostalgic reminiscence before hitting the "publish" button.  Failure to do so may have the inattentive rookie blogger combining various teams, their nicknames and game results in a charming but utterly abstract and completely fictional goulash of confusion.  In the unlikely event this is not the effect one is really attempting to achieve, this little pro tip may help you avoid embarrassment;
It is quite possible that I am the first person on earth and in the history of ever to reference both the Three Stooges and Waiting for Godot in the same sentence.  Now I've gone and done it in consecutive posts!  Don't be expecting this level of achievement in every installment, kids, outstanding performances have a way of regressing to the mean;
My theory of road trips, nascent and ill-developed though it may be, is fertile ground for graduate study.  Even more startlingly, the road trip is fertile ground for reality television.  How has there not been a Big Brother style reality show centred around the road trip.  And no, I haven't forgotten about the Amazing Race; pay attention man, those dudes travel in pairs, not triads.  As an aside, I wonder how many other areas of human endeavour are equally of interest to academics and reality TV producers?
I somehow managed to omit from the story the fact that my buddies and I attended a cocktail mixer at the IMF.  Trust me, you don't know from fun until you've partied with international debt specialists in a brightly-lit impersonal and institutional room in the middle of the afternoon; and
At least some of you are seeing some of the same positive developments in certain Maple Leaf players that I am.
Before we get to the subject of today's post, Luke Schenn, a preliminary word if you will about the title of these entries:Â  [more…]