Maple Leafs Hot Stove
On the back of seven points (three goals, four assists) in three games, Nazem Kadri was named NHLs 3rd star of the week for what [more…]
The Toronto Maple Leafs have called up Toronto Marlies defenceman Jesse Blacker.
Blacker, 21, has played 53 games for the Marlies this season, collecting 10 [more…]
From Matt Iaboni at MapleLeafs.com:
"Maple Leafs 2012 first round pick Morgan Rielly was named the WHL Eastern Conference Defenceman Of The Year and he was [more…]
It's the same great fantasy hockey contest we've run two times before, now with MORE crash to be won! Draftstreet.com has filled the cash pool with $300 in cash prizes for you to try to grab a share of. [more…]
By Declan Kerin and Alec Brownscombe

The dark cloud hanging over an otherwise exciting 5-2 win in Pittsburgh last night was the injury to Joffrey Lupul. "Right on time," say the haters, as rest of us shake our heads and chalk another one up to the Luck of the Leafs. Dave Nonis and Lupul agree to terms on a five-year contractual commitment, both talk at length about how the player's injury history is behind him, he takes a puck to the forearm off a slapshot by his own teammate two games later and the x-ray reveals a fracture. It's a freak injury in no way related to any injury prior, but alas it's another truncated season for Lupul for health reasons. One imagines he will lose at least 30 games of the 48-game season. [more…]
At last, the NHL is back and the players have returned to the ice. But what did the players do with all of that free time? Some stayed home, tried to stay in shape and waited. Others went overseas. Some turned to poker. [more…]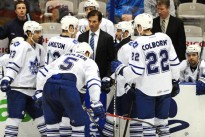 TSN Radio 1050 is your best bet for tonight's game in Rochester and tomorrow's against Grand Rapids at the Ricoh. The baby Buds enter the weekend at 13-9-1, good for seventh in the West. Go Marlies. [more…]
MarliesTV continue their Rookie Class mini-documentary series with an episode entitled "Road Warriors" featuring Greg McKegg, Spencer Abbott and Kenny Ryan. [more…]
The Marlies broke their three-game losing streak with a 4-1 win in Rochester last night. Matt Frattin continues to score pretty much every game since returning from injury, notching two last night including the game winner, his sixth and seventh in six games so far this season. Jerry D'Amigo and Carter Ashton rounded out the scoring. Ben Scrivens stopped 28 of 29 shots.
The Marlies face the Amerks again back at home tonight at 7 p.m. EST. You can catch the game on Sportsnet One. [more…]
Richard Peddie, former President and CEO of MLSE for 15 years, discusses Forbes' estimate of a 60% jump in enterprise value for the Maple Leafs and the current financial climate of the league on TSN 1050. [more…]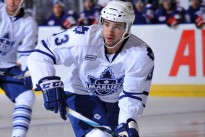 SPRINGFIELD, Mass. The American Hockey League announced today that Toronto Marlies center Nazem Kadri has been selected as the CCM/AHL Player of the Week for the period ending Nov. 18, 2012.
Kadri tallied eight points (one goal, seven assists) and a plus-3 rating in four games last week, sparking the Marlies to a 3-1-0-0 record. [more…]
Anyway, if you've read me or listened to me on the radio throughout this process, you know I've been very pessimistic about a deal getting done. I would say I've switched to cautiously optimistic now. I have been given hope that the two least turbulent leaders in this negotiation are sitting down talking about things that actually matter, and without storming off in a huff and a puff.

This is a math equation now. Solve the math equation, save some face, catapult this league back onto the national landscape and make sure that a large portion of the 2012-13 season is played.
-Michael Russo updates after last night's lengthy meeting between Bill Daly and Steve Fehr. A meeting involving more representation from both sides is expected to take place early in the week. [more…]