Matt Mistele
It might actually be a Game in 9. Or a Game in 27. Who knows? I'm writing this sentence at 7:08pm. [more…]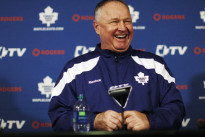 Gregg Scott, Ryan Hamilton, Mike Mottau, and Keith Aucoin were placed on waivers Wednesday as Randy Carlyle, Dave Nonis, and the Toronto Maple Leafs begin the hilariously rapid expedited process of trimming the roster from 31 players in camp to 23 for Saturday's season opener. My understanding is that rosters need to be finalized by 3pm Friday afternoon, which means any additional cuts will actually have to be sent down/placed on waivers Thursday to get the roster set on time. [more…]
Brian Burke held his final press conference as a member of the Toronto Maple Leafs' organization at noon Saturday, the hosting of which is a bizarre decision at best on the part of his still-employer and, at worst, a welcome dose of some universal justice to the fans who still aren't feeling all that great about this. I sort of eulogized his tenure on Thursday and thought that would be the end of it. Today's session, however, did offer a few salient points worth a brief follow-up. [more…]
This feels like writing a eulogy. I hate it.
You win. Let's start with that concession, up front. A straightforward address to every fan who wanted Burke gone. I anxiously and hopefully await confirmation that this still-vague, as-yet-in-progress, largely-similar-but-supposedly-slightly-new direction will provide the amazing results that you've been adamant it hypothetically will. [more…]
'Twas the night before the slowest news day of the NHL season! This means one thing:  you've got nothing better to do than read this extra special, ridiculously long Christmas post from MLHS and The Toronto Truculent. [more…]
Bill Daly did a few interviews Wednesday, including one with HNIC Radio. And he said some stuff that everyone's takling about, including TSN, which is where I pulled the following quote from. Because, y'know, transcribing it myself would take an extra twenty seconds of effort that I just can't muster right now. Mainly due to spite laziness. [more…]
Go Jays. Is it April yet?
Ugh. Watching this lockout trudge along through a seemingly insane number of days of "still happening" may have literally [more…]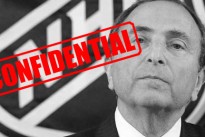 Gary Bettman spoke with the Winnipeg Free Press' Gary Lawless this past Sunday and delivered a fairly comprehensive interview about several major aspects of the continuing NHL lockout. Disappointingly: ego, greed, and stubborn posturing were not directly addressed.
That horsecrap title's a reference to the first computer game I ever owned, Silent Steel. It was terrible, and I was enthralled by it. Dubbed an "interactive movie", it was literally a Choose Your Own Adventure that used filmed segments instead of a cheap little paperback book to tell its story and have you make decisions which guided the plot. The Wikipedia entry literally describes it as "an unorthodox submarine simulator computer game." What's an orthodox submarine simulator computer game? [more…]
For sports betting news, odds and football spreads, visit Sportsbetting.ag.

The easiest Morning Mashups to write are the ones where there's nothing to talk about. The toughest Morning Mashups to write are the ones where there's nothing to talk about.
I'm literally writing this as Wednesday's CBA meetings are ending (according to the Dan Rosen Tweet that just rolled in). They will meet again tomorrow, it's been confirmed, and likely with the same modus operandi of not talking to anyone when they're over. I guess we're supposed to be impressed by this.
Really? [more…]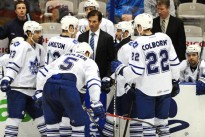 Not really. I severely mismanaged my Wednesday night schedule, so your preview consists of: the Marlies play tonight. Against the Abbotsford Heat. At 10:00pm. Toronto's 3-2-0-1 in 6 games, and Keith Aucoin leads the team with 6 points!
So, uh...here are some links: [more…]
It seems safe to say that the NHL lockout's PR battle is being won by no one. Efforts from both the NHL and NHLPA sides of the table lie in smoking ruin. In the eyes of many fans, pretty much everyone involved has been fundamentally smeared for their incapability to resolve the situation with anything approaching common sense, while the senseless waste of days ticking away destroys the hypothetical revenues they claim to be fighting over.
But it seems, in secret, their efforts to resurrect their embattled public image may be changing. We (MLHS/The Toronto Truculent's Matt Mistele and special guest writer, Michael Stephens!) can reveal a new issue of Confidential detailing the negotiating committee's latest attempt to save their reputations. [more…]