Matt Mistele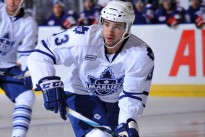 Remember when Nazem Kadri showed up to the Marlies' training camp negligibly fatter than he probably should have been all fat and ugly and gross and out-of-shape? Well, Dallas Eakins threw a big, cheesy CTRL-Z on that situation Wednesday. Apparently Kadri's re-committed himself to hardcore fitness in the last few weeks. (While some simmer in silence, wondering what the hell he paid Gary Roberts for).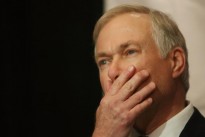 The CBA winds are a swirlin'. With the NHL publicly releasing its latest proposal (awesome!) Wednesday, there's an intense mix of new information and analysis swirling in the twister of negotiation rhetoric. Getting too specific into an analysis of the main points would, frankly, be sort of a waste.
The NHL's proposal is the first they've made that isn't totally crazy, but that doesn't mean it will get a deal done. Breaking down the specifics seems kinda pointless, considering many of those specifics will undoubtedly change. I'll hold off getting to detailed for now. [more…]
"In communications, familiarity breeds apathy." - William Bernbach
This isn't strictly speaking 'communications,' but Bernbach's quote certainly applies to the 2012-2013 (God, I hope it doesn't end up being known as that) NHL lockout. Bernbach himself had nothing to do with hockey. He was sort of a real-life Don Draper. But the apathy variable is one we're all starting to feel and, more importantly, acknowledge (in some cases, rather phenomenally). The familiarity is one with meaningless posturing, empty negotiation rhetoric, and unnecessary work stoppages.
Same old from the same old. Put simply, there comes a point where even the most passionate of us simply stop caring. [more…]
As in, Red Dawn. Get it? Yeah, I'm not a fan of the title either. It was either that or "Dallas", but I don't have the time tonight to write a complicated and funny Marlies metaphor piece that ends with Bobby Ewing appearing and telling us the Leafs' disastrous previous season was all a dream. Much as I'd like to. [more…]
No overall topic for today's mashup. I could rant about how simultaneously promising/frustrating it is the NHL and NHLPA are meeting Friday but not to discuss any "core financial issues," apparently. That's like putting on hockey equipment to watch a game from the press box. I could push the Toronto Marlies as an awesome alternative to big club hockey this year winter fall, but everyone else is doing that, including some of the links below. I think, at this point, I'm really just rooting for the annual return of Dreger's backyard rink.
Links after the jump! [more…]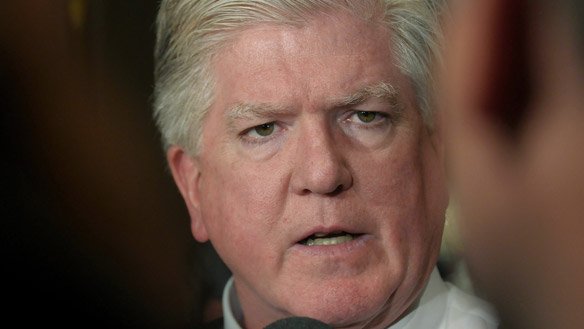 Brian Burke is not a superhero. He doesn't have magical powers that allow him to move faster than everyone else. He cannot use pure energy to forge amazing things out of nothing. He's a normal man trying to do a well-intentioned job - one for which he is eminently qualified - by using the significant earthly resources at his disposal to sort out justice in an incredibly dark, cynical, and complex environment. He's trying to build future positives from the smoldering pile of ash that was past tragedy.
Brian Burke is Batman. [more…]
What's that? Positives news out of the Leafs' camp? I think that deserves a second consecutive post, and its own Morning Mashup! Huh? Lockwhat? Something else is going on?
The Toronto Maple Leafs signed Calder Cup run goaltender-in-chief Ben Scrivens to a two year deal yesterday, which I can't say is definitively a "one way" or "two way" contract, because it's both. Yup. The first year of the contract is a two-way deal, and the second year is the one way kind. It's way less complicated than it sounds, and actually kind of a creative solution which - before yesterday - I didn't even know teams were allowed to do. [more…]
The biggest difference between the impending lockout and its older, nastier, 2004-born brother from a fan's perspective (aside from the complete unnecessariness of this one), is the accessibility fans have to the larger conversation. Message boards were around in 2004, but they weren't communal the way social media is now. We've all seen what @UnfollowNHLSept is trying to do with Twitter (despite a number of followers which, I'm surprised to find as I check, is considerably lower than expected) and Janne Makkonen's viral video has certainly made the rounds.
Concluding whether or not stakeholders like these will make a different may, in the end, be impossible. And whether or not you agree with their approach may be equally irrelevant. If nothing else, the social media reaction to this seemingly inevitable disaster will be an interesting social experiment. [more…]
Vincent Lecavalier. Scott Gomez. Brian Campbell. Wade Redden. Mike Komisarek. Danny Briere. Patrik Elias. You probably don't need me to highlight the common thread amongst these players, but I'll do it anyways. They're all players whose on-ice impact doesn't, in the subjective minds of fans and pundits, reflect the salary cap hits their respective teams incur for their services. Colloquially, you call them overpaid.
Their contracts are referred to as 'albatrosses', which isn't just because of the large seabird (who probably resent the fact we've adopted their species' name as a term for fat burdens), but apparently a specific allusion to a Coleridge poem. We consider them poorly conceived-of deals that are oftentimes unmovable, eating up valuable cap space and otherwise challenging their respective GMs in charge. They're the "mistakes" Brian Burke commonly refers to his brethren making the most of on July 1st.
Many of those executives would love to rid themselves of at least one bad contract on the payroll, and if one new wrinkle that's emerged during these CBA discussions come to pass, they may have the opportunity to do just that.
The potential for an "amnesty buyout" clause is an intriguing one, a provision previously seen with the NBA. In a nutshell: GMs would be allowed to select one candidate from their roster for a buyout, and while they'd still have to pay the player the full cash payout stipulated in the contract, the ensuing cap hit (like we've been charged for Darcy Tucker, and will be charged for Colby Armstrong), won't exist. So, Montreal pays Scott Gomez to leave, they pay him a lot to leave, but there's no cap hit/trace of his existence on the roster. [more…]
After meeting Wednesday morning in advance of what was a scheduled 1pm start for this week's CBA negotiations, executives on both sides (including Gary Bettman, Bill Daly, Don Fehr, and his brother Steve) elected to delay the larger talks until Thursday morning. CP's Chris Johnston has a thorough summary of the events, including the assertion that it was a "mutual" decision.
I'm not really sure how re-assuring this is supposed to be, especially given scrum comments from Fehr like, "You can probably sense a certain amount of frustration amongst the parties." (Despite his quick follow-up assertion that this sort of thing is, like, totally normal at this stage of bargaining.) But news of the delay may actually be more positive than negative.
Obviously, there has to be a reason why beginning talks yesterday afternoon wouldn't have been advisable. I take that to mean both sides recognized a key issue (or two, or twenty) that would invariably devolve into an unproductive shouting match, and perhaps prudently though, "You know, let's re-visit our respective sides to discuss the issue more thoroughly before convening as a group in the hopes of using the larger negotiation time more wisely." [more…]
...is what Michael Grange should have called his terrific Sportsnet article from yesterday (SPOILER ALERT: Cold water). If only because A) this whole thing's about money, B) wuns are punderful, and 3) it's probably what Bettman and his negotiating team screamed in frustration when Fehr didn't fall into the baited mudslinging trap that was the NHL's first CBA proposal.
Grange almost gets there. He goes as far as referring to the Trojan horse myth when describing the NHLPA's counter proposal, insinuating that it's far more nefariously designed and player-favourable than it may seem from the limited details we've received. And that despite the proposal appearing level-headed and good faith-y, it will amount to little more than a fleeting gasp of fan relief in these discussions if only because it so sharply contrasted the NHL's laughable initial offer by being, y'know, slightly realistic. [more…]
Update: 2012 Canada/Russia Challenge is at 11am on TSN2. Hopefully a chance for Leaf fans to see just how overly excited they should get for Morgan Rielly.
Caddyshack is a story about a boy named Danny Noonan who lives an aimless life as a golf caddy and struggles, as we all do, to find meaning and direction at a very formative age. Despite having the talents and drive to succeed at the level he hopes and expects he's capable of, he lacks that crucial factor which is a prerequisite for a person to achieve success in any profession: opportunity. After a series of hilarious interactions and soul-sucking observations about the superficially "successful" nincompoops around him, Danny finally utilizes his potential in a moment of opportunity to seize glory, with a little help from some exploding gopher holes.
Thus concludes my fancy, over thought review of an American comedy classic. I'll get to the point. Nazem Kadri's our own Danny Noonan - high on potential, higher on drive, a shade lacking in opportunity - and the discussion about what direction his career is soon to take is a relevant one. [more…]