Matt Mistele
Continuing on from yesterday's mashup, everything is decidedly quiet in Leafland. Quiet, and kinda sad. At least, it's been sad since I read Dangle's piece @ TLN yesterday and reached, specifically, this sentence: "I cannot remember interest in the Toronto Maple Leafs ever being lower than it is now." Definitive case of the "sad because it's trues"?
There's a multitude of jokes I could open this post with. I won't. I'll laugh at them in my head, sure, because I'm....8. But at the end of the day, he's a millionaire professional athlete so whatever fun I could possibly make of him is juvenile and won't change the fact that his life is probably way more kickass than mine. You win, Alex Semin!
Unfortunately, you also lose, Alex Semin. Because, apparently, NHL clubs are way more hesitant to sign you than they should be. Or, than you'd think they should be, according to some Luke Fox campaigning in a Sportsnet article summarizing relevant points and quotes on Tuesday: the polar opposite of a TSN panel absolutely destroying Semin earlier this year. The variance in the MSM opinion alone suggests some legitimacy to the controversies delaying a player of Semin's skill from signing a UFA contract.
For a team as strapped for frontline players as the Toronto Maple Leafs, one has to ask the question (ugh, I feel dirty even channeling that sentence) of whether or not he's worth considering. Just what are the pros and cons of Toronto acquiring this player?
Much noise has been made about the Leafs' need to change their goaltending situation this offseason. I'm choosing to phrase it like that mainly due to the vast differences in opinion about what it really seems to mean. Really, fans just collectively want to know that whatever happens, the result is an improved team. Unfortunately, that may be defined differently than an improved organization, which – at this still-relatively early and unproven stage of what must be considered a full rebuild – should be the true priority.
Prudence really does suggest running with a James Reimer/Ben Scrivens tandem next season and seeing if one of the young goaltenders can claim the #1 starter role beyond question. Patience and public relations may prevent that from happening; if the rumors are to be believed, an outside hire for one of the slots is all but inevitable at this point.
One name in the discussion – rumored, perhaps, far less to this point than he should have been as a candidate for acquisition by Toronto – is the Los Angeles Kings' Jonathan Bernier. That doesn't mean we haven't discussed him to death. We have. I'm just wondering why he doesn't emerge more often as the preferred choice. [more…]
Apologies in advance for the rushed mashup, due primarily to two things: A) The distinct lack of summertime topics means we need to spread whatever discussion we can think of as thinly as possible over about 12 weeks, and B) the fact that I spent a generous portion of the night with a friend in the ER, post-rec league hockey, dealing with what I believe is a severely sprained shoulder on his part. A heartbreaking 1-0 loss in our first (and last) playoff game, too. I told him the waves of pain he was feeling made him look incredibly badass, even in defeat. He just wheezed, and didn't seem to care. I think he was trying to say he wanted water. They got him some water.
Anywho, two major items of newsworthiness happened in Leafland yesterday, and I can't decide which one makes for a better Mashup topic, so here they both are. [more…]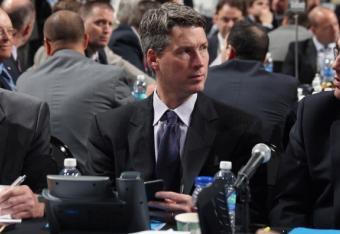 Fan sentiment is a strange thing. Not that I'd claim to know much about the NBA, but I seem to remember the response to Lebron James and his free agent cronies deciding to play together in Miami being... decidedly negative. Two short years later, Zach Parise and Ryan Suter - by far and away the best two NHL free agents available this summer - colluded ever so slightly to sign matching (cute!) contracts with their hometown Minnesota Wild for 13 (ha, wink!) years' worth of probable playoff contention. It's almost poetic. (Links after the jump) [more…]
NHL Free Agency was, originally, to be a major component of the Brian Burke 'rebuild' model - or 'retool,' whatever you want to call it - when the Maple Leafs' new GM arrived in Toronto. And despite perpetual inflation, it remains the surest and easiest avenue for a team to obtain top-quality players in their prime without sacrificing any organizational assets beyond cash. Factoring in the promises of a quick turnaround and transactions we shall not name, lest we incite debate involving high-end draft picks exchanged for promising young stars, free agency to the Brian Burke model becomes...well, not quite a necessity...but a really, really valuable step in getting the Toronto Maple Leafs back to the Stanley Cup finals as efficiently as possible.
One can't exactly say it's worked out nicely, thus far.
The problem, as Burke's lamented, has been the distinct lack of premier free agents available. Teams have compensated for the league's attempts to "liberalize" the market by locking up their talented players before they become UFAs. [more…]
Speaking with ESPN.com (and it's hockey, so whether or not they were listening is up for debate), Brian Burke suggested Wednesday - and for the first time publicly, I believe - that the Leafs are prepared to enter the 2012-2013 lockout season with a goaltending tandem of James Reimer and Ben Scrivens if the price of upgrading the position doesn't make sense. According to Pierre LeBrun, Burke's faith in James Reimer as a potential frontline NHL goaltender remains unchanged by the events of this past season. Though Burke doesn't address Scrivens' eligibility directly, we're left to believe Ben's impressive Calder Cup playoff run with the Marlies has more than convinced the Leafs' brass he's ready for the challenge of an extended NHL look.
As far as prudent rebuilds are concerned, a Reimer-Scrivens tandem may be the best thing to do. Unfortunately, the deafening sound of 91% of you disagreeing with that may well be what prevents it from happening. (Links after the jump).
Brian Burke recently sat down with TVO's The Agenda with Steve Paikin for an extensive interview entitled "The Business of Hockey", available to watch via the TVO website (or YouTube, in case you have the same viewing problems I did with the first link).
The conversation is 27 minutes long and covers topics we've heard Burke discuss before - with some of the same philosophies and sound bytes he's previously delivered - but its best advantage, perhaps, is that we now get to see them in one contextual conversation. When evaluating the Toronto Maple Leafs' President and General Manager, far too many fans seem to focus on player transactions within the hockey operations department as the sole admissible metric of performance. Which is a fancy way of saying they believe Electronic Arts' NHL GM Mode captures the minutiae of the job accurately and that it never gets more complicated than compiling XP points to be exchanged for generic "medical staff" upgrades.
I spent most of Wednesday afternoon watching the super-extended version of Return of the King on DVD. Must have jinxed it.
Oh, and settle a bet - what's a better headline? The one above, or "Not so Quick, Jonathan." Personally, I like the 'Quick' one - but he didn't really have a bad enough game to warrant using it.
David Puddy's Devils prolonged their Stanley Cup life Wednesday night with a 3-1 victory over the Los Angeles Kings, who temporarily missed their opportunity to end a 45 year cup drought at home - and in front of celebrities! Goals from Elias (slick backhand!), Henrique (clutch snapper!), and Kovalchuk (empty net!) beat Jonathan Quick, calling into question our shared misconception that the young Kings' goaltender was sent here from the planet Krypton by loving parents moments before his homeworld exploded.
The entire Most of the reason we watch hockey started last night, and Anze Kopitar's overtime breakaway goal gave the Los Angeles Kings a 1-0 series lead over the New Jersey Devils. The goaltenders were - as expected - very impressive, and I'm sure there's a joke somewhere in there about how interesting that is considering the near-generational gap that separates them. Jonathan Quick was a later-than-should-have-been-available fantasy roster pick of mine this past fall in a keeper league, and even though he's done statistically carrying me to a championship for the year, I should probably slip in a customary gloat about it.
I'm having trouble envisioning a scenario where Los Angeles doesn't come away with this one. It would be a frighteningly touching swan song for Marty to backstop the Devils to a victory, though - and wouldn't hurt whatever case Lou Lamoriello plans to make to Zach Parise contract-wise as soon as the playoffs are done.
I'm pretty sure we'll continue to be entertained either way. And hey - if Don Cherry keeps wearing the Beetlejuice suit, we all win. (Links after the jump)
Which is to say, the Marlies are winning. Lots. And that's awesome. Because if they weren't, and this playoff run had ended weeks ago, I wouldn't have much to talk about during these April and May Morning Mashups. Really. I never would have volunteered for "Thursday" if I'd known Wednesday was consistently the slowest NHL news day of the week after the regular season ended.
So, kudos to the kids. And Dallas Eakins. The internet, it seems, agrees heartily with me on the Dallas Eakins part.
(Links after the jump).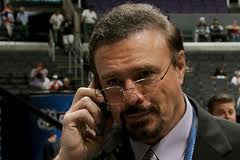 Apologies up front. The squishy memory bank/pun-generator between my ears thought I was referencing this guy with the mashup's headline when I'm actually, apparently, referencing this guy. Whatever. It works too well to change it.
Wednesday saw Marc Bergevin hired as the Montreal Canadiens' new General Manager, cementing a significant piece of the new front office that will be tasked with fixing that nightmare organization. Further changes are likely imminent, with Bergevin's first major personnel decision having already happened in the reassignment of Randy Cunnyworth to the role of an assistant coach. One has to think a new, hypothetical head coach would presumably want to select his own hypothetical staff: Might Cunnyworth's reassignment may one of gratitude for the now-former interim coach, a reward for steadfastly accepting a post which carried far more public scorn in its short term than was probably necessary?
Toronto fans, though, should be more concerned with Bergevin's focus on the higher floors of his new front office - if he's truly hoping to add the Maple Leafs' current fifth string GM Director of Player Personnel and former Thrashers' GM, Rick Dudley. (Links after the jump). [more…]