Michael Stephens
Randy Carlyle spoke with reporters at the ACC for about 20 minutes Monday morning and shed some insight into the Leafs roster heading into training camp (thanks to Declan, you can check it out here).
The most promising and immediately important news from the interview is that Jake Gardiner, who has missed a month with concussion-like symptoms, is getting better and working out.  Carlyle remained hopeful that Gardiner, who tallied nine goals and 17 points in 22 games with the Marlies prior to the injury, would be back in time for training camp. [more…]
Recently I had an opportunity to interview Dave Poulin, vice president of hockey operations for the Toronto Maple Leafs, for Lindy's Sports Maple Leafs Annual magazine.  Poulin, whose job focuses heavily on player acquisition and development at both the pro and amateur ranks, shared rare insight into almost all facets of the game.  From principles of drafting, the mechanics of pro scouting, and internal team growth, Poulin shed light on the important, behind-the-scenes work that dictates the future success of the franchise.
As is often the case in any written work, more is discussed than can be shown.  Inspired by MLHS readers' questions, here are a couple pearls that Poulin shared with me relating to draft draft methodology, player value and prospect depth within the organization that -  due to space constraints - couldn't be included in the feature.
Be sure to check out Alex Tran's mag preview with Dave Morrison, if you haven't already.  More info on the magazine release and availability will follow soon.  Looking forward to your thoughts; enjoy.
The Toronto Maple Leafs have re-signed winger Nikolai Kulemin to a two-year, estimated $5.6-million contract this morning.  The Leafs avoided the potentially acrimonious arbitration process, signing the Magnitogorsk native to a deal with a modest cap hit of $2.8-million.
Kulemin, a 2006 second round draft pick, struggled mightily prior to a season-ending finger injury last season, posting career lows with seven goals and 28 points in 70 games.  He scored 30 goals for the Maple Leafs in the 2010-2011 season.
The two-year term means Kulemin will be a UFA at deal's end, as opposed to a "show me" one-year deal which would've seen him become an RFA again next off-season, but there's little doubting this is good value if Kulemin's offensive game even half rebounds. [more…]
Anthony Petrielli and I will be interviewing Toronto Maple Leafs Vice-President of Hockey Operations, Dave Poulin, tomorrow afternoon for an upcoming feature. Â The discussion will [more…]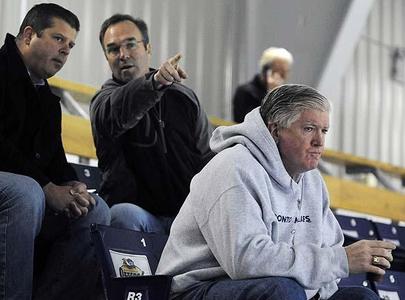 The Toronto Maple Leafs have – even by their standards – had a very quiet offseason.  Since late May, GM Brian Burke has focused almost entirely on improving the forward corps for the 2012-2013 season with the signings of both Leo Komarov and Jay McClement; and trading for potential sell-low steal of the year, James van Riemsdyk.  The acquisitions have mostly been lauded as beneficial to the club, in particular for infusing some snarl, defense and skill into the beleaguered club's front ranks.
But it takes only the most cursory of sifting through tea leaves to discover that these moves, while improving the team, are a precursor to even more change in the appearance of the forward ranks heading into next season.
Even without the additions of Komarov, van Riemsdyk and McClement, the Maple Leafs already have 13 forwards under contract for next season who played at least 10 games for the club in the 2011-2012 season. [more…]
With the Toronto Maple Leafs set to select fifth overall at the 2012 NHL Entry Draft on June 22, most Ontarians seem to be impatiently pining for an all-world talent to fall into GM Brian Burke's lap.
Speculation will run rampant up until the moment just before Burke steps to the podium, when he caustically taunts a rival GM about his pending selection, ruining the reveal.  But is there something we should know about Burke that he's not telling us?
I back-tested the last seven drafts that Burke has participated in - three with Toronto, four with Anaheim - going back to 2005.  In those seven drafts, Burke selected a total of 52 players.  Only eight of them, or 15.9 percent, are European-born or European-trained (all others are North American).
After jumping 30 spots in the most recent International Scouting Service report, the 2012 MLHS Draft Profiles turns its watchful eye to Oshawa Generals centerman and Jack-of-all-trades, Scott Laughton.
There's a lot to like about Scott Laughton, who recorded 21 goals, 32 assists and 101 PIM in 64 games, skating mostly on a line with Christian Thomas (40th overall in 2010 by NYR) and Andy Andreoff (80th overall in 2011 by LAK).  After starting the year slowly, Scott Laughton has developed into a reliable two-way force in the 'Shwa.
What Scott Laughton has that should separate him from the pack is will.  Simply put, the guy works hard each night and was relied upon as a special teams cog over older, more established players on the Generals roster. He initiates contact, and is dogged in his pursuit of the puck.  And despite a relatively average frame (6-foot-1, 178 pounds), he's a willing pugilist.  He might want to rein-in that last element of his game for future success, as his any-situation utility is moot while he's in the sin bin. [more…]
On Sunday I shared with you most of the highlights from Brian Burke's appearance at an executive breakfast.  Due to time constraints and formatting issues (and word count.  That's Petrielli's bit), I had to omit an excellent story that Burke told about an altercation between the Fire Department of Vancouver and former Canucks tough guy Donald Brashear near the end of his tenure there.  With the movies like Goon and Slap Shot portraying hockey players are lug nuts who can barely function in normal society, Burke related a story that in no way dispels this motif.
As a caveat to both the readers and potential claimants in a libel suit, I cannot certify the veracity of this particular story.  I got the sense that Brian Burke is close to his Irish roots in that he's an admitted lapsed Catholic and that the point of a story isn't the facts, it's the story.  My family can relate.  But this was a tale that Burke told the assembled group last Wednesday, and I'd feel derelict in my duty not to pass it along.  Burke re-enacted two scenes, playing out both parts, from a phone call with the Fire Chief of Vancouver Fire and Rescue Services and an in-person meeting with Donald Brashear.
This past Wednesday I had the great good fortune to see the guest speaker, Toronto Maple Leafs President and GM Brian Burke, at the Scotiabank ® President's Breakfast.  In no way should I have been in attendance at this swanky affair used to reward lucrative business clients and senior management, but my branch manager is an avid hockey fan and when a favoured client had to pull out, I was a last minute substitution.  As we stand on the eve of the trade deadline with the Leafs in a tailspin, I'd like to share with you some of the highlights from Burke's speech and Q&A session held in the opulent Ratcliffe Room on the 63rd floor of Scotia Plaza.
As a brief primer, I must report that Brian Burke is a terrific raconteur who speaks confidently and lucidly at all times; but when given a chance exhibits a tremendous, ribald sense of humour.  His bravado and bluntness quickly came to light as he approached the podium.  With a cup of coffee and some prepared notes in hand, I expected him to begin formally with pleasantries and platitudes for his sponsor.  Instead, raucous laughter met his opening line regarding the Leafs OT loss to the New Jersey Devils the night previous, "So that goal was horseshit!"
For fans expecting GM Brian Burke to make a big splash next Monday, prepare to be disappointed.  After acquiring Joffrey Lupul a month ahead of D Day in 2011, Burke equated the deadline frenzy to ethnic party favours, "it's almost like a party with a piñata, everyone's going for one player and everyone's swinging at it."  These are not the words of a man willing make a knee jerk trade just to appease his Twitter feed.
Below are the trades the Leafs have made on the past three trade deadline days.  Aside from showcasing just how far the team has come, it speaks volumes that the best player Brian Burke has acquired for the Leafs at the deadline is Olaf Kolzig (about ten years past prime).
Mats Sundin, perhaps the most hotly debated Leaf of all time (sorry, Phil), is in town.  His number is being honoured this Saturday against the Montreal Canadiens, and the recluse-in-retirement has come back to Toronto for the festivities.
Maybe the best Leaf of the past two decades, he was an affable if reserved player both on and off the ice.  He was no flash in the pan; he became the leading Leaf scorer through 13 seasons of determined consistency.  Known for foppish locks, McDonald's commercials, and breaking hearts, Mats' mere presence always caused a stir.  And on Saturday he'll be in the ACC, just a stone's throw from the Hockey Hall of Fame.  He's eligible this coming fall, and it begs the question: Is Mats Sundin a first ballot hall of famer?  [more…]
Having collected 9 of a possible 10 points in their last 5 games, and coming off back to back shut outs by James Reimer, the Toronto Maple Leafs look to move into 7th place in the East as they take on the surging Edmonton Oilers tonight at the ACC.