Mislav Jantoljak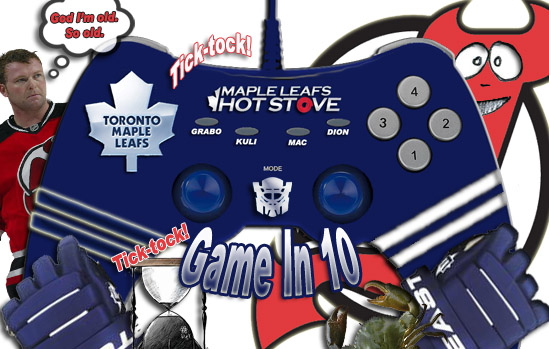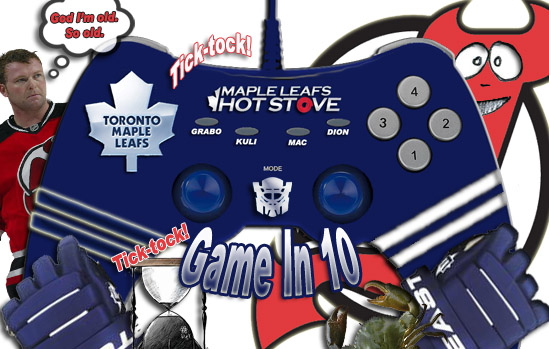 Sure, Martin Brodeur was back but so was Joey Crabb. Happy birthday to Luke Schenn. This wasn't a textbook example of how you want your team to play hockey, from either side. We won so it's all good. Except the special teams and defense.
Happy Halloween, MLHS'ers. There aren't many positives to be drawn from yesterday's loss but we can be pretty happy with the way this opening month of the season played out for the Maple Leafs.
The month was not without its pitfalls for the hockey club, but the team, more often than not, responded with flying colors. Injuries to Tim Connolly, Nazem Kadri, James Reimer, Colby Armstrong, Tyler Bozak, and  MacArthur's early suspension were all factors which could have contributed to an ugly period of results for the team. Instead, the Leafs are 7-3-1 and have a lot to look forward to headed into month number two of the 2011-12 campaign.
Battle Of Ontario on the back half of a back to back. Didn't think much of the first two periods, loved the third. Hate losing against the Sens. The end. Nah, read on.

With Pittsburgh missing Crosby, Staal, Michalek and Kennedy the Leafs knew they were in for a game of grinding it out. The team was well prepared to do just that against a team that tested us, then tested us some more. But the two points remained in TO.
Coming in cold against Montreal with in the Bell Centre, in a tense game, probably isn't an ideal way to win the fans back. Defending the pipes against Boston, when they decide (for the lone game this season) to show everyone what a Cup winner looks like, isn't exactly walk in the park either (insert an Ilya Bryzgalov joke here).
I actually think those games combined, coupled with the Rangers game, show the true Jonas Gustavsson right now. When we look at Monster's fundamentals, which still aren't good, it's really easy just to blame it on his development. But we have to remember that his development also wasn't quite a walk in the park. It was because of this that you'll still continue to see holes in some of the more fundamental aspects of play, until he himself realizes that those mistakes cost you games. I'm a strong believer in goaltending coaches, but I also think you can only do so much without experience.
On a night when the Leafs worryingly placed James Reimer on IR, suffering from what the management still didn't want to call post concussion woes, we really needed Gus to step up. That he did. It wasn't spectacular, but he was good.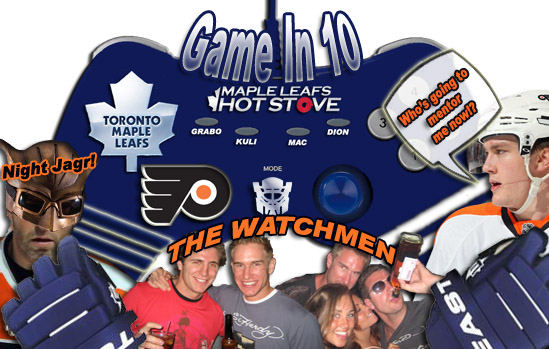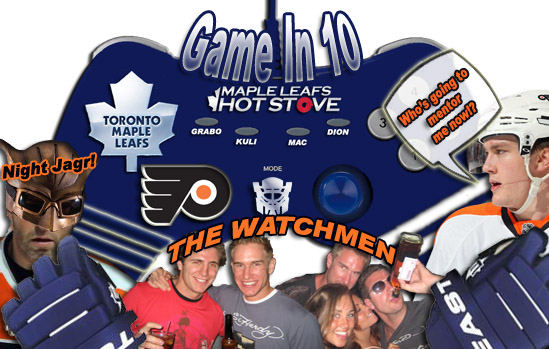 Schenn vs. Schenn, Jagr vs. age. Bobrovsky vs. Gustavsson. Leafs Nation vs. Gustavsson. This was a great game that we unfortunately lost. A lot of positives to draw from this one.
Ladies and gentlemen, today I'll try to use a bit of the Leafs' ever glorious history to try and make today's rivalry night even more special. Here goes nothing.
On this day in 1966, our Maple Leafs started paving a road to their last Stanley Cup. They started a season that will forever be remembered in the hearts of Leafs Nation members around the globe. Some of us read about it, watched rare vintage video, some of us even had the privilege to see it live.
The Cup winning season of 1966-67 started with a 4-4 tie against the New York Rangers. Rangers' leading point scorer and Hall-of-Famer, Rod Gilbert recorded a hat trick in the game but the Leafs still managed to draw the opener. What's interesting about this is that the Leafs didn't actually have a good regular season that year. We finished the 1966-67 regular season in 3rd place out of only six teams.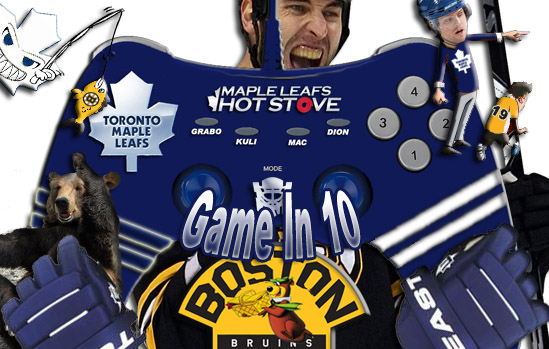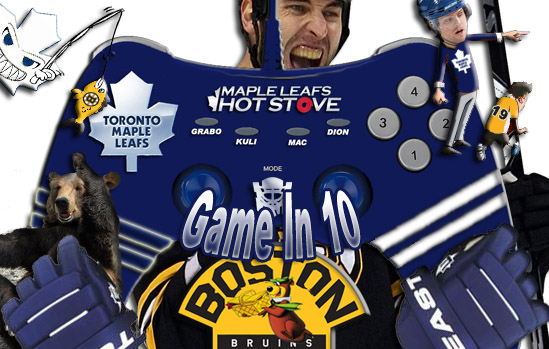 Back half of a back to back against the Bruins. A lot of Bs in that one. A lot of Bs in the game as well. It was a second game in as many nights, but I can't excuse the team for the mistakes made that had nothing to do with energy but rather hockey systems and fundamentals. Only then can we look at the effort, which wasn't there from the start. Against teams like Boston, that counts.
One of many future games against the Jets, even if they move to the West. Having the Jets back is good for the game and it showed tonight in a very entertaining hockey game. Which the Leafs won. That makes it more entertaining. Welcome back and thanks for coming, but the two points stay in the ACC.
When you saw Giggy was starting in the ACC you knew it was going to be tough. It had to be. Hockey gods love to write such stories. A point for the Leafs. Bigger than it appears to be.
September 18th, 2011 was a very special day indeed, it was the two year anniversary of the "dreaded" Kessel trade. On September 18, 2009, the Boston Bruins traded Kessel to the Toronto Maple Leafs, where he quickly signed a five-year, $27 million contract. The Leafs gave Boston their first and second round Entry Draft picks in 2010, as well as a first round Entry Draft pick in 2011. These picks turned to players Tyler Seguin, Jared Knight and Dougie Hamilton.
Please keep in mind that I'm not playing this card now because Kessel is on fire and has 8 points in three games (including 5 goals) but because I think this is a moment worth remembering. I'm also not looking to start the Kessel deal debate all over again. It was what it was and I'm happy with what/who we got back. That is all.