Mislav Jantoljak
The Leafs have signed Jay McClement to a 2-year, $3-million (1.5 mil. per) contract. McClement is a 29-year-old centerman from Kingston, Ontario (that one's for you, Don Cherry). A left handed shooter, he stands 6 ft 1 in tall and weighs in at 205 lbs.

He is your prototypical shutdown centerman with little offense. But what he does, he does well.
A guy with good faceoff numbers, McClement is a player who is more mobile than Steckel, excels on the penalty kill and has decent size.
The Justin Schultz saga is finally over. The telephone lines closed and, in what would be best described as a reality show vote off, the young blueliner decided to sign with the Edmonton Oilers, leaving Leafs Nation and several other fanbases wondering what could have been.
This writer refuses to believe one young free agent defenseman would turn the fortunes of any franchise, but it's hard to argue we wouldn't be a deeper team with him in the mix. Did he really do that much to deserve the fanfare and media coverage he got? No, but I guess that is just the reality of a not so deep UFA pool coupled with the media doing their best to exploit the situation. Who knew...
In the end, we shouldn't be judging the kid for doing what he feels is best for his career and taking his sweet time to do it.
According to various sources including Bob McKenzie of TSN, the Leafs bought out winger Colby Armstrong:
McKenzie tweeted:
"Colby Armstrong is being bought out by TOR. Will be on unconditional waivers at 12 noon ET."
According to capgeek.com:
If Colby Armstrong buyout goes through, MapleLeafs cap space will increase by $2M to $14.8M
McKenzie also tweeted:

Buyout of Armstrong, courtesy of capgeek, means TOR will have cap hit next season of $1M instead of $3M, but $1M year after instead of $0.
Easily the most overlooked part of the draft bonanza and the Schenn-JvR deal, Jonas Gustavsson was dealt to the Winnipeg Jets for a conditional seventh round pick in next year's entry draft.
You know, sometimes fans have a hard time finding sympathy for professional athletes because we're so used to the mindset that they have everything most of us want to have or that they enjoy a far better lifestyle than any of us dare to dream about. It's mostly because of said fact that them delivering/not delivering on the ice becomes the only important measuring stick when it comes to determining one's glory or failure in the eyes of fans and team critics.
I would argue that since sports are about winning and winning is done by winners - players, coaches, trainers and GMs who help a team win and who, by default, win themselves - it's the right measuring stick. My question is - is it the only measuring stick?
As Darren Dreger tweeted:
"Breaking News!!!! Toronto trades Luke Schenn to Flyers for James Van Riemsdyk. Done deal."
In a deal that made a lot of sense for both sides - and perhaps a needed change of scenery for both former top 5 picks - the Leafs trade defenseman Luke Schenn to the Philadelphia Flyers for big skilled winger James van Riemsdyk. The whole drafting process was leading up to this point, as the Leafs stockpiled on defensemen that made this trade all the more probable.
A deal which was in the making for quite some time, and maybe would have gotten done sooner if not for JVR's earlier concussion problems, finally materialized. Burke pointed out that this team needed to get bigger up front and that's exactly what this move is all about. While JVR won't take people's heads off with hits, he offers that big body in addition to his goal scoring ability that will hopefully give the top six a new dynamic.
We need to thank Luke Schenn for the years he spent with the organization and wish him all the best with the Flyers. They get a player who can still become one of the better shutdown defenseman in the league.
On the other hand, Leafs get a player who not only brings size and good possession skills but is also a fit price wise. Van Riemsdyk is also a good skater with plenty of speed who loves to drive the net. He is listed as being 6 ft 3 in tall and with a weight of 211 lb and is 23 years old.
Hello fellow Leaf fans, welcome to the MLHS 2012 NHL Entry Draft Open Thread. According to Twitter, a lot of GMs are talking to each [more…]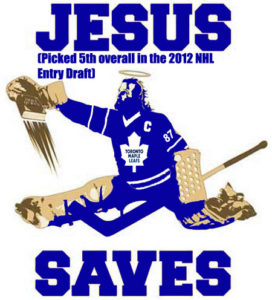 The title of this article seems messed up, so let's just start by explaining it. I'm not actually going to be talking about our "soon to be former" top prospect. I'm going to talk about an approach; an organizational and fan-made approach to our next top prospect. Still, expect Kadri's name to be mentioned a lot.
This article shouldn't really be about Kadri, because he is still very much what he always was, only a bit older. He still deserves to be talked about and his development is still very important to this hockey team, but some guys just take longer to develop. Don't believe me, then take the Sedins for example.
My starting hypothesis for this article was that the spotlight that has followed Kadri has slowed down his development as a hockey player, but I haven't really figured out the psychology behind it. "If you are ready to step up, you're ready to step up, look at Landeskog and Skinner," you say. Well, exactly. Kadri wasn't ready then, and while he's more ready now, it's more complicated than just putting a talented kid on the ice, especially in a market like this.
To this writer, this year's Stanley Cup Finals were a treat. Not as much of a treat as seeing the Leafs win it of course, but enough of a treat to keep me in (and out of) my seat for most nights.
I couldn't help but fancy the underdog, even if it meant not getting a chance to see the Cup in a neighboring country (Slovenia). Based on their team depth and level of play this team is capable of, the Kings seemingly had it all.
On the other hand, the Devils had to fight against injuries and featured storylines about a legendary goaltender fighting to improve on his already monumental impact on hockey history and an injured scorer struggling to shoot while leading all players in playoff points (up until game six).
Wayne Gretzky, Alyssa Milano, Sidney Crosby (sorry Sid, but Alyssa gets the nod ahead of you), LL Cool J and David Beckham were all present as the Kings put themselves within a win of a Stanley Cup championship last night. Seemingly, all that's left to do is to lift it. A highly commanding playoff run, coupled with a fantastic road record and an almost unbelievable penalty kill, gives them every right to. The Kings are simply playing fantastic hockey.
Simon Gagne made his return to the ice which, no matter who you want to win this thing, has to put a smile on your face. On the flip side, it's hard watching a guy who's the leading point scorer of the playoffs up until game 3 (Kovalchuk) struggle with an injury that's becoming more and more of a hindrance as the Cup gets closer for the opposing team. Both things are equally a part of playoff hockey and we have no choice but to embrace them as story making events.
Yesterday was a big night for hockey. Unfortunately for Leaf fans, the Marlies lost out a convincing 4-2 decision to the record setting Norfolk Admirals. The Marlies are now heading home with a 2-0 deficit but here's to hoping that the crowd at the Ricoh can ignite them again.
Norfolk opened the scoring with Panik deking Ben Scrivens, pushing the puck through the Toronto goalie's legs and scoring to set the tone for the rest of the game. Alexandre Picard, Brandon Segal and Trevor Smith also scored for the Admirals. The only two goals for the Marlies were scored by Joe Colborne and Juraj Mikus. Mikus' goal came in the final minute of the game.
There was also a Stanley Cup Final to be played, Game 2 to be precise. While the Devils played a much better Game 2 and dominated through large stretches, Jonathan Quick wasn't about to be denied a second win in the series.
If you watched the Nicklas Lidstrom retirement press conference, which I'm sure some of you did, you undoubtedly saw the passion of Mike Ilitch Sr., who almost cried when talking about the departure of one of the best hockey players the world had ever seen. You undoubtedly bore witness to the quality of player/management personnel relationships that exist in such a world class organization.
I'll be the first one to admit it. A part of me, the general hockey loving part, is a Red Wings fan. By that I don't mean I support the team as a jersey-wearing fan or anything like that, but I do have tremendous admiration for how they conduct business, personnel decisions and make hockey men part of their family. In my line of thinking that kind of relationship has a major impact on the continuing excellence of that franchise. [more…]
There are two distinct stories on the surface of the upcoming Stanley Cup Finals. The Los Angeles Kings play the role of a team built for a Cup run. Deep down the middle, boasting a solid leadership group led by a hard hitting captain Dustin Brown and a veteran presence of Willie Mitchell and Rob Scuderi (who won the Cup with the Penguins not so long ago). Then there's their scoring depth, their stars' willingness to accept lesser roles (Richards, Carter) and great goaltending provided by Jonathan Quick.
Then there are the New Jersey Devils. No matter how you decided to paint the picture looking at the full length of the regular season, the Kings were always in the running for this year's Stanley Cup and that percentage didn't shrink when they traded for Jeff Carter. 8th seed or not, they always had the personnel to make that run. On the other hand, New Jersey took us completely (yes, yes it did) by surprise.