Ron Guillet
*Inspired by Eric Engels' question blogs over at HockeyBuzz*
As you all prepare for the Toronto Maple Leafs' division tilt against the Ottawa Senators tonight, allow me to throw some questions your way.
With the Toronto Maple Leafs failing to garner at least a point against the Chicago Blackhawks last night after an admirable performance from goaltender Vesa Toskala, there was an issue with the Leafs' offensive squad that became increasingly visible in the dying minutes of the game.
Grit.
Michael Nylander has been placed on waivers per Bob McKenzie via Twitter.
Since the Montreal Canadiens disposed of the Toronto Maple Leafs in an overtime decision in the season-opener on Oct.1, Mike Komisarek has been chastised by Habs fans, even garnering the nickname, "Homosarek."--- but I have to admit, that one is actually pretty damn funny.
However, what Canadiens fans fail to recognize is that Komisarek, in the midst of a slump, has performed quite well in comparison to the Canadiens' defensemen in terms of defensive statistics---except for +/-, which is generally a team stat, and I don't have to show you where the Leafs are currently positioned in that regard.
*Inspired by Eric Engels' format over at HockeyBuzz. Great stuff.*
Ten questions as you soak in another disappointing overtime loss, this time against the Tampa Bay Lightning. If there's anyone to blame, it's that bitch known as Lady Luck.
***Check out Nikhil's pre-game article for some in-depth information about tonight's game! This is more of a blog than a pre-game***
While there has been much buildup for the debut of Phil Kessel in a Toronto Maple Leafs uniform, the goaltending of Jonas Gustavsson against the Tampa Bay Lightning tonight should be equally monitored.
Vesa Toskala and his fellowship of the underachievers will be entering Saturday night's game with the pressure of Leafs Nation bearing down on their shoulders.
As I was carefully selecting the sharpest and jaggiest stones for the public sacrifice of the Toronto Maple Leafs' Vesa Toskala, I thought of something.
Pre-season.
Yup, that's right. It was just pre-season. The reaction the 32-year-old has garnered throughout Leaf Nation might suggest otherwise, but yes, these games were basically meaningless—except for a select few.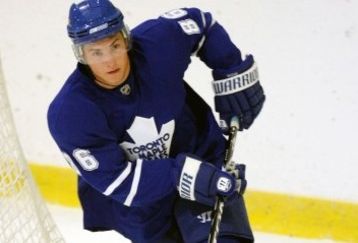 While the pre-season may be a warm-up session for the veterans players of the Toronto Maple Leafs, it is a period of turmoil for youngsters like Viktor Stalberg, Tyler Bozak and Christian Hanson.
The trio of collegiate hockey players are no doubt anxiously awaiting their fate with the Buds. And with the regular season set to debut on October 1st, they will be informed soon.
The Toronto Maple Leafs are now riding a three-game winning streak after defeating the Philadelphia Flyers in overtime on Saturday night by a score of 5-4.
Yes, it's pre-season, but who cares? It's hockey, and we're winning. Enough said.
The Toronto Maple Leafs may not win a lot of games this season, but the opposition won't be leaving the rinks with a full set of teeth.
A team that Brian Burke envisioned as truculent, belligerent and pugnacious hit the ice last night in a no holds barred match-up. There were five fights by the end of the game; the Leafs winning three of them. Surprisingly, pugilist Colton Orr didn't drop the gloves once, but he used his body a few times to deliver some big hits. Garnet Exelby, Francois Beauchemin, Phil Oreskovic and a number of others also didn't shy away from the rough stuff.
With under two weeks until the pre-season debuts, many fans of the Toronto Maple Leafs continue to ponder which players will make the cut come opening night against the Montreal Canadiens. Players like Jiri Tlusty, Tyler Bozak, Christian Hanson, Nazim Kadri and others will be competing for employment at the National Hockey League level. However, the rigors of the NHL regular season far exceeds that of the pre-season, and as a result many players have failed to maintain their newfound success.