Ryan Fancey
Probably not much more than some fun speculation here, but it seems the internet is heating up some trade talks, and the Leafs are in the middle of it. Again.
From the Philly Daily News:
Flyers director of player development Don Luce was spotted for the third time in as many weeks at the Air Canada Centre in Toronto for the Maple Leafs' contest against Buffalo.

Luce's consistent presence in Toronto fuels trade speculation between the Flyers and Leafs. The NHL trade deadline is just 47 days away...

...

"I do try to get my lineup set well in advance of the deadline," Burke told ESPN.com on Friday. "I've never been a deadline guy. So January is when I try to make a splash. We are listening to a lot right now, and there is a good chance something will happen ..."
While I don't doubt the Leafs and Flyers are chatting, I'm not sure how you could pinpoint Luke Schenn as the player that's targeted (which the article goes on to do.)
It's well known that Burke and Flyers' GM Paul Holmgren are buddies, and Burke's son is employed by the Flyers as well. The connection is there.
Is there enough to get a deal done? If Burke really wants to stay away from the deadline, it looks like we'll find out soon.
Just when I had envisioned the Bruins, Leafs, Sabres and Canadiens making the playoffs every year forever and ever, the NHLPA goes ahead and stops realignment. Yes, you're reading that correctly. Realignment, not happening, or at least it seems that way for now.
From the White Towel (Province Sports):
The National Hockey League Players' Association has blocked the #NHL's proposed #realignment plan for the 2012-13 season
This, of course, means the Jets will remain in the Southeast, while the Florida teams won't make the jump to join the Northeast clubs. It's been reported that the League had imposed a deadline for the PA to approve realignment, they didn't, and here we are.
There's your late Friday night hockey news.
After doing battle for the third time this season on Wednesday night, the Leafs and Jets split from their marriage in the standings once again and Toronto climbed back into a playoff spot. The Jets on the other hand, saw their goal differential slip to -11 on the season after the 4-0 loss, they still sit in tenth.
If we know anything, it's that January through February is an important stretch of the NHL season. Go figure, it's the meatiest part of the schedule really, outside of the hilarious All-Star Game. You need only to look at these two clubs to understand why.
Last year around this time, the Leafs and Thrashers (I think that's what they were called) started to turn the wheels, heading in opposite directions.
Without sounding too grim regarding the Leafs playoff outlook, it's basically undeniable that the club has reached the coin-flip territory that many of us predicted before the season began. Most believed the team would float around as a fringe playoff club and finish somewhere in the 7-11 range.
When the team kicked off things by banking points and climbing to the top of the league, we knew it wasn't sustainable, but were obviously glad to see things go right before we knew they'd go wrong (somewhat). It isn't exactly a death sentence, but the club has slipped to where they should be: clinging to a playoff spot.
From Jonas Siegel at TSN1050:
Confirmed: Reimer starts.
This is the news we've waited on for what seems like forever. Reimer has been out of the lineup with whiplash, or concussion-like symptoms, or something, since late October when Brian Gionta decided to run him over (or, attack him, depending on how you look at it).
Talk about throwing him back into the fire. The Leafs face the Bruins tonight and are hoping that Reimer is the piece that solves the Boston puzzle in his first start back. Tough assignment.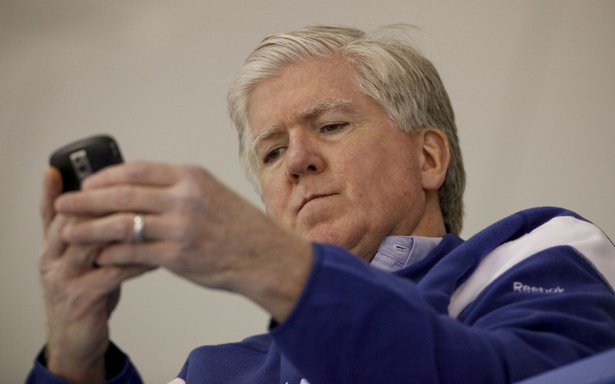 It's been no secret to a lot of Leafs followers, and hockey fans in general, that with a changing NHL comes a change in the way hockey teams will be structured going forward. Structured, built, laid out, however you want to put it, the makeup of a roster these days probably looks quite different than it did even five years ago.
Of course the game has always had stars and superstars. Even the worst teams have had at least some talent sprinkled  through their top two lines.  Where the line was drawn, for a lot of clubs, was when the third string stepped on the ice. This obviously wasn't true for every team, as even now you'll find differences in the layout of team A vs. team B. But one thing is clear, undeniable: speed and skill kill.
Unless you've been locked in a closet for the past few days, chances are you've managed to come across some Bobby Ryan trade talk in one way or another.
Well, what started as a quick hit rumor (or at least that's what we thought) from Nick Kypreos has blossomed into full on hockey news. TSN made multiple mentions of the Ryan trade scenario on its national broadcast of the Leafs-Bruins game on Wednesday night, and Twitter has been abuzz for a couple days now. It simply won't slow down.
Of course, what would a trade rumor be without mention of the Maple Leafs? Ryan has been mentioned among Leafs fans in the past, but now it seems they may have a legitimate reason to speculate.
From Mike Brophy at Sportsnet:
The Toronto Maple Leafs have made contact with veteran goalie Marty Turco. He has been working out with the Soo Greyhounds.
Obviously nothing imminent yet, but with the Leafs' goaltending struggles, it seemed like most fans were in agreement that veteran help was needed. Is this the veteran help the team needs?
Turco is 36, and in his recent stint with the Blackhawks in 2010-11 he posted an 11-11-3 record, along with a .897 Sv% and 3.02 GAA. Whether he'd be an improvement on the current tandem of Scrivens and Gustavsson is up for debate. Have at it.
Dave Feschuk of the Toronto Star released an interesting article on Wednesday night pertaining to the Leafs' James Reimer, and some worries his mother may have about his current health situation. And to be honest, it will (and should) send fans into quite the panic.
After dropping two straight lopsided games this past week, it seems the team is finally slowing down, or regressing to the mean (as many would put it). Of course we didn't believe this first place pace was sustainable, but nor did we believe the drop-off would be so steep.
Now, I'm fully aware that it's only two brutal outings, but combine a snake-bitten group of forwards - who shouldn't be cold for too long, thankfully - and some horrendous goaltending, and the Leafs seem to be gearing up for their regular November routine. The only problem is, they have zero idea when Reimer can come back and bust them out of this, and December's schedule is a hell of a lot rougher than this current month. Even with goal-scoring eventually getting back on track, they're still taking an enormous chance by putting any hopes in the Monster, or Scrivens for that matter. So, maybe something needs to be done quickly.
That falls on Burke. Wilson can toy with the lines and try to get his players back on track as soon as possible, but with basically a cardboard cut-out between the pipes, it won't make a lot of difference in the win column.
In what's been a dream season so far for the Maple Leafs, defenceman Luke Schenn is currently going through the most nightmare-ish period of his career, performance-wise. Though, it's tough to notice his poor play, since he's barely on the ice.
What you're about to read may be offensive to some. Viewer discretion is advised.
Luke Schenn had the least amount of ice time for the entire Leafs squad during the win against the Devils on Wednesday night. 10:01, that was his total. Ten minutes and one second. Dupuis was second-to-last with 10:38 on ice. You know, Phillipe Dupuis, that guy who plays on the fourth line. Schenn didn't even see the ice for one special teams situation - unbelievable.
A fight kept him out of the game for 5 minutes late in the second, as I guess he tried to spark some interest from the coaches. It didn't really work.
From Pierre Lebrun at ESPN/TSN:
" I heard from sources on other teams Monday that Gauthier was phoning around looking for help on defense. The thing is, he's not alone. Tampa and the New York Rangers are among the other teams also looking for blue-line help. It just so happens that Cody Franson is available in Toronto, although I'm not sure whether any of those three teams have interest in him."
This isn't exactly surprising news. Franson really hasn't panned out the way most expected, and though it's early, he's probably better off leaving town for more help up front. Keep a close eye on this one, those struggling teams will want to turn things around as soon as possible. Is Franson the solution to their problems? Probably not, but these are teams looking desperate to shake things up.
Glove tap to Curtis Tudor for pointing this one out.
When Brian Burke decided to pull the trigger on a deal that would send Brett Lebda to Nashville for Cody Franson and Matthew Lombardi, Leafs Nation was, for one, ecstatic, and two, left wondering how this deal would pan out, given the Leafs' lineup. We couldn't stop talking about it.
Well it seems we still can't, because since then things have taken a weird turn.
Lombardi was viewed as an injury write-off, many of us predicting he'd play less than 60 games total as a Leaf. Franson, on the other hand, was seen by many as a defenceman with offensive upside and perhaps on the verge of a breakout year with his minutes increased. Fast-forward two games into the season and Franson hasn't got a sniff of icetime, while Lombardi has already scored a game-winning goal against the Leafs' biggest rival.
Franson has made himself heard over this issue he's facing, and it's clear that he isn't happy. And quite frankly, I'm a little puzzled as well.
I can see where the guy is coming from. Coming off an 80 game season last year, that's where Franson is capped at this year and there's no guarantee he'll see more than 70 over the course of this campaign. That's a tough one to swallow for a young guy in a contract year who was looking to make a real contribution in the top four on the back-end. He'll get his chance to lock down a spot Saturday when he makes his debut, but then we'll just start having the same sort of debate about someone else.