The Fan Blog
Andy Arias, better known as @rallycap_andy in the Twitter-verse, is a self-proclaimed "mahoosive sports tweeter and jersey enthusiast/snob." He agreed to share some tips with the MLHS community on the fine art of spotting authentic jerseys versus knock-offs when considering a purchase.
First and foremost let me say this: I understand. Buying a jersey isn't cheap and if there is the possibility to save a few bucks of course you're going to take it. A quick check online at the Maple Leafs Shop and you'll find out that a replica jersey with your favourite player's name on the back will cost you around 200 dollars. An authentic? North of 300. You love your Leafs, but paying rent this month sure would be great too. So you Google "Cheap Leafs jerseys" and you get all sorts of options. But how do you know if what you're looking at is the real deal?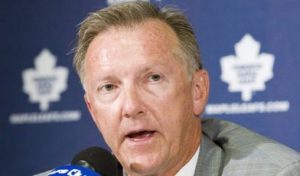 Brian Burke's endorsement of Ron Wilson's work behind the bench this season and his confirmation of Wilson's return next season sparked some debate in the most recent comments sections. While the "talent vs. coaching" special teams debate is really tough to come to any conclusions on, below MLHS' Cameron ran some numbers on player performance before, after and under Wilson:
The thing that drives me nuts about Wilson bashers is that they've long expected him to spin straw into gold, and when he produces silver, they are still outraged. Take a look at the key players Wilson has had under his command during the first two years of his duty here, and how their production changed (sometimes dramatically), under him versus other coaches. This only takes into account the timeframe after the lockout in the case of players like Antropov, Blake, and so forth: [more…]
Goal difference vs. Points - A simple statistical analysis
by MLHS' Great Dane (written before the weekend games)
There has been some talk on the site lately as to whether or not the playoffs remain in reach for the Maple Leafs despite a less than mediocre record a quarter of the way through the season, a subject Derek Harmsworth broached in his blog "At the Quarter Pole, Leafs Improved, But Is It Enough?" Statistically speaking, is 20, 21 or 24 points at the quarter pole enough to make the playoffs?
What follows is a small regression analysis of goal difference vs. points based on the records of the 30 teams in the NHL before American Thanksgiving. [more…]
Submitted by Michael Stephens (a.k.a. Baumgartner)
Playing 16 games in March, the Leafs iced a remarkable squad, going 9 – 5 – 2 in (one of the best records in the Eastern Conference), collecting 20 out of a possible 32 points. Those 20 points represent almost one third of the Leafs season point total, as do their nine wins. Though this speaks more to the season long ineptitude of Hogtown's heroes, it more recently speaks to their dazzling success: these totals come from just under one-fifth of the total games played in a season. That is perhaps the most promising thing about these young buds looking at next season.
[more…]
Written by Wook
Unlike many veterans who were forced to pack their bags after many consecutive years of dismal play coupled to lack of passion, people tend to turn a blind eye when it comes to Tomas Kaberle.
Submitted by Michael Stephens (a.k.a.  Baumgartner)
Apparently Sidney Crosby still lives with Mario Lemieux. Anyone else find that weird? Dude, you're almost 23. You've got a Stanley cup ring, an Olympic gold medal, an 8.7 million dollar per year salary (to say nothing of the endorsements). Damn man, move out already. But I digress...
Submitted by Michael Stephens (a.k.a. Baumgartner)
The Toronto Maple Leafs have the League's worst penalty kill, sporting a 73.0% success rate. They have been shorthanded 252 times this season, surrendering 68 goals. Through 71 games this season, they average 3.5 penalties (252ts/71gp) each night.
Around January 15th, this vaunted penalty kill was even worse, an abysmal 68.9%. Ron Wilson was smugly talking about how he had to teach his boys how to flip the puck down the ice and out of the zone.
[more…]
Author: B Leaf
Last season, the Leafs were 10th in scoring (244) and 9th in shots on goal (2,603). There is no major reason why that number should drop other than the loss of Antropov. There are other players who should have better years and help fill his ice time with similar results. On the powerplay, the Leafs were middle of the road at 16th. The Leafs were a respectable 17th in shots allowed (2481), but were a league worst in goals against (286). The PK% was also a league worst. Not all the blame can be placed on the goaltending, but a lot of it can. The collective save percentage for the team was an abysmal .885%.
by Darkjester
Many Leaf fans are counting down the days until Draft Day 2009, when we anticipate that our beloved Leafs will draft the franchise player that will lead the blue and white to the promise land. Some dream of John Tavares after witnessing him lead Team Canada to Gold at the WJC. Others dream about Evander Kane and his amazing hands or Brayden Schenn, who seems to be the Burke archetype we could all potentially revere. What you're not typically finding on fans' wish lists is a defenseman, which most aren't prioritizing due to the fact we have, in some beliefs, eight NHL-caliber d-men. We do lack the type of star player upfront that can potentially compete for the league lead in goals. So I ask the question: is that really what this team needs right now?
[more…]