Leafs History
The drought is over.
I don't need to say much more than that.
It's been a pretty awful nine years, but considering that we'll be tuning in to CBC for a Leafs playoff game next week, I think it's time to look back and exorcise some of the 2004-2012 Leafs' demons that we've hopefully talked about for the last time. Well, at least without crying our eyes out. [more…]
Mats delivered a killer speech in the city he plied his trade so magnificently for 13 seasons, dedicating his HHOF induction to everyone who supported him throughout his career: [more…]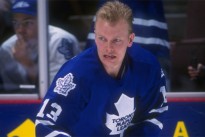 Junior wraps up the MLHS 'Memories of Mats' series:
On June 28th of 1994, Cliff Fletcher, the General Manager of the Toronto Maple Leafs, traded Wendel Clark, Sylvain Lefebvre, Landon Wilson and a first round draft choice to the Quebec Nordiques for Mats Sundin, Garth Butcher, Todd Warriner and a 1st round draft choice.
I resolved that day to hate that bastard Sundin forever.
I was 27 years old and had been a Leaf fan all my life.  I can remember the Dave Keon posters my Dad hung for me on my bedroom wall, around about the time I was starting kindergarten; inspiration for a smallish six year old wondering whether a little guy could play hockey against bigger opponents.  When I got a bit older, and Keon had been lost to the WHA, Darryl Sittler was the Leaf player I focussed on, curly hair flying as he racked up his ten point night, suiting up with the game's best on Team Canada - and beating the Czechs in the Canada Cup.  I liked those players well enough, but my admiration for them couldn't hold a candle to the way I felt about Wendel Clark. [more…]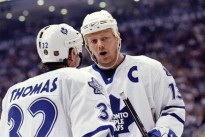 You could see it, feel it – even hear it. It was the complete overtime game-winning-goal experience, and in the playoffs, no less. Their first round opponent was the Ottawa Senators. It was here, in this newfound playoff rivalry, that the Battle of Ontario was truly born. And by the searing power of our Captain's blade, it roared off to a memorable start.
Game 1. The Senators were second seed in the standings and the apparent favourites, but the Leafs – on the back of their oft-underappreciated gem of a leader – fought out a tight 0-0 tie into overtime. Steve Thomas executed a fairly textbook give-and-go at the Ottawa blueline. As he dished the puck to his Swedish linemate and dashed toward the net, Thomas couldn't see Sundin step forward and take what has to be one of the most interesting shots I've ever seen… [more…]
With 987 points in 981 games as a member of the Maple Leafs, Mats Sundin created his fair share of memories for Toronto fans. While most can recall where they were when he achieved many of the moments of greatness which will long live in the lore of Leafs' history, few can recall either his first goal or first assist in a Toronto uniform.
At the NHL draft in 1994, Cliff Fletcher shocked the Leafs' fanbase with a blockbuster deal that sent fan favorite Wendel Clark, stalwart blueliner Sylvain Lefebvre, prospect Landon Wilson and the Leafs' 1st round pick to Quebec for the then-23 year old Sundin, veteran defender Garth Butcher and the Nordiques' 1st round pick.  The Leafs subsequently dealt the Nordiques' pick, along with winger Rob Pearson, to Washington for veteran centre Mike Ridley and the Capitals' 1st round pick.
Since I didn't have a chance to watch many Leaf games in Crotia prior to 2004 (ones I caught were on satellite TV on a German program called DSF and tapes I got from virtually everywhere – that's how I got to see Gilmour and Clark), I took every opportunity to watch Leaf players play international hockey. Occasionally, our national television took pity on us hockey fans and gave us World Championship games, like the quarterfinal in 2003, which featured Sweden and Finland in Helsinki's Hartwall Areena.
As you are well aware, Sweden and Finland are big hockey rivals. To add to the flavour, the 2003 World Championships were held in Helsinki, Turku and Tampere, all Finnish cities. Coming in you already knew it was going to be a really emotional game. It turned out to be one of the most memorable moments I've ever witnessed in hockey. [more…]
Mats announced that he would be exercising his no trade clause on February 25, 2008. Â It may not be a popularly shared sentiment at this time, but this decision should be considered one of the Swede's great moments as a Maple Leaf. Of course, it almost certainly won't be remembered as such, as it is one of the few contentious things Sundin did in his career in Toronto (perhaps the only contentious thing, aside from his January 2004 attempt to use a broken stick as a discus-like instrument of Swedish wrath and frustration).
Sundin made a difficult choice knowing that many would not understand it. Painfully aware that in a city like Toronto, many would also lash out at him for it. Â But as he said yesterday, loyalty was both his biggest strength and his biggest weakness. Â The Swedish centerman was loyal to a fault, literally.
[more…]
What more can possibly be said about the way Mats got his 500th career goal? Slapper from the blue line? Check. Top corner snipe? Check. Third goal of the game, shorthanded, in overtime no less? You bet. In one of the biggest games of his career, Sundin performed with style. On a fairly disastrous 2006-07 Leafs squad, Sundin remained the sole bright spot of an aging core.
The game was a high scoring affair. As has so often been the case in Leafs games, defence was nowhere to be seen. Toronto would dominate most of the first, seeing vast stretches of time in the offensive zone on the cycle. Running into some penalty trouble, Calgary suffered the first goal against on a Tucker tally. Picking up a secondary assist on the goal was none other than Sundin. Not merely content with helping someone score, Sundin added his first goal of the night 7 minutes later. Sneaking into open ice near the side boards, Mats fired home a wrister as Calgary was caught sleeping. Number 498. [more…]
I am a young Maple Leafs fan, even around these parts. Not many know this, but I was born in 1995, and a Leaf fan from birth. Naturally, I don't remember the hard-fought series against the Sabres in the spring of 1997, and I've only seen video of Sundin's overtime winner against the then-powerhouse Senators in 2001. A year later though, I can say I truly started to bleed blue and white.
Only 7 years old at the time, I was slowly learning what it meant to be a Toronto Maple Leafs fan from my father – who'd been one (and still is) for over 30 years. I received my first Leafs jersey that year, the same white home sweater Sundin scored in against the Hurricanes in that bittersweet game six. I remember gathering around the television in the comfort of my own home for game one – like we had for every playoff game that year – with my father and I on one couch and my mother – the farthest thing from a Leafs' fan – sitting opposite from us. [more…]
It was a brilliant moment of catharsis that just seemed to sweep away the bitterness of the previous year.
Imagine yourself in Sundin's place leading up to this moment. For twelve seasons, you had brought a level of commitment and excellence that undboubtedly would have placed you among the most distinguished hockey players in the history of a storied Original Six franchise. You had given your heart and your career to a management team that had failed to pay you back in turn. Even still, your teammates and most of all, the wonderful city of Toronto had been behind you all the way. Then all of a sudden, things changed. You were now a trade chip, being publicly ushered out the door. A sacrifice for the long-term betterment of the franchise. Somehow, your reluctance to play anywhere other than where your heart truly belonged had earned you criticism and scorn from the same media and fans that once praised your dedication to the city. It was painful. [more…]
In the buildup to the Sundin's banner-raising ceremony tomorrow night at the ACC,  the MLHS bloggers will each be sharing their most memorable Sundin moment. Dan Santos is up first with his reflections on Sundin's six point night:
When reminiscing about my favourite Mats Sundin moments, the two I instantly remember are his 1-0 overtime winner against Ottawa and his late goal to tie Game 6 against the Hurricanes. However, another game is just as memorable to me because I was lucky enough to be in attendance. I am talking about Mats Sundin's 6-point night against the Florida Panthers.
April 11, 2006. The Toronto Maple Leafs are desperately fighting for their playoff lives. A late-season surge, led by Jean-Sebastien Aubin of all people, has given the Leafs a glimmer of hope with just a handful of games left. [more…]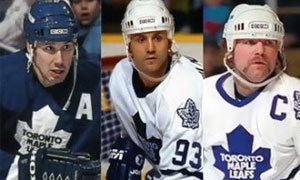 Following the unexpected success of the 1992-93 campaign, which saw the Maple Leafs take a 44-29-11 season to the Conference Finals, the stakes were high entering the 1993-94 season.  Could the Leafs prove that history was indeed behind them, and the previous season's success was not a fluke as some critics were wont to suggest?
Jaded by the disaster that was the decade of the 1980s, one could hardly blame the skeptics for questioning everything from scoring depth to injury concerns to whether goaltender Felix Potvin was a flash-in-the-pan or the real deal.  After all, hopes had been raised, only to be suddenly dashed, not long before.  Fortunately, each of these questions was to be answered in short order -- much to the delight of Leafs Nation.