2011-12 Season
When Colby Armstrong looks back on his career in Toronto, there's a good chance he'll remark that is was a pain.  How else can one describe the rash of injuries that has befallen the rugged right winger since coming to Toronto?  Since signing a 3 year, $9 Million dollar contract in the summer of 2010, he has skated in 59 games while he's sat in the press box with casts, bandages and eye patches for a total of 56 games.  So lets take a quick look at the trials and tribulations of the oft falling Leaf.
Prior to his tenure in Toronto, Armstrong was considered something of a durable player, whose low mark in terms of games played was 72 split between Pittsburgh and Atlanta during the 2007 – 2008 season.  Yet he missed 32 games last season with a broken finger, an eye injury and a broken foot.  This season, he missed 23 games with a high ankle sprain, and after only 3 games back in the line up, suffered both a broken toe and a concussion on Saturday night. The concussion puts Colby amongst the growing list (now more than two dozen strong) of NHL regulars feeling the effects of head trauma. [more…]
Last season saw Nikolai Kulemin reach new heights. His 30 goals, beyond being a career high at the NHL level, placed him in some elite company for the Maple Leafs. In the past 10 seasons, only Phil Kessel, Mats Sundin, Alexander Mogilny and Kulemin have managed to tally 30+ goals in a single season. In August, our own prognosticators pegged the Magnitogorsk native to lead the club in scoring, building upon last year's heroics.  But with his play of late, he might not even hit 10 goals this season. So what's the deal?
His current goal scoring slump has now reached 23 games, and unsurprisingly his stat line has been most unimpressive.  He's recorded 8 assists, is a +2, and has tallied 37 shots (1.60 per game).  I typically dislike throwing out numbers, but very simply there's little to like about his play this season.  He's on pace for career lows in almost every major category, and is set to score 27 fewer points than last season. [more…]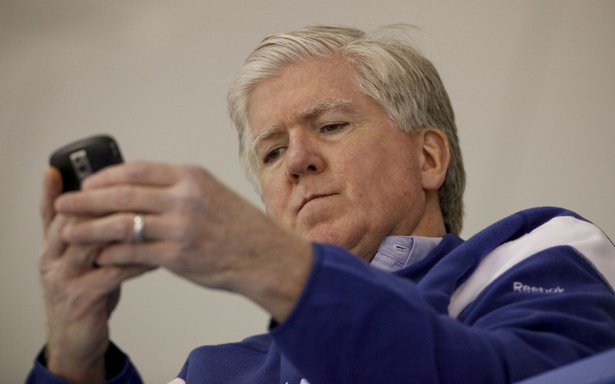 It's been no secret to a lot of Leafs followers, and hockey fans in general, that with a changing NHL comes a change in the way hockey teams will be structured going forward. Structured, built, laid out, however you want to put it, the makeup of a roster these days probably looks quite different than it did even five years ago.
Of course the game has always had stars and superstars. Even the worst teams have had at least some talent sprinkled  through their top two lines.  Where the line was drawn, for a lot of clubs, was when the third string stepped on the ice. This obviously wasn't true for every team, as even now you'll find differences in the layout of team A vs. team B. But one thing is clear, undeniable: speed and skill kill.
There is no understating the importance of tonight's game at all.  With a win tonight, the Toronto Maple Leafs will be in a tie for first place in the Eastern Conference with 32 points.  Riding a three game winning streak, the Leafs have gone from looking like pretenders to the real deal in the East, giving them a possible seven-point cushion on ninth place if they can pull off a victory.  It's just a shame that they have to go up against the defending Cup Champions, the Boston Bruins, who look to be in post season form.  The Beantowners will head into Toronto just one point behind the Buds and two games removed from a tenth straight win.
Your Toronto Maple Leafs needed a win in the worst kind of way last night against the Tampa Bay Lightning.  Responding with a blow out 7 – 1 win (their second in three games), the franchise seems poised to gain ground again in the Eastern Conference.
While incredible, their 7 – 1 victory over the Washington Capitals on Saturday masked the fact that the club had struggled mightily to find consistency and dominate the opposition since the turn of the month.  Through November, the team has done as well as Phil Kessel and Joffrey Lupul have let them, and one the few nights that the duo hasn't been dynamic, the Leafs haven't had enough gun to win games.  Tonight was a night for the ensemble, who have taken center stage in the two blow outs.
So the Leafs have goalie issues, who'd a thunk it?
The truth is, everyone and their grandmother knew Toronto was in goaltending trouble this summer because simply put, they went into the season without one single goalie in their organization who had established himself at the NHL level.
Potential is great, prospects are great, but the NHL is about results.
Don't let an excellent game fool you, the Leafs are far from being out of the woods when it comes to their goalie dilemmas and unless Scrivens goes on a Reimer-esque run now (yeah, I said it), then the Leafs are going to continue to have problems. [more…]
In what's been a dream season so far for the Maple Leafs, defenceman Luke Schenn is currently going through the most nightmare-ish period of his career, performance-wise. Though, it's tough to notice his poor play, since he's barely on the ice.
What you're about to read may be offensive to some. Viewer discretion is advised.
Luke Schenn had the least amount of ice time for the entire Leafs squad during the win against the Devils on Wednesday night. 10:01, that was his total. Ten minutes and one second. Dupuis was second-to-last with 10:38 on ice. You know, Phillipe Dupuis, that guy who plays on the fourth line. Schenn didn't even see the ice for one special teams situation - unbelievable.
A fight kept him out of the game for 5 minutes late in the second, as I guess he tried to spark some interest from the coaches. It didn't really work.
There's a lot going on in Leaf land this Wednesday morning, so lets take a look at what's making news and look back a little at the month that was.  Your Toronto Maple Leafs will take on the New Jersey devils tonight, hoping to rebound from Sunday's loss to the Ottawa Senators.  The Leafs will sport a new line up due to injuries, demotions and call ups, and because the only constant is change.  It's been a promising sign that in spite of the numerous roster changes, the wins have been frequent and most games have been very close.  It's a testament to the depth of talent (even if the ceiling is a little low) that Brian Burke has provided in his tenure in Toronto.
That depth will be tested tonight, as Jake Gardiner is the latest Leaf to fall victim to the injury bug.  The 21 year old rookie has been a solid if unspectacular defender for the Leafs, and his two way acumen, speed and utility will be missed if he's out of the line up for any extended period of time.  This news must come as glad tidings for Cody Franson.  The former Predator has been a healthy scratch ever since the Leafs lost in Boston after he went -3 on the night.
The Toronto Maple Leafs have leapt from the gate.  With 10% of the season in the books, the Leafs are 3rd in the conference, and 6th overall in total goals scored.  They are the best Canadian team.  They are unbeaten in regulation at home.  Going into Tuesday night's games, the Leafs boast the highest scoring forward and defenseman in the league.  All this while icing one of the youngest teams in the league, one whose forward corps has been decimated by injuries in the early going.
Despite the plethora of positive stat lines, the data can be equally damning.  They have the 26th ranked penalty kill (still an improvement over last season, sadly), have allowed more goals than they've scored, and haven't been able to beat a team ranked higher than 13th overall in either conference.  These statistics speak more of an unremarkable team that has received remarkable individual efforts rather than a pack of world beaters.
While the results have been favourable, the numbers – increasingly – haven't.  Looking behind the curtain, we can see some troubling trends.  After the jump, let's take a look at some of the funny numbers that should have you wondering just how precarious the Leafs situation is.
From Pierre Lebrun at ESPN/TSN:
" I heard from sources on other teams Monday that Gauthier was phoning around looking for help on defense. The thing is, he's not alone. Tampa and the New York Rangers are among the other teams also looking for blue-line help. It just so happens that Cody Franson is available in Toronto, although I'm not sure whether any of those three teams have interest in him."
This isn't exactly surprising news. Franson really hasn't panned out the way most expected, and though it's early, he's probably better off leaving town for more help up front. Keep a close eye on this one, those struggling teams will want to turn things around as soon as possible. Is Franson the solution to their problems? Probably not, but these are teams looking desperate to shake things up.
Glove tap to Curtis Tudor for pointing this one out.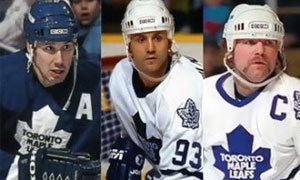 Following the unexpected success of the 1992-93 campaign, which saw the Maple Leafs take a 44-29-11 season to the Conference Finals, the stakes were high entering the 1993-94 season.  Could the Leafs prove that history was indeed behind them, and the previous season's success was not a fluke as some critics were wont to suggest?
Jaded by the disaster that was the decade of the 1980s, one could hardly blame the skeptics for questioning everything from scoring depth to injury concerns to whether goaltender Felix Potvin was a flash-in-the-pan or the real deal.  After all, hopes had been raised, only to be suddenly dashed, not long before.  Fortunately, each of these questions was to be answered in short order -- much to the delight of Leafs Nation.
Putting their unbeaten record in regulation on the line in tonight's game against the Winnipeg Jets, the Toronto Maple Leafs will be looking for offense from new sources.
Owners of a 2/21 powerplay, and with just 7 of their 13 goals coming from someone not wearing the #81, its become clear that the Leafs' early successes have been more the work of a one man magic act than 4 line team play.  If this sounds familiar, its because last year's hot start was predicated on the dazzling offensive production from the aforementioned Phil Kessel and Clarke MacArthur.  But after an even better record after 4 games, an unreliable offense emerged and the Leafs tumbled down the standings behind a 9 – 19 – 4 record to close out the year 2010.
The Leafs schedule will soon turn from favorable to formidable after tonight's tilt with 7 of the next 8 games on the road including visits to Philadelphia, Boston and New Jersey.  Its not a stretch to suggest that it will be in these next 2  - 3 weeks will prove whether or not the Leafs are a legitimate threat in the Eastern Conference.  While it was positive to see the Buds grind out a point Monday night, too many players have been absent from the score sheet thus far.  Very simply, for Toronto to have a meaningful season the rest of the top 9 forwards have to show up in numbers. [more…]