Analysis
For reasons beyond my comprehension, the two-year contract extension handed out to 25-year-old Korbinian Holzer yesterday generated reactions beyond "oh, alright" on Twitter.
Unless you're [more…]
Mike Brown has been traded to Edmonton for a conditional 2014 fourth round pick (could become a 3rd depending on if he shaves or retains his moustache) as the Leafs are anticipating a few injured bodies will soon return to active duty. Matt Frattin may make his return to the lineup tonight vs. the New Jersey Devils - he's labeled a game time decision - or a little later on this week.
Alas, carrying McLaren, Orr and Brown on the 23-man active roster doesn't make a whole lot of sense given the Leafs are right at the limit and Nonis' flexibility in terms of waiver exempt options stops after Nazem Kadri, Leo Komarov and Korbinian Holzer. The oft-injured Mike Brown essentially had his roster spot nabbed by previous waiver pickup Frazer McLaren, who has surprised so far. He's not a bad skater for a big man, is competent enough to cycle a puck and has fared well in all of his punch ups to date. [more…]
No games for three days makes for very little in Maple Leafs land development. There's Komisarek's laughable trade request, there's Frattin's potential return to the lineup this week, and there's still the question of why isn't Gardiner on the Maple Leafs, but for the most part all of it is nothing more than a waiting game. Instead, I'm going to look at the most basic of stats (goals and assists) and how the first line forwards are doing in those categories. [more…]
The looming question mark below the surface of a good first 20 games (12-8-0) in the 2013 Leafs season is the fact that the Buds have been pretty consistently outshot (30.8 SA/G, 22nd in the league, versus 28.3 SF/G).
Now, teams that play good enough team defence, control the main areas of the ice consistently enough and get solid enough goaltending can manage to make the playoffs despite losing the shots battle. Ottawa made the playoffs last season despite allowing the second most shots in the league per game; Phoenix was third last in the regular season, made the playoffs easily and went to the Conference Finals; Nashville allowed over three more shots against than for on average, and Florida and Washington were the other two teams to allow more shots than they produced while still making the playoffs. 5 of 16 playoff teams total. I'd say there were elements of good luck, good coaching and good goaltending at play to varying degrees with those teams. [more…]
The always tedious Hockey Night in Canada Hot Stove brought us a worthwhile nugget to examine this weekend, and that's our first look at the proposed four new conferences that the NHL will be rolling out next season. Earlier in the week, both Darren Dreger and the more reliable Bob MacKenzie hinted that we are only a week or two away from this realignment being finalized, so we can assume this is pretty close to being set in stone: [more…]
If I reported back from the future after the Leafs' first 17 games and told you before the season started:
Joffrey Lupul has been out injured since game three, Jake Gardiner has only played two games and is in the minors, Phil Kessel went on a 10-game goalless drought to start the season, Dion Phaneuf recorded only one assist and no goals in his first 11 games, James Reimer has been out injured for several games and we haven't acquired Roberto Luongo or any form of goaltending help, our only player acquisition since the lockout ended is Frazer McLaren, Colton Orr has been playing on the third line the past few games, and John-Michael Liles has been a healthy scratch while Korbinian Holzer, Mike Kostka and Mark Fraser are playing significant minutes on the backend... [more…]
One of the more interesting, borderline meaningless stats associated with the Maple Leafs at the moment is their league-leading hit count despite the subtraction of Luke Schenn's ~270 "hits" (not that Schenn wasn't physical, but pity the ACC stat recorder who decided his patented three-step push counted as one). Through 16 games in 2013, the Leafs lead the league, ahead of the Flyers and Rangers, with 454 hits. [more…]
On Hockey Day in Canada in February of 2012, the Leafs organization added special lustre to their matchup against the Montreal Canadiens with the decision to honour Mats Sundin with a pregame banner raising ceremony at the ACC. The Leafs were 28-21-6 at the time, in the playoff hunt, and had even more reason than usual to put on a good showing. They proceeded to get stomped by a score of 5-0, slipping silently into the night and initiating a disastrous slump that would eventually extend the team's playoff drought and end their head coach's tenure behind the bench. [more…]
Ten games into a regular season is usually when the good teams and players start to shake off the summer rust and really get rolling. In a 48 game season, there aren't any games to spare.
Over a fifth into the season now, the Leafs, just like every other team, have had some positives and negatives worth discussing. At the end of the day, 10 games is still only 10 games and nothing is conclusive, but here is the good, the bad and the ugly of the beginning of Toronto's season: [more…]
Before getting into the meat and potatoes of the blog, I (keon) want to give a shout out to Cameron. He made a post of few days ago about the Leafs effectiveness in drafting since the 2004-05 Lockout and it was that post that inspired me to look into this topic in greater detail. The thought of which team or teams are the best at evaluating junior age talent, and vise-versa, has always intrigued me, so when Cameron broached the subject I thought maybe it was a good time to finally look into it. [more…]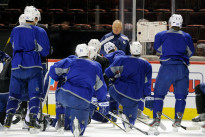 This is the first of five reports I'll be writing after each 10-game (and one eight-game) segment of the Leafs schedule, where I break down the team's numbers in the key areas of even strength and special teams; all good factors to consider when you wager on NHL. Note: obviously, be weary of the small sample size in this first report.  [more…]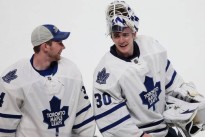 Despite the Roberto Luongo to Toronto trade rumours, the Leafs have begun the season with a pair of young netminders manning their crease. The duo of James Reimer and Ben Scrivens came into this year with a combined 83 starts between them. In a hockey-crazed town that hasn't seen playoff action since 2004, all of these factors haven't stopped management from holding firm in their beliefs in their talents while not giving up good assets for an established goalie. [more…]