Analysis
You'd think we were still waiting for the season to start with number of contract posts that have gone up in the past 24 hours. I think the Lupul trade has been analyzed very well by a number of Leafs bloggers (here's Alec's take from yesterday), but the fact that this has been discussed so much will not prevent me from weighing in on why I partially like this signing, but ultimately still conclude that it was a bad idea. I think this deal if managed properly could actually benefit the Leafs, and I'll toss in my $.02 on that as well. [more…]
The naming of Joffrey Lupul as an alternate captain and the announcement of his charity initiative Lupes Troops (granted this doesn't always guarantee a spot in Toronto for the indefinite future) in recent days were both indicators that Nonis and Carlyle see Lupul as a face of the franchise going forward. Faces of the franchise usually need long term contracts, but few would've expected one for Lupul this soon in the season. [more…]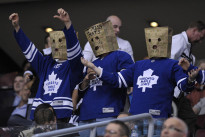 We are approximately 26 hours away from puck drop on the opening of the Leafs' 2013 season. I asked the crew of MLHS bloggers to predict the Leafs' finish and provide a few reasons to back up their prognostication. We'll start and finish with a couple 8th place PLAYOFFS!!!11 predictions, but strap yourself in for some depressing stuff in the middle. Side note: I checked the archives and Anthony's writeup is the shortest work he's ever produced by 3,000 words. Enjoy the read and toss in your own prediction (preferably with reasons) in the comments. [more…]
It appears, to some degree, the waiver issues prevented the Leafs from giving Morgan Rielly a five-game look, but circumstances as they are, it makes a lot more sense to send down Rielly now than risk losing Mike Kostka or Mark Fraser to waivers before they're given a look in some NHL games. It was highly unlikely the Leafs would've let him stay for longer, burning a year of his ELC, so why risk assets for a teaser? [more…]
Only one member of LACK remains.
Dave Nonis and Randy Carlyle's first training camp as GM and head coach respectively has seen a no-nonsense approach to putting together Carlyle's version of the best 23-man Leaf roster, one that must hit the ground running if they're to surprise in the shortened season. [more…]
Randy Carlyle spoke with reporters at the ACC for about 20 minutes Monday morning and shed some insight into the Leafs roster heading into training camp (thanks to Declan, you can check it out here).
The most promising and immediately important news from the interview is that Jake Gardiner, who has missed a month with concussion-like symptoms, is getting better and working out.  Carlyle remained hopeful that Gardiner, who tallied nine goals and 17 points in 22 games with the Marlies prior to the injury, would be back in time for training camp. [more…]
Yesterday, in his summary of the recapture penalty of the new CBA as it pertained to Roberto Luongo, the Vancouver Canucks and potentially the Toronto Maple Leafs, Pierre Lebrun figured out the cap penalty the Leafs would sustain if Brian Burke were to acquire Roberto Luongo before this season and he were to go on to retire at age 40. That can be seen as the foreseeable point of retirement for Luongo as after the 2018-19 season, when Luongo will be 40, his salary will have already dropped from $6,714,000 in 2017-18 to $3,382,000 in 2018-19, and will then stand to drop to just $1,618,000 in 2019-20.
However, that retirement plan is by no means a guarantee, as Luongo's play could slip, his health could deteriorate (if he's placed on LTIR, Elliotte Friedman is already speculating on a possible loophole here) or ideally he could win a Cup with the Leafs and opt for early retirement. The $3,382,000 season was probably projected as a "maybe" year, for instance. After the jump, I have put together a breakdown on the cap penalty the Leafs or another acquiring team would sustain depending on when Luongo hangs up the skates. [more…]
A Quick and Dirty Look at the new CBA and How It Affects the Leafs (All that Matters)
What World Juniors? The Marlies played, who cares? We've got NHL hockey back!
Right or wrong, that's the attitude that is prevalent again, and while I enjoyed going to WHL games, getting up at 2am to watch prospects, and streaming Marlies games online, I am thrilled that we'll get see the game played at its highest level this winter.
The coming weekend and half will likely see a whole summer's worth of previews, speculation, and training camp analysis crammed in to it (personally I can't wait to see the schedule, and plan a trip to Toronto), but I'll get us started off with what we can expect for the Leafs out of the new CBA in the short and long term. [more…]
From a cursory assessment of the team at the onset of a new season, many fans and pundits have predicted the Leafs were going to struggle scoring goals more than they were at keeping them out in recent years. [more…]
With the lockout in full force, I thought I'd try to get you all thinking about this actual Leafs team again. Take my word for it: eventually, even if the season is completely wiped out, NHL hockey will again be played and a new Leafs season will begin. When that happens, as is our nature, we will all get back to arguing with each other about various Leaf-related topics. On a chilly Tuesday in the dead of the lockout (snow doesn't have the same appeal without the Leafs on the TV at night, does it?), here's ten things to fill your time thinking about: [more…]
With the NHL lockout in full force and not looking as if it is going to end anytime soon, fans are rightfully turning their hockey-starved eyes toward action in Europe and the junior ranks. When it comes to Leafs fans, most are understandably searching out hockey that contains Leafs property, specifically prospects.
The Marlies are primed to compete for another championship, the Leafs have a shiny new toy playing out in the WHL, and the OHL is full of Burke selections. It's as a good time as any for fans to be watching Leafs prospects. Here are some things to look for and keep in mind while watching these players this year: [more…]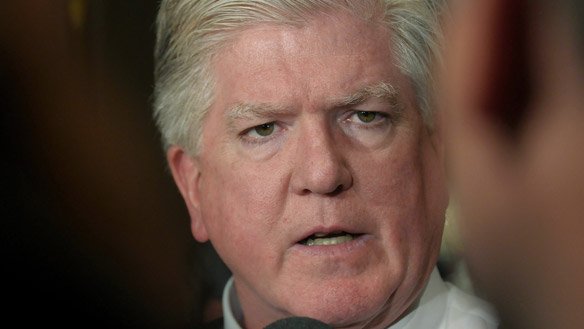 Brian Burke is not a superhero. He doesn't have magical powers that allow him to move faster than everyone else. He cannot use pure energy to forge amazing things out of nothing. He's a normal man trying to do a well-intentioned job - one for which he is eminently qualified - by using the significant earthly resources at his disposal to sort out justice in an incredibly dark, cynical, and complex environment. He's trying to build future positives from the smoldering pile of ash that was past tragedy.
Brian Burke is Batman. [more…]