Analysis
After an impressive run of games to close out the season, it's hard not to get giddy and optimistic about the Maple Leafs' chances this fall. The biggest difference in the last thirty or so games of the year compared to recent Leaf teams has been the long-awaited installment of a reliable goaltender who gives you a chance to win every night. James Reimer gave this team that every night and more. Although he was hands down an inspiration between the pipes during that stretch, it may be wise to temper our expectations of the sophomore netminder heading into his first full season in the NHL. Let me tell you why. [more…]
Leafs Nation was parked outside Brad Richards' agents' office on July 1st, singing songs they hoped would sway him to our little corner of the universe. It was not to be, along came Tim Connolly, the Leafs' silver medal. He has been notorious in his time in Buffalo for injuries that leave him absent from the team for large chunks at a time. At only 2 years, is Connolly a gamble worth making for the Leafs? Time to find out. [more…]
Please read the preceding article in this series on top 6 forwards here. For this article, the bottom 6 forwards on the Leafs are: Colby Armstrong, Joey Crabb, John Mitchell, Darryl Boyce, Fredrik Sjostrom, Tim Brent, Mike Brown, Jay Rosehill and Colton Orr. I decided to leave Kadri out of my forward reviews due to his few games played in conjunction with his rapid change from top 6 to bottom 6 from game to game.
When all is said and done, the bottom 6 forwards on Toronto in the 2010-11 season dropped the ball in a big way. This is no more obvious than in their scoring. We've established that Toronto's top 6 scored at a decent clip, but the bottom 6 had almost none at all. The leading scorer in Toronto's bottom 6 was Colby Armstrong with a measly 8 goals. Third liners should all be expected to score at least 12-15 goals per year if you want to be a serious championship contender. In 09-10, the leading bottom 6 scorer on the Leafs was Lee Stempniak, who managed 14 goals in 62 games (and somehow ending the year with 28). It goes without saying that if a bottom 6 group scores as little as Toronto's did this season, they have to be making up for it with some stellar defensive play. Let's take a look at some of the relatively unseen stats (which can be found at BehindTheNet.ca) and see what we can find. [more…]
All of Leafs Nation was elated to finally have a first round pick in what seemed like forever on draft day this year. However, there was still another surprise only hours before the draft began. John-Michael Liles was brought in by Leafs general manager Brian Burke for a second round pick in order to fill the hole left behind by the departed Tomas Kaberle. Is that a reasonable expectation? Let's find out. [more…]
The excitement never ends, does it? Days after the Boston Bruins won the Stanley Cup, the NHL Awards capped off the season with a somewhat surprising (albeit well-deserved)Â  Hart Trophy nod to Corey Perry. A day later, the Philadelphia Flyers rocked the hockey world with two major trades ... with reports suggesting the Leafs were nearly a trading partner in both.
As if that hasn't been enough, trade and free agency rumours continue to run rampant. The Leafs have several of their own player re-signings still on the horizon, and somewhere in all that a draft is about to take place.
Some late-night thoughts on all the madness, after the jump.
The Flyers have decided to make a move amidst a controversial ruling in the Stanley Cup Final. Perhaps the hit by Aaron Rome on Nathan Horton, and the subsequent 8-1 drubbing dealt out by the Bruins will be enough to keep the media focus on Vancouver and Boston. There should be no mistaking though, that something significant is going on in Philadelphia right now. Last night word broke that General Manager Paul Holmgren has acquired the exclusive negotiating rights to Ilya Bryzgalov in exchange for a 3rd round selection in the 2012 entry draft, and a conditional pick to be named later.
This opens up a lot of questions about how the Flyers are going to make this all fit under their cap. They are a team that has limited money to resign the players they already have, and may have to let Ville Leino and Dan Carcillo walk even without bringing in a presumably expensive unrestricted free agent like Bryzgalov. As of right now, it looks like a lot of the speculation and rumors about major players moving out of Philadelphia to make room for a legitimate starting goalie are looking pretty accurate. Given the situation, these are the questions that need to be answered in the coming days, weeks, or maybe even months assuming that Holmgren is comfortable sitting above the cap during the summer: [more…]
Now for the (not-so) thrilling conclusion to my blog series on the Leafs trade targets on the back end.  The following are (in my opinion), the top two options Burke will pursue over the coming months if indeed he does go the trade route:
2.) Brent Burns - Dion Phaneuf's stalwart partner at the World Championship has played with the captain before.  That's the same kind of sentiment we heard from free agents Clarke MacArthur and Colby Armstrong shortly after they were acquired.  It seems there is a spot reserved on the bench for 'friends of Dion'.   So far, that hasn't been a bad thing.  MacArthur had a career year in the blue and white, while Colby Armstrong had an injury-laden year.  Still, Armstrong became a key part of the club – a heart and soul player whose absences were blatantly obvious.  Of course, Burns also brings huge offensive potential to the back end.  He is a big man, who would make the Leafs top four one of the largest and most intimidating in the league.  His versatility alone is a huge asset that makes him very reminiscent of Dustin Byfuglien in that regard.
In part one of this blog we looked at possible unrestricted free agent options for the Leafs. Burke has always been proficient at landing a big name on July 1st, but he also has a reputation for loving a good old fashioned hockey trade. Since the lock-out, Burke has completed major transactions that brought in the likes of Francois Beauchemin, Chris Pronger, Doug Weight, Phil Kessel, Dion Phaneuf, J.S. Giguere and Joffrey Lupul. Going further back, he pulled off massive draft day swaps that brought his clubs Henrik and Daniel Sedin, as well as Chris Pronger. He has moved out high profile names like Sergei Fedorov, Bryan McCabe and Tomas Kaberle. The man hardly flinches when dealing away first round picks. When it comes to trading, Burke emits a sense of fearlessness that has no doubt helped him get solid returns over the course of his career. However, he has always maintained that the best deals are the ones that work out for both teams. Given the 'old boys club' nature of the job, this stance makes a lot of sense.
So who might be the target for a fair trade that can benefit both clubs equally? Lets break down the top five options using the following three pieces of critera: [more…]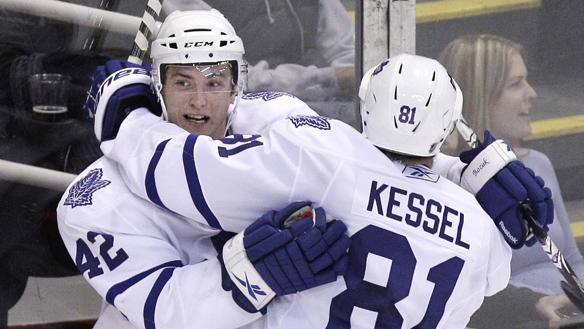 "Plus minus is a very deceptive statistic when a team struggles, and he's been put in a tough situation. If you look at the defense pairings, on a team that's below .500 the top defense pairing playing against the other team's top line is almost always minus, no matter how well they play. So I don't put a lot of stock in plus minus."
-Brian Burke on Tyler Bozak.
To a point, we have to agree with Burke's statement, but only to a point. To say that a negative plus minus (-29) rating is the only reason behind Bozak being viewed as an underachiever this year is making a somewhat big understatement. It's entirely true that Bozak played some of his toughest minutes this year. The primary reason for that might be that the coaching staff and management had given up on the idea of him being a top line centerman in the NHL, if indeed that was the original plan. It's important to look at this not as a knock on Bozak as much as the organization crediting his two way, shutdown and penalty killing potential. [more…]
The locker cleanout day offered many interesting pieces of information that occupied me to the point of having to write about it. These are the quotes of things said that intrigued me the most. Below each quote is a note about what I took from it.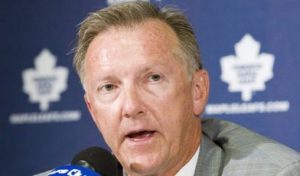 Brian Burke's endorsement of Ron Wilson's work behind the bench this season and his confirmation of Wilson's return next season sparked some debate in the most recent comments sections. While the "talent vs. coaching" special teams debate is really tough to come to any conclusions on, below MLHS' Cameron ran some numbers on player performance before, after and under Wilson:
The thing that drives me nuts about Wilson bashers is that they've long expected him to spin straw into gold, and when he produces silver, they are still outraged. Take a look at the key players Wilson has had under his command during the first two years of his duty here, and how their production changed (sometimes dramatically), under him versus other coaches. This only takes into account the timeframe after the lockout in the case of players like Antropov, Blake, and so forth: [more…]
Dion Phaneuf has played some of his best hockey as a Toronto Maple Leaf over the past few months and it appears he is finally settling into a bit of a groove in El Toro.  Last Thursday's loss to the Florida Panthers marked the Leafs Captain's 82nd game with the team, a full season of games in the blue and white.  Let's take a look and see how he fared.
Acquired along with potentially the best player in the deal Keith Aulie from the Calgary Flames, the arrival of Phaneuf was met with great fan fare and anticipation as the western Canadian boy was somewhat of a "YouTube" and highlight reel legend.  Massive hits, huge blasts from the point and just an overall swagger to his game and the expectations for Dion were massive, in hindsight, too big. [more…]