Game Day
Tonight's matchup between the Leafs and the New York Islanders will be viewed by outsiders as a tilt between two of the bottom-feeders of the Eastern Conference, devoid of much interest or playoff relevance.  Yet for the fans of both these teams, this game and those of the recent past have been of definite significance for the futures of these franchises.  The Islanders have been on an offensive surge, surprising opponents with their speed and tenacity in an attempt to somewhat salvage an otherwise dismal season.  This has given the New York faithful reason to eb confident in the offense of their young core going forward, lead by the likes of John Tavares and Michael Grabner.  While the defense and goaltending are still a work in progress, hope and potential lies in the likes of Travis Hamonic, Calvin de Haan, and recently acquired Al Montoya.  Montoya, who has yet to lose in his career with the Islanders, will be in net against a Toronto team that is heading in a similar direction (up!) from both the long and short-term perspective.
As the Leafs get set to enter the post-Kaberle era tonight against Ottawa, Joe Colborne has been busy making a big first impression down on the farm, scoring in regulation before adding a tally in the shootout to lead the Marlies to a 4-3 victory over Grand Rapids.
The theme of change applies to both opponents tonight as the Leafs and Senators have made a combined eight trades over the last week and a half. The current trajectories of the two clubs in the standings are much less similar; the Senators, tanking with enthusiasm  (1-7-2 in their last ten), now occupy last place in the league standings entering tonight after Taylor Hall's hat trick led Edmonton over Atlanta this afternoon. The Leafs are 6-3-1 in their last ten and will be happy to hear of that Atlanta loss as they remain four points back of tenth-placed Atlanta and now have two games in hand. [more…]
The Leafs are hoping they won't need heroics from Mikhail Grabovski and Phil Kessel to pull out a win tonight. Â Unfortunately, knowing how it goes in Buffalo these days, they probably will. Â The Sabres rested Ryan Miller last night, politely skipping over Patrick Lalime to call up Jhonas Enroth, who then backed them to a shootout win over Montreal. Â Buffalo will return home tonight in hopes of propelling themselves into a tie with Carolina for the final playoff spot (provided the Hurricanes lose to the Devils). Â From a Toronto perspective, the players have to know that taking these two points from the Sabres will be monumental in preserving their playoff aspirations. Â With the raucous atmosphere you get from a Leafs-Sabres tilt at the HSBC Arena and the fast paced action that normally develops, this promises be a good one (7 PM, TSN).
Brian Burke wasn't kidding when he said he likes to move in advance of the NHL trade deadline. The Leafs GM, fresh off of moving Francois Beauchemin and Kris Versteeg, has been reported to be in talks with Boston concerning Czech blueliner Tomas Kaberle. Unfortunately, it seems that Toronto's own 1st round pick is not involved in discussions at the time, although it is surely a desired target in Burke's negotiations. [more…]
The Leafs are in Montreal tonight trying to keep their flickering playoff hopes alive against the recently flaccid Montreal Canadiens.  The Leafs enter tonight's contest 8 points out of 8th place, but have been hot of late going 4 – 1 – 1 in their last 6. Montreal comes into the contest 'ce soir' with a firm hold on 6th place in the East but are losers of three straight.
Tale of the Tape:
Record (W – L – OTL):
Leafs: 23 – 26 – 6
Canadiens: 30 – 20 - 6
Goals for:
Leafs: 144 (23rd)
Canadiens: 148 (21st) [more…]
The new look Leafs will play host to the red-hot New Jersey Devils tonight in a match-up of surging cellar dwellers.  Both teams are well out of the playoff picture as of now (the Leafs sit 8 points out, the Devils 15), yet both teams are also coming into tonight's contest with 2 consecutive wins.  The Leafs are also on a longer hot streak of 4 – 1 – 0 in their last 5.
Incredibly, the Devils have gone 8 – 1 – 1 in their last ten.  Those 8 wins account for 40% of their wins through 54 games. Magically (or so it seems) all the problems in New Jersey – From the coach getting canned to Kovalchuk getting benched to Brodeur's meteoric fall to mediocrity – were solely Jamie Langenbrunner's fault.
Lineup Note: Brett Lebda will play for the first time in 9 games, taking Carl Gunnarsson's spot in the lineup. You have to wonder how Wilson justifies this to Gunnarsson. "You were one of five players out there for that Antropov goal. Take a seat and make way for Lebda and his -19 in 22GP."
After last night's 5-4 victory over the Atlanta Thrashers, the Maple Leafs head to Nassau Coliseum to take on the New York Islanders (Sportsnet, 7pm). The Leafs have been outscored 26-7 in losing five straight games on the road.
The Maple Leafs have also lost their last three games against the Islanders, scoring just one goal each time. They won't have to face Dwayne Roloson, who routinely plays like a Vezina candidate against the Blue and White, as he was traded to Tampa Bay since the last time these two met. Kevin Poulin will get the start. John Tavares has not scored a goal in 9 straight games, but he has four in five career games against his hometown team. [more…]
Call it a clearing up of overblown misinterpretations or a sweeping under the rug, all parties involved including Wilson, Kessel and teammates were quick to publicly declare yesterday's media firestorm much ado about nothing after today's practice. The nature of the relationship between Wilson and Kessel will always be something only Kessel and Wilson themselves have a true feel for. Opinions of Wilson's dressing room management and Kessel's play aside, the interpretation of the quote "I'm not sure if it's working out here" as a trade request does seem to be out of context and can better be explained as poorly expressed comment on the latest line changes by an inhibited personality in Kessel. [more…]
If you're looking for new Leafs-related nightmare material (not that there has been a shortage in recent years), take away the successes of the 2006 Entry Draft and envision where the Leafs roster would stand today. After dropping the balls (couldn't resist) on the Jiri Tlusty pick at 13, the Leafs' scouting staff went on a run of four good draft choices in Nikolai Kulemin, James Reimer, Korbinian Holzer and Viktor Stalberg. The first recently set a career-high in goals with 17 at the 51-game mark and has really brought out the best of Mikhail Grabovski in his development into a true top six center, from their time alongside Nik Hagman to their current, high-chemistry line alongside Clarke MacArthur. The third is one of the developing "Big Four" on the Marlies we will likely hear more from in coming years. The last deceived  Stan Bowman enough with his speed to get us Kris Versteeg. [more…]
The Carolina Hurricanes will be desperate for points when they visit the Leafs tonight. Â On the other hand, Toronto would need to take care of the Hurricanes in regulation if they are serious about keeping themselves in the race for that final playoff spot. Â It has yet to be seen if the Leafs players truly believe they can work their way into that conversation. Â Regardless, Toronto fans have to hope their team fares extremely well over the upcoming stretch of games, as they feature numerous Eastern Conference opponents directly above the Leafs in the standings. Â The Maple Leafs will be giving James Reimer the start in hopes that he fares better than his two fellow netminders have against Eric Staal and the Hurricanes.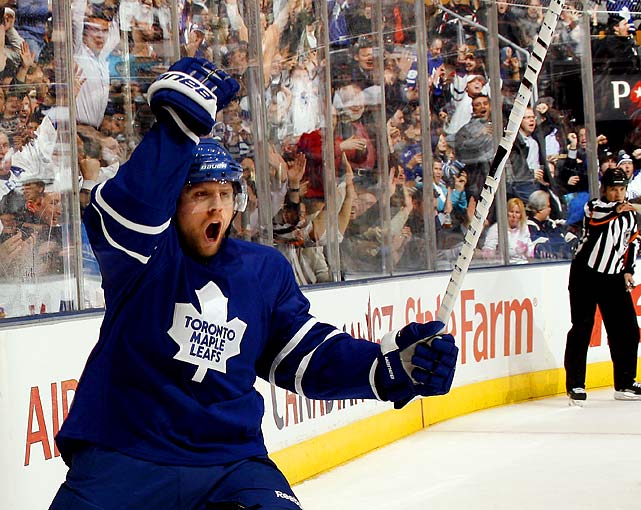 The 12th-place Toronto Maple Leafs return from the All-Star break with a home date against the 11th-place Florida Panthers. With six points standing between themselves and the Panthers, the Leafs will have to treat this one as a must-win if they are to have any hope of making up ground in the playoff race.
In their previous two meetings, the Leafs took a 3-1 victory on home ice, while the Panthers countered with a 4-1 victory on their home ice a month later.
In their final game before the All-Star Break, the Toronto Maple Leafs (19-24-5) head to Tampa Bay to take on Steven Stamkos and the red-hot Lightning (30-15-5), who will be looking for their fifth straight victory.
Tampa Bay won both of the teams' previous meetings this season: a 4-0 home shutout on November 9th, and a 4-3 victory in Toronto on November 30th.
Against the likes of Stamkos, Lecavalier, and St. Louis, it will be imperative for the Leafs to establish a strong defensive effort early if they are to have any hope of putting an end to both the Lightning's win streak, and their own current two-game slide.