Leafs Prospects
The Marlies broke their three-game losing streak with a 4-1 win in Rochester last night. Matt Frattin continues to score pretty much every game since returning from injury, notching two last night including the game winner, his sixth and seventh in six games so far this season. Jerry D'Amigo and Carter Ashton rounded out the scoring. Ben Scrivens stopped 28 of 29 shots.
The Marlies face the Amerks again back at home tonight at 7 p.m. EST. You can catch the game on Sportsnet One. [more…]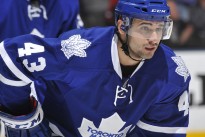 A slow start to the AHL year was probably the last thing Nazem Kadri needed.
Kadri is the most polarizing Leafs prospect in recent memory [more…]
LeafsTV continue with their mini-documentary on two Leaf prospects: Tyler Biggs of the Oshawa Generals and Stuart Percy of the Mississauga Steelheads. Enjoy. [more…]
For most of the Leafs CHL prospects, this was a pretty lacklustre week.
Tyler Biggs picked up a pair of assists in Friday's game but [more…]
Forget all that I've said about Tyler Biggs to date because he's decided that he's a completely different player. Â It's almost as though he read [more…]
Brought to you by Blue Chip Prospects
With Sportsnet televising Tyler Biggs' Friday night showdown with Matt Finn (also: Garret Sparks will likely man the pipes for Guelph), I thought it would be a great opportunity for me to share some things that I've noticed about the two Leafs prospects in the early stages of the year. Â Think of these points as some things to watch for or consider while taking in the game -- I'd love to hear where you agree, disagree, or if you'd just like to talk things out. [more…]
Brought to you by Blue Chip Prospects
Really exciting night for Leafs fans on a day that was otherwise full of depressing lockout news. [more…]
Brought to you by Blue Chip Prospects
Strong statistical night for Leafs prospects on Wednesday as both Biggs and Percy put up a pair of points while Rielly and Brown each managed a goal of their own. [more…]
MarliesTV is running a really cool feature on the Leafs' two first round picks from 2011, Tyler Biggs and Stuart Percy. Here is part 1: [more…]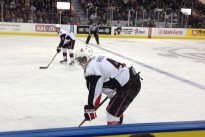 Friday Night I had the opportunity to take in the Edmonton Oil Kings game.  Their opponent just so happened to be the Moose Jaw Warriors and one Morgan Rielly. The Oil Kings proceeded to pummel the Warriors 5-1 and by the end of the second the shot total was 30-10 for the Oil Kings. As you can imagine, this doesn't lead to a glowing review of Rielly or the Warriors in general.
My notes on Rielly below reflect what I witnessed in what clearly a lackluster night for him. They may seem harsh, but it doesn't change the fact that I believe that Rielly will soon be the top unit powerplay quarterback for the Leafs. The viewing did not change my prior concerns that he may not be a defensively sound player.
Also, a while back DefenseWinsChampionships penned this thoughtful piece on his viewing of Morgan Rielly. I'd encourage everyone to use that as a basis for comparison and I think it accurately captures a typical game Rielly puts up in the WHL. [more…]
We had a shift-by-shift look at Josh Leivo and one of his goals from Saturday up on the site yesterday. On Sunday, Leivo went out and scored a hat trick for the Sudbury Wolves, leading them over the 67's and earning him OHL's Player of the Week honours in the process. His performance included two brilliant individual efforts that really wowed onlookers. Leivo also scored twice on the Thursday against Peterborough.
It's important to temper expectations and keep the odds in mind of these mid to lower round picks (Leivo was a third in 2011) becoming NHLers let alone higher end ones, but this is a prospect I'm getting pretty excited about. His combination of size and a gifted set of hands is intriguing.The fact that he's willing to drop the gloves and work hard killing penalties just about completes the Leafs fan wet dream.
Always be weary of the big picture when a 19-year-old posts big junior numbers, but you never know; Leivo was a late birthday and perhaps the Leafs found a player here who needed the extra time beyond his draft season to really harness the tools at his disposal.
Update: Josh Leivo led his Sudbury Wolves over the Ottawa 67'ers with a hat trick Sunday afternoon, including two brilliant individual efforts. We'll scour the web for some video and post the highlights. Great display of skill.
MLHS user "J" attended the Sudbury Wolves win over the Kingston Frotenacs last night and tracked Josh Leivo's shifts on video as well as his game-tying goal (his fourth of the season).
From J: "Leivo did not disappoint as he finished the night with the game tying goal and was a constant force to reckoned with. He made quite a few nice passes that could have easily been goals had other players finished the play.
He played on the 2nd line 5-5. He was on the second powerplay unit as well as the 2nd penalty killing unit. Notable:there were quite a few (6) Frontenac powerplays and they failed to take advantage.
I was able to take a few pictures and I taped most of his shifts. Check out his hard work on the PK and goal at the end of the video: [more…]