Leafs Prospects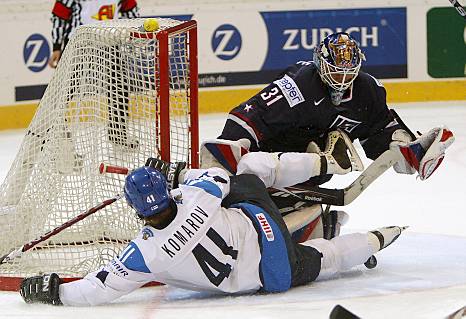 According to the Toronto Star's Damien Cox, the Leafs are expected to sign 24 year old forward prospect Leo Komarov to an entry-level contract at some point in the near future. The Maple Leafs hold Komarov's NHL rights as a 6th round selection, 180th overall back in 2006. Komarov was born in Estonia, but grew up playing hockey in Finland where currently holds a duel-citizenship along with Russia. He has spent the last two years playing in the KHL, earning himself an all-star appearance this past season. In 52 games played for OHK Dynamo Moskva, he recorded 14 goals and 12 assists, in addition to 70 penalty minutes. Komarov also impressed during a brief playoff run, scoring 4 times and adding 2 helpers in just 6 games. [more…]
Sondre Olden is a young player I started watching in the first game of this season's rookie camp. He scored a somewhat lucky goal, but otherwise looked lanky and awkward. A game later, I started to take notice.
Smooth passing skills and a good frame, the kid even reminded me of Mats Sundin on a couple of occasions. This of course doesn't mean he'll be anything close to what Sundin was (few will) but that doesn't mean that his movement and handling of the puck didn't ring some bells.
Olden was born in Oslo, Norway on August 29th, 1992. His natural position is center, but he can play any forward position (has played RW on more than a couple of occasions and was even listed as a RW on Norway's roster for the 2010 World Junior Championships). A left handed shooter, he is currently listed as being 6ft4, 178 lbs. [more…]
With just seven games left on the schedule for the 2010-2011 NHL season, the Toronto Maple Leafs are still in the hunt for the playoffs. Currently sitting five points out of the eighth and final playoff spot in the Eastern Conference, the Leafs need to keep winning and hope that they get the help they need from the teams ahead of them to sneak into the postseason. Buoyed by the excellent goaltending of James Reimer, the Leafs are looking like a cohesive team committed to pushing as hard as they can towards the common goal of a playoff berth. With any good team, every player has to contribute and commit to the all-important team-first philosophy. Nazem Kadri, recently recalled for his second stint with the big club, is showing he is ready to stick around this time.
- Matt Frattin's magical season just keeps on going. Frattin scored the WCHA title clinching goal, burying a rebound in double overtime in Saturday night's [more…]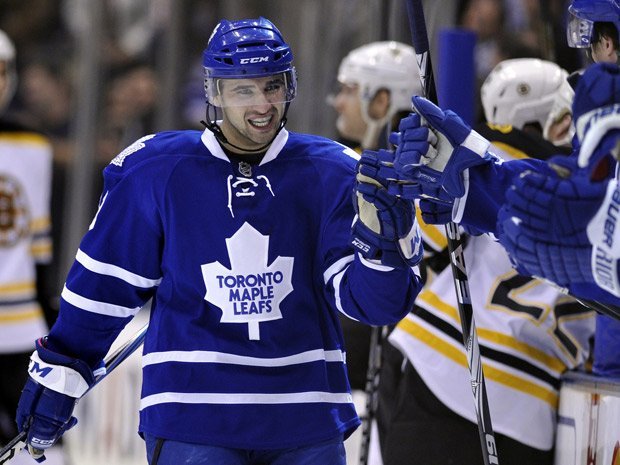 Updated scouting reports for recent call ups Nazem Kadri and Matt Lashoff (with files from Clayton Hansler):
Nazem Kadri
Ranked 7th in AHL rookie scoring with 41 pts (44-17-24-41) and second overall in the AHL with eight first goals .. Kadri has adapted to some added bulk and cranked up the toughness .. isn't afraid to engage in tight and along the boards .. physical game isn't his forte however, despite improvement, and he relies on skills and dangles .. can waiver with intensity blending into the background, yet explosive enough to be able to exploit breakdowns and set up scoring chances seemingly out of nowhere that can change the tide of a game (first goals to open the game are an example) .. [more…]
Matt Frattin's 2010-2011 collegiate season has been nothing short of spectacular and the nation's leading goal scorer was officially recognized for it with WCHA Player [more…]
Earlier this afternoon, Justin Fisher (co-host of the Steve Dangle show) tweeted the rather impressive stat-lines of a few Leafs' prospects.
For those not on Twitter, I've included in this update the prospects Justin mentioned -- along with a few others -- after the jump.
Players currently in the professional ranks (AHL, ECHL) are not included in this listing.
. [more…]
Toronto has not seen a Providence Bruin since the team last visited on March 4th, 2009. But as rumours of Tomas Kaberle's trade to Boston slowly turned to fact, the Rhode Island AHL club certainly received a spike in their traffic from North of the border.
Brian Burke, President and General Manager of the Toronto Maple Leafs, announced Friday that the Toronto Maple Leafs had acquired former first-round pick Joe Colborne along with a first round selection in the upcoming draft as well as a conditional 2012 second round pick. Colborne, hailing from Calgary, Alberta, has spent 55 games of his very first professional season working with the Providence Bruins, AHL affiliate to the NHL's Boston team of the same name. [more…]
The news of Tomas Kaberle's exit, despite considerable advanced warning, set in as reality this afternoon and was immediately followed by a feeling of sadness as the Leafs bid adieu to their well-liked longest tenured member and remaining tie to prelockout playoff hockey in Toronto. A surprisingly handsome return of first round prospect Joe Colborne, Boston's first round pick and a conditional pick that could end up as high as a second rounder has mixed the emotions with an excitement for a brighter future. [more…]
Some would suggest the most valuable piece and true target for Brian Burke in last week's Francois Beauchemin deal is University of Wisconsin defenceman Jake Gardiner. Undoubtedly, the inclusion of Joffrey Lupul and his $4.25 million cap hit was designed to make the monies work from Anaheim's perspective. However, the term "salary dump" can be a bit demeaning in the sense that there was some reason Lupul received the contract he did from Philadelphia in the first place, and statistical indications suggest he can still be a decent second line forward in the NHL. That said, there is no foundation for this deal without Anaheim's inclusion of the 20-year-old Minnesota native. [more…]
After a consistently inconsistent first half of the season with the Marlies, [more…]
A little over halfway through the season, it's time to tear our eyes away from the bottom of the NHL standings for a second and see how the future of the Maple Leafs are doing. Notable breakout players include Owen Sound's puckmoving defenseman Jesse Blacker and NCAA goal scoring machine Matt Frattin out of the University of North Dakota. Below is a brief overview of some of the Maple Leafs' biggest movers, either up or down, the organizational depth chart. [more…]