Leafs News
I took in what felt like a one-point win last night at the ACC. I of little faith was thinking "blow out" after the bang-bang goals in the first, but there seems to be something different about this team (visible in the Bruins game as well). They didn't slip silently into the night, and by the end of it you had the feeling Crosby, Malkin and co. snuck away, or limped away, with the extra point.
I'll ignore the awful first period from the Leafs - and how deeply underwater the first line was in its head to head with Crosby's line, or how off Reimer was for the first 20 - because in many ways the fight back was just that good. Reimer played one of his poorer periods of the season in period 1, but his overall performance matched the trajectory of the rest of the team - started slow, but without him the Leafs don't get the point. [more…]
Last night's 5-4 nail-biting win over the Sens further fanned the fires of the current "debate" on the role of fighting in the Leafs' mid-season [more…]
Mike Brown has been traded to Edmonton for a conditional 2014 fourth round pick (could become a 3rd depending on if he shaves or retains his moustache) as the Leafs are anticipating a few injured bodies will soon return to active duty. Matt Frattin may make his return to the lineup tonight vs. the New Jersey Devils - he's labeled a game time decision - or a little later on this week.
Alas, carrying McLaren, Orr and Brown on the 23-man active roster doesn't make a whole lot of sense given the Leafs are right at the limit and Nonis' flexibility in terms of waiver exempt options stops after Nazem Kadri, Leo Komarov and Korbinian Holzer. The oft-injured Mike Brown essentially had his roster spot nabbed by previous waiver pickup Frazer McLaren, who has surprised so far. He's not a bad skater for a big man, is competent enough to cycle a puck and has fared well in all of his punch ups to date. [more…]
The agent for Phil Kessel joined Greg Brady and Jim Lang to discuss the evolution of Kessel's game, his mindset during the scoring drought and how the forward feels about playing in Toronto. [more…]
As if injuries to Carl Gunnarsson, Joffrey Lupul, Jake Gardiner and now James Reimer weren't enough, the Leafs just announced Matt Frattin is expected to be out for at least a week after undergoing a minor procedure on his previously surgically repaired knee, although James Mirtle speculated he might be out a little longer than that. [more…]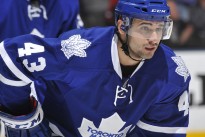 Nazem Kadri was interviewed by the Canadian Press on Friday and was asked a number of questions about his hot start.
While praising Randy Carlyle for his open lines of communication with the young Maple Leaf, it was clearly a shot at former Toronto Maple Leaf head coach, Ron Wilson.
A little late on the news; we wanted to make sure you guys checked out the inaugural MLHS podcast.
Jake Gardiner has been sent down to the Toronto Marlies to rediscover his timing and confidence in the AHL. His poor decision making with the puck and numerous bobbles have been uncharacteristic to say the least, and James Mirtle makes the point that he's just the latest in a line of Leafs who have shown even more rust than we expected coming off a concussion. A young player being sent down to get up to speed after a significant injury layoff is obviously nothing to worry about, at least not yet. [more…]
The naming of Joffrey Lupul as an alternate captain and the announcement of his charity initiative Lupes Troops (granted this doesn't always guarantee a spot in Toronto for the indefinite future) in recent days were both indicators that Nonis and Carlyle see Lupul as a face of the franchise going forward. Faces of the franchise usually need long term contracts, but few would've expected one for Lupul this soon in the season. [more…]
Looks like Toronto will remain sexy until 2018.
As per James Mirtle:
"Leafs sign Lupul to extension until 2018."
More details on the deal as they become available.
Only one member of LACK remains.
Dave Nonis and Randy Carlyle's first training camp as GM and head coach respectively has seen a no-nonsense approach to putting together Carlyle's version of the best 23-man Leaf roster, one that must hit the ground running if they're to surprise in the shortened season. [more…]
Leafs trade Matthew Lombardi to Phoenix for conditional 3rd or 4th round pick
The draft pick is a fourth rounder in 2014, which could become a third if Lombardi re-signs in Phoenix or records a certain number of points with the Coyotes this season.
Obviously, this is better than using the amnesty buy out because a) the Leafs get a pick, and b) retain both of those buyout options for the summer period should they want to exercise them. The Leafs will pay his $500,000 bonus and retain some of his base salary in order to off load the cap hit. [more…]