Leafs News
It's been rumored for a few days now, but on Wednesday afternoon, prospect Jerry D'Amigo has finally put pen to paper to sign a 3 [more…]
In a move that will inevitably add to the frustratingly indecipherable trade rumblings of the last few days, Eric Belanger indicated that he has essentially signed with a team, but is unable to divulge where he will be going. Â The article is French, but the English translation of the title ("Eric Belanger signs...but he won't say where!") says it all. Â The information we can gleam from this is that Belanger can not reveal his new team because they are "working on an exchange that will affect the salary cap". Â Of course, this begs the question: are the Leafs somehow involved?
According to numerous sources, including the Canadian Press, the Toronto Maple Leafs and prospect Jerry D'Amigo are expected to finalize a three year entry level [more…]
As many of you are now aware we received this post from one of own Amoroq last nite:
I lost a nephew today, he was 20 years [more…]
A former Leaf is about to sign with Los Angeles, as Alexei Ponikarovsky has agreed to join the Kings (although a deal has not yet been signed).  This ends some speculation that "Poni" would have to take his games overseas, as this summers UFA market has seen a lot of viable NHL players still without a job.  Ponikarovsky was shipped to the Penguins by Toronto at this year's trade deadline, bringing back Luca Caputi in what was a very fair exchange of players.  However, Pittsburgh was expecting the Ukrainian to contribute at the level that saw him pour out 61 points for the Leafs in 2008-2009.  With a disappointing 9 points down the stretch for the recent champs and an awful showing in the playoffs, teams weren't exactly lining up to sign the 30-year old.
Ilya Kovalchuk's record breaking 17 year, $102 Million deal has been shot down by the NHL for reasons of cap circumvention (per TSN).  To brass tacks the article, the NHL put the kybosh on Lou and his Swamp Band on the grounds that the deal was being proposed and executed outside of good faith.
In case you haven't already heard, the Maple Leafs have broken off negotiations with prospect Bill Sweatt, acquired in the Versteeg trade from the Blackhawks. In a statement to the Toronto Sun, Burke explained that the club would rather keep a spot on the 50 contract limit open than continue discussions with Sweatt. As the talks continued to stall, the Leafs likely turned and upped their offer to Marcel Mueller, whose ELC contract value sits at $1.12 million. Sweatt is likely looking for a figure close to Blake Wheeler's $2.825 cap hit as a 4-year college free agent, which is a steep price to pay for a player with speed but limited offensive upside. [more…]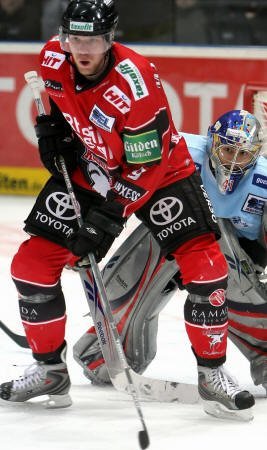 The Maple Leafs announced on Wednesday afternoon that they had come to terms on a two year entry-level contract with 22 year old free agent forward Marcel Mueller. Mueller is a 6'4 212 lb power forward who has spent the past 4 seasons playing against men in the top German league. He had a terrific '09-'10 breakout campaign that saw him record 56 points in 53 games played, good for 13th overall in league scoring.
Although it has Mueller has been rumored to be a target of NHL teams for a couple of seasons now, the recent transfer agreement reached by the DEL and NHL in late June has allowed Marcel to be officially pursued by NHL clubs. [more…]
- Among the youngsters impressing at the Leafs' prospect camp is 2006 NCAA draftee Tyler Ruegsegger. Tyler is a smart, skilled winger whose size and [more…]
According to the Toronto Maple Leafs official Twitter feed, the club announced today the signing of free agent defenseman Brett Lebda to a two-year deal worth $1.45 million per season.
Lebda spent the last five seasons with the Detroit Red Wings after the organization signed him as a free agent in 2004, picking up a Stanley Cup ring in during his stay in '08.
Lebda's career high in points is 18. Â He had 16 two years ago, but saw his total fall to just 8 points last year, though he did only play 63 games due to a back injury.
Lebda has great pace and puck-rushing ability, though his point-total doesn't necessarily reflect that.  The Buffalo Native is thick for his height at 195 pounds, but is a bit undersized at 5'9. He does play a game bigger than his frame would suggest. $1.45 million seems a tad pricey, but hopes will be that Lebda will be able to improve production on a Leafs blueline that doesn't have the type of elite offensive weapons from the blueline like Detroit had in Brian Rafalski and Nik Lidstrom (this providing Kaberle is dealt, and no doubt this seems like a poor-man's replacement). [more…]
- The Toronto Star has a nice piece up about Kadri's offseason workouts and training regimen. The youngster has bulked up to an impressive 185 [more…]
Even with news breaking this afternoon of Ilya Kovalchuk's new $60 million contract extension (potentially) with the New Jersey Devils, this 2010 free agency period has been one of the most uneventful and slow-developing offseasons in recent memory. The reason being? Despite a mediocre at best free agent group, there simply isn't enough money to pay these guys what they're probably worth. As one unnamed NHL General Manager put it last week: "The teams with cap don't have cash and the teams with cash don't have cap". The Maple Leafs however, are fortunate enough to have both, and have the opportunity to exploit the market to their advantage. [more…]