Leafs News
Just announced earlier this week, it looks like the Leafs will return to my neck of the woods. Â Tickets for the event go on sale [more…]
In case you missed it, here's a brief summary courtesy of Naz:
- Burke has let it be known to the 29 other NHL teams [more…]
It seems the "Kaberle to Columbus for the 4th overall pick" speculation is picking up some steam. Aaron Portzline, the Blue Jackets beat writer for [more…]
Took a couple days off, but now let's get back to the draft profiles. Today's 2010 draft primer will focus on Andrew Yogan, an American-born power forward who plays for the Erie Otters of the OHL. Yogan might've garnered first or second round consideration at the beginning of the season but has been all over draft boards of late because of his inconsistent play.  However, the invaluable package of size, character and high end skill he brings to the table is undeniable. [more…]
In what could yet again prove to be a shrewd, prudent move, Maple Leafs GM Brian Burke has once again added another name to his [more…]
From the Toronto Sun:
"What he is asking for is not what we are prepared to pay," the Leafs general manager said Thursday, when asked [more…]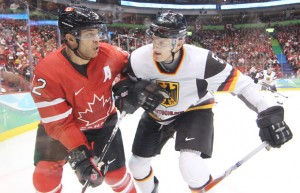 According to our own Clayton Hansler, the Maple Leafs have signed defensive prospect Korbinian Holzer to a 2 year, entry level contract worth $595,000 a season. For those wondering why it wasn't a standard 3Â  year ELC, Holzer turned 22 in February, thus making him only eligible to receive a 2 year ELC. It's been speculated for days that this would happen shortly after the World Hockey Championships, and now it's official. [more…]
It's time for another draft profile, and Brock Beukeboom has the honour of being the first defenseman featured in our MLHS draft preview series. Ironically enough, Beukeboom is a physical blueliner with a "booming" point shot from Uxbridge, Ontario. Brock plays for the Sault Ste. Marie Greyhounds of the OHL and is the son of former Edmonton Oiler and 3-time Stanley Cup winning defenseman Jeff Beukeboom. Great bloodlines, offensive potential and the complete physical package should certainly pique the interest of Leafs' scouts come draft day. [more…]
There is no saying that Brian Burke won't find some way to improve the Leafs lot come draft day, but as things stand this very moment the Leafs will not be making a selection until the third round. Where the Leafs went off the board early last year taking the nameplate-less Jamie Devane in the third, in a draft marked by big-bodied rough-and-tumble types, chances are this season, Burke and his staff will be looking for a player with a more immediate skill set. Not only would this partially appease a disheartened fan base, the Leafs will enter the draft wary of saturating the cupboard with leviathan sized bodyguards. [more…]
There has been much speculation that GM Brian Burke is working to acquire a 1st round pick in the upcoming NHL Entry Draft and now [more…]
In continuing with our preparation for the 2010 NHL Entry Draft, which takes place June 25th - 26th at the Staples Centre in Los Angeles, today's draft primer will profile right winger Brett Bulmer from the Kelowna Rockets of the WHL. Bulmer is quickly climbing up draftboards across the NHL after coming out of nowhere to have a very productive season out west. The intriguing combination of skating ability, size and offensive upside could see him go pretty high on draft day. [more…]
For as long as I have been reading the comments section of this site, I've been overwhelmed by the sheer volume of posts that discuss the Leafs need to obtain a 2nd round pick through a trade.  While the tenability of some trades, "Bobby Ryan, Jesus Christ (who historically has done his best work on the boards) and a 2nd pick for Tomas Kaberle, Howard Berger, and a 7th" may be questioned, there is certain validity behind the desire.  Indeed, the Leafs have had some success in the second round (Stajan and Kulemin have both become solid players, and the Leafs have three 2nd round picks in the past two drafts as promising prospects).