Leafs News
We're now mere days away from the ever exciting NHL Entry Draft. One of the names that consistently shows up in that group of the top 3-4 players is 6'2 power forward Filip Forsberg. The 17 year old Swede is touted as the most complete player in the draft, offering a superb package of size, skill, defensive instincts and competitive spirit. It is unlikely that he will still be around by the 5th selection, but stranger things have happened. Any team selecting Forsberg as early as 2nd overall could find themselves with a tremendous bargain in two or three years time.
The Basics: All-around winger/center for Leksand, 8 goals and 9 assists for 17 points in 43 games played. [more…]
Judging by the fact that James Mirtle (@mirtle) is trending in Toronto on twitter, it looks like he may have uncovered a nugget regarding tonight's heartbreaking overtime loss to Norfolk.
"So that Norfolk overtime goal should not have counted - what a mess this is going to be for the AHL."

"This particular offside rule is so unique even the Marlies and coach Dallas Eakins didn't catch it. Quote to come."

Eakins: "It's a real interesting one for the referees. The puck comes out, the puck's rimmed in..."

Eakins: "...there's a guy that's offside by about eight to 10 feet, the puck hits the stanchion but now he's onside, & it goes in your net."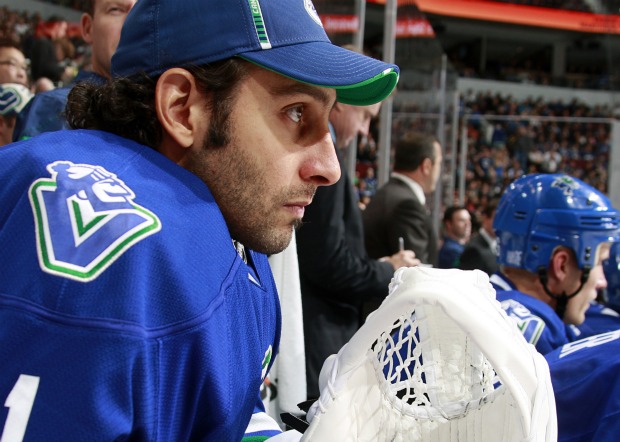 During TSN's regular "Insider Trading" segment last night, McKenzie, LeBrun and Dreger each had an opportunity to drop some information on us regarding Roberto Luongo and the Leafs. McKenzie also had a chance to clear the bogus rumors of Brian Burke being fired in the next little while, and not surprisingly, the site that started the rumor took it down immediately afterward. Anything to get page hits for a couple days I suppose.
It's no secret that teams have begun kicking tires on Luongo, and two of the most noted on Insider Trading were the Panthers and the Leafs. Florida was a name many threw out there when the Luongo rumors first started, but that quickly turned into just the Leafs and Tampa Bay due to their insane need for goaltending.
Even if you whole-heartedly buy into the "take the best player available" theory when it comes to draft strategy, I think the odds are low the Leafs will be drafting a defenceman with their fifth overall draft selection in the 2012 Entry Draft in Pittsburgh. Say you truly believe organizational needs do not shape a draft team's particular assessment of "the best player available." I still can't see Everett's Ryan Murray getting past the Oilers or Islanders. I also don't think the Leafs would pass on the offensive talent available in the top five and draft Matthew Dumba or Morgan Riely. It doesn't make sense from an organizational needs standpoint - not with Jake Gardiner's emergence this season - nor from a best-available-player perspective.
Working with that assumption, a good place to start when it comes to analyzing what the Leafs need most with their fifth overall pick is by taking a look at the young forwards already in the system. [more…]
In an exciting bit of news earlier this afternoon, the Maple Leafs extended Dallas Eakins' contract as the head coach of the Marlies. Why in the middle of the Calder Cup Finals? The timing is such that the contract is both an endorsement of the head coach with his team down 2-0 in their series against Norfolk and a reward for his work behind the bench this season, win or lose.
The reupping of Dallas Eakins for three-years does not guarantee Eakins will remain Marlies head coach for the duration of the contract, but it does mean the fear of him leaving for NHL opportunity elsewhere is alleviated for one season. At least for another year, it saves our ears from the debate about whether or not Eakins should've been handed the job over Randy Carlyle back in March.
On his NHL readiness, Marlies GM Dave Nonis told Lance Hornby:Â "We're not going to hold someone back (from NHL), but he'll tell you he still has a lot to learn." [more…]
There are more than a few things I'll never understand in life. Why do Americans want sports on TV in the middle of the day on the weekend? Who actually likes DJ banter on the radio? And why is the KHL considered to equal death for prospects?
The first two I've given up on and accepted as an unfortunate part of life, but the fear of the KHL seems like one that can be addressed easily. Simply put, I think the common perception of the prospects leaving for the KHL is wrong. In fact, the NHL should be encouraging some of their young prospects to consider going this route as it will potentially elevate their game.
Being pro-Russian prospect is easier this week with Vladimir Tarasenko returning to the Blues than it was a few weeks ago when Kuznetsov decided to stay in the KHL for another couple of years. Although, in his decision Kuznetsov does hint at the benefits to his development, and if you scan the Capitals roster there does not seem to be any certainty that a 20 year old offensive player will readily crack the lineup. If he continues to excel in Russia it seems that in two years it could be his spot to lose. [more…]
The entire Most of the reason we watch hockey started last night, and Anze Kopitar's overtime breakaway goal gave the Los Angeles Kings a 1-0 series lead over the New Jersey Devils. The goaltenders were - as expected - very impressive, and I'm sure there's a joke somewhere in there about how interesting that is considering the near-generational gap that separates them. Jonathan Quick was a later-than-should-have-been-available fantasy roster pick of mine this past fall in a keeper league, and even though he's done statistically carrying me to a championship for the year, I should probably slip in a customary gloat about it.
I'm having trouble envisioning a scenario where Los Angeles doesn't come away with this one. It would be a frighteningly touching swan song for Marty to backstop the Devils to a victory, though - and wouldn't hurt whatever case Lou Lamoriello plans to make to Zach Parise contract-wise as soon as the playoffs are done.
I'm pretty sure we'll continue to be entertained either way. And hey - if Don Cherry keeps wearing the Beetlejuice suit, we all win. (Links after the jump)
Saying I have very little knowledge about Justin Schultz is quite the understatement. I have never seen him play, until this post I had never looked at a single one of his stats, and ultimately this whole situation seemed reminiscent of teams fighting for the services of Matt Gilroy a few seasons ago (Gilroy was statistically not as good.) The only thing I really knew for sure is that he was Jake Gardiner's defensive partner at the University of Wisconsin, and based on Gardiner's performance Wisconsin does alright in the offensive defensemen development department.
On Friday, Bob McKenzie was the first to report that Justin Schultz was officially leaving school: [more…]
With the discussion and speculation builiding up as draft day nears, one name that just won't go away is Radek Faksa. The Maple Leafs are rumoured to be quite high on the powerful Kitchener Rangers' forward and have scouted his games extensively. Faksa possesses many of the qualities currently lacking in the organization: the ability to play centre, defensive zone acumen, and size. His name will undoubtedly be linked to the Blue and White even at #5 overall.
The Basics: Two-way centreman for the Kitchener Rangers, 29 goals and 38 assists for 67 points in 62 games played [more…]
The Montreal Canadiens officially announced that Rick Dudley will be joining the organization as Assistant General Manager. Maple Leafs General Manager, Brian Burke, negotiated that Dudley will join the Canadiens after the entry draft (June 22–23, 2012 at the Consol Energy Center in Pittsburgh, PA). Upon leaving, Dudley had yet more kind words for the direction in which the Maple Leafs are headed. [more…]
In this period without any Leafs hockey, Leafs Nation speculates about the draft and summer trades and acquisitions. Once again, yours truly is here to do the former, only this time I'll be looking at value beyond the top 10 selection.
At the moment, the Leafs hold the 35th overall pick in the 2012 NHL Entry Draft. It's possible, plausible even, that our second round pick gets moved in order for us to move up for a shot at that future top line forward. However, given the uncertainty of draft day decisions, especially for the top five, six draft eligible players, I doubt that will be the case.
As the draft continues to draw nearer, the Mikhail Grigorenko story becomes more and more interesting. A player once believed to be a lock for the 2nd or 3rd spot in the draft is beginning to slide down the rankings, and is currently pegged anywhere from 4th to 20th. This opens up a scenario where a supremely talented, albeit inconsistent, 6'3 centre is on the board for the Maple Leafs at the fifth selection. What to do… What to do…
The Basics: An elite offensive-minded centre, a high risk/reward type prospect; 40 goals and 45 assits for 85 points in 59 games played for the Quebec Remparts [more…]