Morning Mashup
Game 1 is in the books and after a brief moment of post-season exaltation that was nine years in the making, the Leafs were handed a 4-1 drubbing from the Beantown Bruins. ICYMI, here's the first ever Playoffs Game in 10 in MLHS history via Mislav.
Not shockingly, this game resembled those from prior seasons, where 5-on-5 hockey looked like a Bruins powerplay, giveaways were in abundance, and the Leafs' top offensive players were unable to gain the Bruins zone with any sort of speed, aggression or consistency.  At certain points in the game, even the Bruins' fourth line had the Leafs hemmed into their own zone. As Carlyle put it during his post-game presser, the team just seemed to implode and "guys were falling down" even when no one was around (psst...Barb Underhill). [more…]
Look at that glorious playoff ice paint. I haven't been this excited about ice paint since... well, when the Leafs painted on their logo at center ice and streamed it online during the lockout. Desperate times, let's not talk about it. After all IT'S PLAYOFF GAME DAY! [more…]
Beggars can't be choosers I guess. And thanks to the Senators, instead of a historic matchup against the Canadiens the Leafs will be facing the bastards from Bean town. (Here's a great recap of all of this seasons matchups).
One year ago the articles on this series would be darker than Marc Savards house, but thankfully the Bruins have been falling down to Earth to the point that the Leafs have finally been able to grab a win off of them. [more…]
Despite splitting the state of Florida, it's been a pretty terrific week for the Toronto Maple Leafs.  The club finished the road portion of the regular season with a record of 13 – 8 – 3, earning a respectable 29 of their 57 points on the season away from the ACC.  James Reimer recorded his fourth shutout and 19th win in only his 33rd start of the season.  Phil Kessel scored three goals in the two games to leap into sixth in the league in scoring with 51 points.
Are you ready for the most uplifting (small sample size) Four for Friday yet?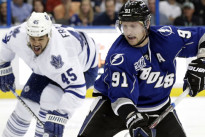 I don't want to belabor what's already been talked about last night but what in high hell was that?!
As I'm sure most fans are doing these days, I've been incessantly checking the Eastern Conference standings just to get a snapshot of what the current match-ups are and to make guesses about how things might shake-out. Following last night's confounding loss, and before I lost my cool, I noticed something interesting about the recent records of the Eastern Conference playoff teams. In particular, if you combined the records of these playoffs teams' most recent games against non-playoff teams, you'll find that they've gone a dismal 1-5-1 against non-playoff teams. The list of playoffs teams that have played, and lost, their most recent games against a non-playoff team include the Penguins, Bruins, Canadiens, Leafs, Islanders, and Rangers. Now, this stat isn't meant to absolve the Leafs of an unacceptable performance against the Lighting, however it appears that they are not alone in their struggles to finish strong despite meagre competition. [more…]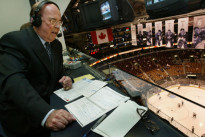 Good Day MLHS readers! How was your Sunday? Did you find that you got your best night's sleep? Did the air feel a little crisper, the sun shine a little brighter? Does everything in your life feel significantly better? I sure found that to be the case. Why? THE LEAFS ARE IN THE MUTHA FUNKIN' PLAYOFFS!!!1 WOOOOOOOOOOOOOOOOO!!!!
(Deep Breath)
Okay, I'm good now. This weekend is just the start of the good times, we've got at least four hockey games in May worth watching and I'll optimistically say I think we'll be seeing more than seven this year. We may not yet know who the Leafs are playing in round one, but we know for sure that CBC will be the network carrying the games. [more…]
A couple of days ago, I had a pretty interesting conversation with @Dudgee (solid MLHS guy, give him a follow) when he first stated that he thought the Leafs brass should withhold judgement on Kessel and Bozak until we see them in the playoffs. This got me thinking, because Bozak is due for an extension and Kessel is going into the final year of his contract, ultimately with the prospects of a massive raise from his current $5.400mn salary. So I wondered - is Bozak destined to simply be a rental player for the Leafs during the playoffs, or is there anything he can do to solidify himself as a key cog in the organization?
Judging from most of the stuff I've heard on Twitter, if seems like the  masses are ready to dispose of Bozak, and I wanted to reach out to our writers to see what they thought. From my side, regardless of whether Bozak stays, or not, the situation at centre will change - with Kadri's ascension and Grabovski's sub-optimization - and this summer could mark the beginnings of the organization's intense search for a #1 Centre, which is key to turning the Leafs into a better possession team. [more…]
A Toronto Maple Leaf hasn't won a major NHL award in an embarrassing amount of years. This year, however, it looks as if there could be a case made for 3 award nominations —major or otherwise, for the Leafs.
The last "major" award was Doug Gilmour winning the Selke Trophy in the 1992-1993 season, 20 years ago. [more…]
The Leafs are presently sitting at 99.9% likelihood of making the playoffs, with a magic number of 5, and one point away from the number deemed by many to necessary to make the playoffs. Ultimately, we're at the point where the Leafs can crash and burn and we can still count on hockey in May. [more…]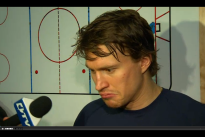 Without the 'x' beside their name in standings it isn't official, but the Toronto Maple Leafs are tantalizingly close to clinching a playoff spot.  Even with their 49 points through 40 games, they may have simply outpaced the also-rans for playoff contention.
The Winnipeg Jets sit in ninth place in the Eastern Conference, but have only six games to make up ground.  Every team above in the standings has at least one game in hand on the Jets.  They're running out of race track.  The tenth place New Jersey, losers of eight of their last ten games; sit a nigh-insurmountable nine points back of the Leafs.
The truth is less suspenseful than the idea of the playoff chase, but I'll take it.  Here are some Leaf thoughts for your Friday.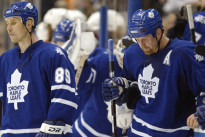 In case you missed it, here's mORRganRielly's excellent Game in 22.
What a heart-breaker that was. [more…]
With just ten games left on the schedule for the Leafs this season, here are ten thoughts I've been considering heading into those final games. [more…]