Morning Mashup
That horsecrap title's a reference to the first computer game I ever owned, Silent Steel. It was terrible, and I was enthralled by it. Dubbed an "interactive movie", it was literally a Choose Your Own Adventure that used filmed segments instead of a cheap little paperback book to tell its story and have you make decisions which guided the plot. The Wikipedia entry literally describes it as "an unorthodox submarine simulator computer game." What's an orthodox submarine simulator computer game? [more…]
The lockout doesn't matter today. For that matter, neither does a Marlies sweep of Texas, or another weekend full of strong performances by Leafs prospects.
I couldn't care less about any of it today and that's because the Leaf who is statistically the greatest of all time is entering the Hall of Fame today. First ballot, too, I might add.
Despite the confession from the man himself that he was a Habs fan growing up, I can't be deterred from honouring his greatness. Also, who can blame him for not being a fan of the 80's Leafs? That's almost as bad as being a fan of the present Leafs. [more…]
For sports betting news, odds and football spreads, visit Sportsbetting.ag.

The easiest Morning Mashups to write are the ones where there's nothing to talk about. The toughest Morning Mashups to write are the ones where there's nothing to talk about.
I'm literally writing this as Wednesday's CBA meetings are ending (according to the Dan Rosen Tweet that just rolled in). They will meet again tomorrow, it's been confirmed, and likely with the same modus operandi of not talking to anyone when they're over. I guess we're supposed to be impressed by this.
Really? [more…]
There might have been a little somethin' somethin' crowding your Twitter feed last night, forcing you to miss the updates (or lack thereof.. in this case, possibly a good thing) from the latest round of NHL/NHLPA meetings. No word about what went down, but the negotiating session lasted seven hours and ended with plans to resume talks today (Wednesday).
Considering the last meeting between the two sides took about 10 minutes and preceded two weeks of stalemate, this seems to be a good sign. They're talking at length, and a process that's been riddled with posturing has broken for some welcomed silence and secrecy. [more…]
It looks like the NHL and Players Association are ready to resume talks this week (most likely Tuesday), and now we can briefly have hope again.
Certainly, a marathon talk between Bill Daly and Steve Fehr is a good start, and it gives even more reason for optimism that nothing was leaked from this meeting.
Where I lose some of my optimism is in a) the fact that this deal will rely on Jeremy Jacobs' ability to compromise, and b) we live in a world where players value the opinion of clowns like Allan Walsh.
Neither side is content to reach the compromise we all envision for them, and both sides will need to let go of this "trying to win" philosophy that has cost them a quarter of a seasons revenue.
I'll cap this rant early, but root for radio silence on both sides (an understandable challenge for the PA with 700+ members). [more…]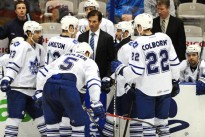 Not really. I severely mismanaged my Wednesday night schedule, so your preview consists of: the Marlies play tonight. Against the Abbotsford Heat. At 10:00pm. Toronto's 3-2-0-1 in 6 games, and Keith Aucoin leads the team with 6 points!
So, uh...here are some links: [more…]
This isn't the image you want to tweet during a time of lockout, Tyler Bozak. [more…]
On a week (possibly day) when the NHL is likely to cancel the Winter Classic - the most significant game the Leafs would have played in almost a decade - it seems like a great opportunity to look at the inches both sides are fighting for.
The latest player to speak out, surprisingly directed at a team owner rather than the league, was Ryan Suter (in an ESPN.com article):
"It's disappointing. If you can't afford to (sign contracts) then you shouldn't do it. (Owner Craig Leipold) signed us to contracts. At the time he said everything was fine. Yeah, it's disappointing. A couple months before, everything is fine, and now they want to take money out of our contracts that we already signed."
Seemingly some very direct words for Craig Leopold, and given Zach Parise's earlier criticism of Gary Bettman, both of these players are awfully quick to play the victim card. This was a very shrewd move by the Wild owner, as he knew what the owners would be proposing this summer and arguably was a key architect of it. [more…]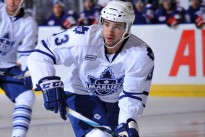 Remember when Nazem Kadri showed up to the Marlies' training camp negligibly fatter than he probably should have been all fat and ugly and gross and out-of-shape? Well, Dallas Eakins threw a big, cheesy CTRL-Z on that situation Wednesday. Apparently Kadri's re-committed himself to hardcore fitness in the last few weeks. (While some simmer in silence, wondering what the hell he paid Gary Roberts for).
Strapped for a mashup topic this morning, I was reading the latest doomsday talk from last night and thought it might be worthwhile to highlight a post from late last week courtesy of mc79 hockey (in case you missed it). If, like me, you're one of the poor souls trying to make sense of the countless 800-word articles containing the latest BS quotes spewing out of the parties involved, Tyler Dellow has done you a great service with this break down of the measurable gap between the NHL and NHLPA. [more…]
So this week is do or die time for the 82 game season. Odds are we will see one last save face meeting between the league and PA and the result will be somewhat similar to what we've seen so far.
At this point neither side has been able to get past posturing and resentment. While I don't doubt that the current proposals aren't too far off of what will ultimately be the final deal, neither side is ready to make additional concessions.
For the NHLPA, there is a need to move to past the fact that this is the second recent lockout demanding serious concessions. That's not to say don't voice concerns if they take issues with the current agreement, but as long as everything is being done relative to last CBA they won't be able move forward. [more…]