Opinion
The Toronto Maple Leafs face playoff elimination tonight, but have dug their heels in against the Boston Bruins and have "done a lot of good things" in the series according to Randy Carlyle.  From the perpetually unimpressed man who guided the team to a horrid crash and lottery finish and a playoff berth in less than 82 games, I'd call that high praise.
With the Buds backs against the wall, here's four thoughts ahead of the biggest game in the longest time. [more…]
After last night there is no shortage of critics jumping on the uselessness of the likes of Mark Fraser, Mike Kostka, Colton Orr and Frazer McLaren and by extension the coach who continues to deploy them in his lineup. To varying degrees I have been frustrated with all of them at points throughout the season.
The fact of the matter is that toughness did play an appreciable role in the Leafs success over the 48-game haul. Let's forget facepunching for today. Without James Reimer there's no Leafs playoffs, but without a simplification of the defensive game, an emphasis on winning more one on one battles and protecting your net in an overall effort to reduce chances inside 20 feet, maybe Reimer isn't in a position so much to succeed. [more…]
The Leafs are now 11 games away from a potential post season berth, and with Sports Club Stats putting them at 98% odds to make it (as of Friday morning), there is a good chance that one of the organizations most embarrassing streaks is about to be retired.
There is one thing that is even more rare in the playoffs than the Leafs and that's the hired goon. Shocking I know since they are such important parts of the regular season (feel free to assume I rolled my eyes here), but last season's Stanley Cup Finalists didn't find it necessary to dress either Cam Janssen or Kevin Westgarth in a single playoff game. Of course, we are a couple of years removed from the Bruins dressing Shawn Thornton for 18 playoff games, but at the time Thornton was good enough to hold a regular shift in the league (10 minutes a night is somewhat regular, and was dressed for 79 games in the regular season) and he did see the press box and reduced ice time during the cup run. [more…]
Listen, I disagree with Don Cherry a lot. Being European, I take issue with a lot of the stuff he says and does. That being said, the relationship is sometimes quite bi-polar. [more…]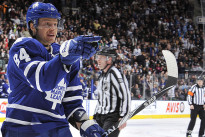 After a good comeback/confidence-building game against the Tampa Bay Lighting, the Toronto Maple Leafs  have perhaps created more questions than answers. The Penalty Kill keeps [more…]
I've been an advocate of Randy Carlyle hockey since last season, even when the results didn't immediately improve after he replaced Ron Wilson. It remains to be seen, but I think he's getting the Leafs to play the game the way it needs to be played to get more out of less and have consistent success in this league. Even if the Leafs are making too many errors in their execution as of late, they have been, overall, a more organized, detail-oriented, physical and hard-working group this season.
I liked that Tim Connolly never got a sniff of the lineup this season, that Matthew Lombardi was jettisoned, that Komisarek has been stapled to the press box and that Carlyle has given opportunities to some new blood, but that's not to say I've agreed with his every personnel decision to date. For the most part, the results are on Carlyle's side. I'm curious to see now, after a 0-2-1 mini-skid in which the Leafs have allowed 13 goals (their poor play really dates back to the third period of the 5-4 win over Ottawa), if Carlyle makes the adjustments needed to help curb a potential tailspin. Carlyle owed the group that got him the 15-9 start more benefit of the doubt than to change pieces after a competitive loss to Boston and a shootout loss to the Penguins. Taken in combination with night's embarrassing 5-2 loss to the Jets, however, it's concerning enough to me to justify a change or two. [more…]
No games for three days makes for very little in Maple Leafs land development. There's Komisarek's laughable trade request, there's Frattin's potential return to the lineup this week, and there's still the question of why isn't Gardiner on the Maple Leafs, but for the most part all of it is nothing more than a waiting game. Instead, I'm going to look at the most basic of stats (goals and assists) and how the first line forwards are doing in those categories. [more…]
After 22 games, the one thing Leafs fans can agree on is that Randy Carlyle's coaching methodology can be frustrating as hell.  Nowhere is this more apparent than the deployment of Mikhail Grabovski.
After signing a five-year, 27.5-million dollar contract extension with the Toronto Maple Leafs last March, it seemed as though the Leafs had shored up a terrific top-six centreman who could be counted on for 50 points a season.  But after 22 games Grabo sits with a modest 10 points (six goals, four assists); good for about 37 points in an 82-game schedule.  Yet under Carlyle he's developed into the team's top shutdown pivot.  So what's to make of it?
[more…]
The month's half over, and after Monday's game, the season is a third over. The Leafs are sitting three games over .500, holding 6th place in the East, and are currently on pace for 58 points (rounded up from 57.6) in a season where many prognosticators have considered 54 the magic number for making the post season.
So far, the Leafs are sitting pretty despite now being without Reimer, Gunnarsson, Frattin and Lupul. The Leafs have benefited from a friendly schedule. The average 2011-12 point total of their opposition has be 91, which averages out to facing a bubble team every night. This also doesn't account for the dramatic drop off in teams like Washington, Philadelphia, and now Ottawa. Compare that to the average of 95 points in March and the average of 94 in April and it makes sense that the Leafs are coming out of the gates strong. [more…]
On Wednesday, Wade Arnott, Phil Kessel's agent, indicated his client's apparent desire to spend the rest of career playing hockey for the Toronto Maple Leafs.  This, despite being disappointed in the club's performance last season (I don't even want to know what adjective he'd use to describe the two previous seasons in Toronto), and with little guarantee yet that this team is primed for long-term playoff success.
We'll probably never know why the camera-shy Kessel wants to remain in a media-laden Toronto; Arnott seems to suggest it is an admirable inner desire to win in hockey's mecca. Perhaps the better question is, what could it cost to keep him?
When the Leafs get a couple of days off, bloggers have a little bit of extra time to take a wider look at things.  I've spent a lot of time this year watching CHL games, pouring over AHL stats and looking at the player development side of hockey.  Unsurprisingly, that has led to a lot of conversations about the draft itself and it was one of these conversations that spurred me to look into some draft outcomes. [more…]
It's painful for me to admit, but as much I will continue to bitch about how useless Colton Orr, Mike Brown, and (presumably) Frazer McLaren are, they will always have a spot on a Dave Nonis/Randy Carlyle run team. This is clearly an issue that I and many others have a difficult time coming to terms with, but it's true. An enforcer will be dressed every night, and we'll all be treated to a sideshow (admittedly an entertaining sideshow most of time) before proceeding to move on with the game, and coming back to terms with the other shortcomings of the lineup. Since I'm ready to concede that there will be an enforcer, I'd like to make the following asks. They will fall on deaf ears, but I'm going to make them anyway. Hopefully we can move past this annoying little issue and begin discussing the bigger issues of the roster. [more…]