Post Game
The Capitals are not a good team at the moment and for a while there the Leafs looked in danger of walking away with nothing in a winnable game. Thankfully, a two-goal third period saves the day and the Leafs move to 4-3-0 with their first home win. [more…]
The Toronto Maple Leafs did the previously unthinkable, walking into Buffalo and winning an exciting game in overtime.  Tonight's match looked like it may follow the same unsavory fate that has plagued the Leafs at HSBC in recent years when Buffalo tied it up late.  But a team devoid of two of their top wingers in Joffrey Lupul and Clarke MacArthur showed fortitude and grabbed a victory in the dying moments of overtime. [more…]
The Toronto Maple Leafs' offense disappeared down the stretch and the defense had no answer for the "22-Million Dollar Line" en route to a 5 – 2 loss to the New York Rangers on Saturday night.  This was a funny game, because the Leafs never really had any business winning, yet carried a lead for 40+ minutes.   That said, when Henrik Lundqvist has an average night, he ought to face more than 17 shots.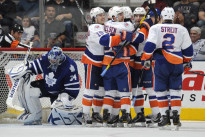 How do you undo any progress and momentum gained by a 5-2 win over Pens in their home opener? How about a 7-3 loss to the Islanders back at home, coughing up a two goal lead and conceding five unanswered? That'll do it. [more…]
It might actually be a Game in 9. Or a Game in 27. Who knows? I'm writing this sentence at 7:08pm. [more…]
The Leafs are 1-1-0 after a 2-1 loss to the Buffalo Sabres in the home opener despite a 35-20 shots advantage. The shot clock doesn't tell the whole story, but this one was first and foremost about Ryan Miller. [more…]
There's no better way to kick off a Leafs season than to beat the Canadiens in their own rink, inspiring some hilarious yet predictable non-blowout booing from the fans and some verbal pleas to the front office to strike a deal with their unsigned RFA. [more…]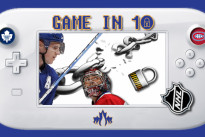 Boxscore | Carlyle Post Game | Game In Six
So it appears that we can all enjoy hockey once again. There's nothing Leafs Nation enjoys more than a convincing win over the Habs. That's exactly what happened on this HNIC Saturday evening.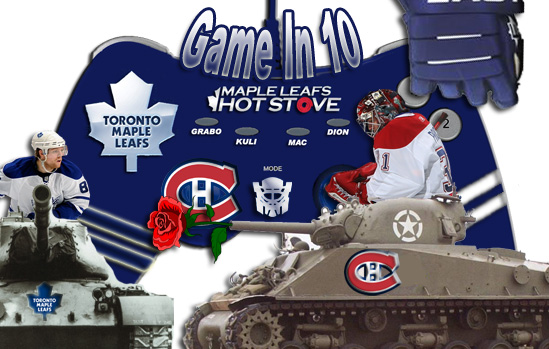 Boxscore | Ice Time | Recap
You've just watched your final 60 minutes of Leaf hockey until next September, and spent it half-hoping the Habs [more…]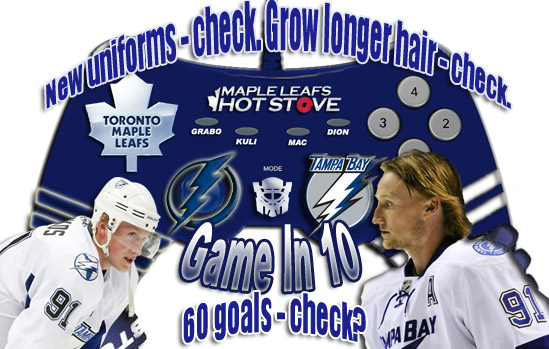 It was the first game back in the ACC for Keith Aulie and that was about it. Game with little to no meaning will do that to your overall viewing experience. At least we won, right? Right?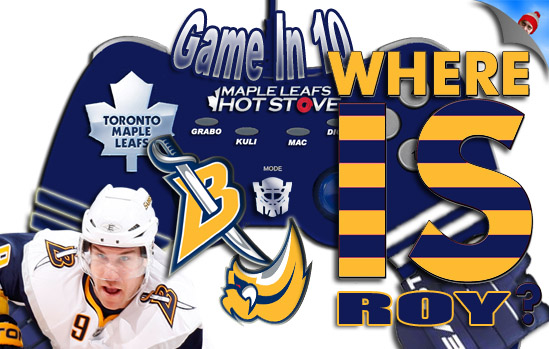 With tonight's loss, the Leafs are 34-36-10. Writing a Game in 10 at this point - and after a night like that - feels like what I'd imagine trying to re-animate a dead cat with a car battery feels like. Disappointing, redundant, and bathed in some foul odour from the burnt hair family of odours.
At least it was kind of entertaining.
One team entered the game 7-2-1 in their last ten, and tied for the final playoff spot with four crucial games to go. The other had won four of its last 21, hadn't won a home game since February 6th, Â and sat second last in the Conference. This game end how you thought it would? Nope. [more…]