Toronto Truculent
It might actually be a Game in 9. Or a Game in 27. Who knows? I'm writing this sentence at 7:08pm. [more…]
Brian Burke held his final press conference as a member of the Toronto Maple Leafs' organization at noon Saturday, the hosting of which is a bizarre decision at best on the part of his still-employer and, at worst, a welcome dose of some universal justice to the fans who still aren't feeling all that great about this. I sort of eulogized his tenure on Thursday and thought that would be the end of it. Today's session, however, did offer a few salient points worth a brief follow-up. [more…]
This feels like writing a eulogy. I hate it.
You win. Let's start with that concession, up front. A straightforward address to every fan who wanted Burke gone. I anxiously and hopefully await confirmation that this still-vague, as-yet-in-progress, largely-similar-but-supposedly-slightly-new direction will provide the amazing results that you've been adamant it hypothetically will. [more…]
'Twas the night before the slowest news day of the NHL season! This means one thing:  you've got nothing better to do than read this extra special, ridiculously long Christmas post from MLHS and The Toronto Truculent. [more…]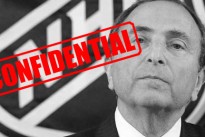 Gary Bettman spoke with the Winnipeg Free Press' Gary Lawless this past Sunday and delivered a fairly comprehensive interview about several major aspects of the continuing NHL lockout. Disappointingly: ego, greed, and stubborn posturing were not directly addressed.
It seems safe to say that the NHL lockout's PR battle is being won by no one. Efforts from both the NHL and NHLPA sides of the table lie in smoking ruin. In the eyes of many fans, pretty much everyone involved has been fundamentally smeared for their incapability to resolve the situation with anything approaching common sense, while the senseless waste of days ticking away destroys the hypothetical revenues they claim to be fighting over.
But it seems, in secret, their efforts to resurrect their embattled public image may be changing. We (MLHS/The Toronto Truculent's Matt Mistele and special guest writer, Michael Stephens!) can reveal a new issue of Confidential detailing the negotiating committee's latest attempt to save their reputations. [more…]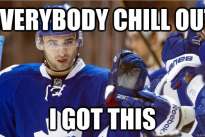 Photo: Steve Dangle/The Leafs Nation
After reading this hilarious exchange between Peyton Manning and Tom Brady before their matchup on Sunday, I did a little poking around and came across Nazem Kadri's Facebook timeline. The results were outstanding... [more…]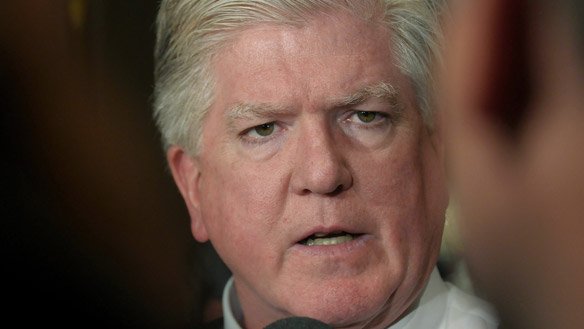 Brian Burke is not a superhero. He doesn't have magical powers that allow him to move faster than everyone else. He cannot use pure energy to forge amazing things out of nothing. He's a normal man trying to do a well-intentioned job - one for which he is eminently qualified - by using the significant earthly resources at his disposal to sort out justice in an incredibly dark, cynical, and complex environment. He's trying to build future positives from the smoldering pile of ash that was past tragedy.
Brian Burke is Batman. [more…]
Friends, we are gathered here today to honour the man and the legacy that is Jeff Finger. It's hard to believe it's been four years next Saturday, but Jeff Finger's contract is finally coming to a close. It might have been easy to forget this momentous occasion, but luckily about three and half years ago I put a reminder in my Outlook calendar so I couldn't let this day pass without celebrating it.
Way back in the summer of 2008, Jeff Finger joined the Leafs on the strength of a breakout season with the Colorado Avalanche. A season that saw him average over 19 minutes of ice time, and as Cliff Fletcher said play over 23 minutes down the stretch (in fact he did this once in his final 10 regular season games.) Jeff Finger's breakout season would also see him pinball between 19-24 minutes of ice time, and more often than not be a healthy scratch in the Avs two playoff rounds. Four of the five games he dressed for were losses. [more…]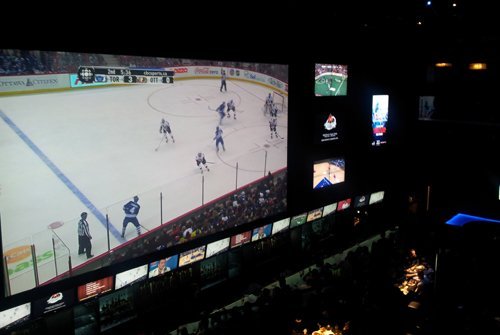 Don't think for a second that just because the Leafs aren't in the playoffs, they aren't paying attention to the matchups. Many indicated during their end-of-year interviews that they would follow with great interest and, as it turns out, they have. MLSE has apparently embraced the idea, hosting VIP-only potluck parties at Real Sports Bar and Grill in downtown Toronto so the team can watch the games together, build some off-ice chemistry, and prepare for the experience if it ever – somehow - happens to them.
As luck would have it, we're able to offer you an exclusive glimpse into one of these events. Don't ask us how. We're not even really sure how these happen.
Welcome to the Leafs' Playoff Potluck Party. [more…]
For those that have or haven't been following Youtube user Jeremy Larter's Leafs Beefs video series (archive here), there were seven new ones posted today to laugh at. The pair's rants do a hilarious job summing up the emotions of Leafs Nation with a drunk Prince Edward Islander spin. Enjoy:
Warning: not safe for work or the easily offended.

The Playoffs:
[more…]
A disappointing reality of which most viewers aren't aware, modern "reality" television is – in fact – fairly scripted. "Soft scripting" is the technique a show's producers use to vaguely outline what should happen to the show's participants, and oftentimes, they will implore those contestants to perform as requested. Documentaries are no different, typically outlined based on extensive research and footage collection and them assembled to form a coherent, calculated point.
Since the February announcement that the Toronto Maple Leafs and Detroit Red Wings will compete in the January 2012 Winter Classic, many have assumed – correctly – that HBO will film and broadcast their next season of 24/7 focussed on the two teams. What many readers won't have realized is that HBO's award-winning writing teams have been working on scripting the show secretly since the announcement in preparation for the expected deal. [more…]