Toronto Truculent
February's losses devastated the 2011-12 Toronto Maple Leafs! The NHL's most arrogant coach ever couldn't save the flailing squadron from amateur mistakes – and was fired for it! The softest forward corps in the league is totally un-truculent! Jim and Gus couldn't do their jobs if they went out pregame and found a 600-page guide entitled "How To Tend" sitting in goal!
This team is junk, top to bottom! Fire Burke! Rebuild the rebuild! This is a SimCity nuclear meltdown, hail on summer corn crops, "I can see Russia from my house"-sized DISASTER!
Hyperbole's way too easy, people. [more…]
I thought this was worth sharing for those that missed Slapper_Mike's post in last night's post-game thread. Chin up, Leafs Nation.
I have gone through the 5 stages of grief with this Leafs team. It all started with the 3-2 loss to the Sens in January, and the subsequent 3-1 loss on HNIC to the Habs. Then, the 5-0 loss to the Habs a couple of weeks ago on HNIC. And then the Nash rumours, the February swoon, and the uneventful trade deadline...
Slapper_Mike's Five Stages of Grief:

DENIAL - No, we are better than this. This is not happening to us! The refs have it in for us. If only he had not hit that post. Their goalie was lucky. Wait until MacArthur gets healthy. And Armstrong. Once Reimer rounds into form, we'll be playoff-bound for sure. [more…]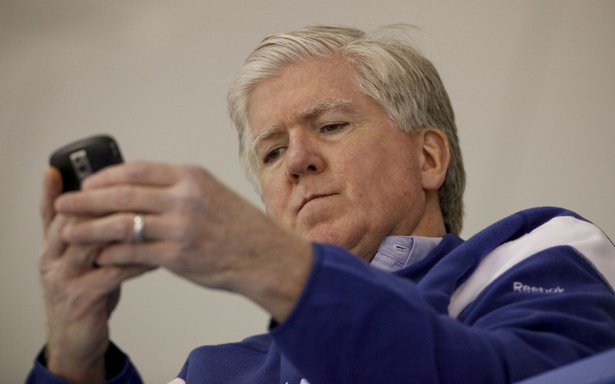 A few months ago, Brian Burke joined Twitter. He caved to fan and peer pressure, selected a username that will become instantly obsolete if he ever leaves MLSE for different employment, and took up social media residence on the popular frontier that has all but eliminated the need for news tickers and TSN alerts.
He could have quit there. But Burke, a master of rhetoric and image control, took it a step further and offered fans a one-hour window in which they could submit questions that he would attempt to answer directly over the coming weeks (and, one has to assume, months). To this point, he's been surprisingly thorough in responding to a massive amount of Twinquiries. [more…]
Or, "How I learned to stop worrying and love MLHS titles that are way too long."
Every so often, an opinion thoroughly disguised as a mainstream news article presents itself - one that is so ridiculous, so utterly without basis, that the most appropriate response is to simply ignore it. In these situations, we are encouraged not to "sink to that level" by dignifying the position with a response. You know, to rise above - behave with a level of superior maturity. This is not one of those times. [more…]
The Toronto Maple Leafs enjoyed a relatively injury-free training camp heading into the 2010-2011 season. Apparently, karma's been waiting twelve months to deliver a shattering right cross of vengeance. We've poured over the countless Tweets, articles, and even contacted some unofficial sources to assemble the most comprehensive online report to date of the Leafs' current injury situation.
Brace yourself. It's worse than any of us could have imagined. [more…]
UPDATE (11:32pm) - Of course, 11 hours after I posted this, Drew Doughty has signed in LA. Early indications put the deal at 8 years for $7 million per. So, the obvious lesson for both sides: procrastinate something as far as you possibly can, because when you do it, the timing will be hilariously perfect.
While enjoying patios and beer league baseball shenanigans this summer, Leaf Nation couldn't help but keep one anxious ear primed for any news – or explanation – surrounding the lack of a Luke Schenn signing well into September. Now, late into training camp, fans of the Los Angeles Kings wait with the same baited breath for their own RFA superstar Drew Doughty's new deal. To call both situations peculiar, given the players' individual importance to their respective teams, would not be an overstatement. Is there some connection between these prolonged negotiations?
Might Donald E. Meehan - founding partner of Newport Sports Management and agent to both players – be that common denominator? [more…]
Anyone with eyes, or access to a radio station, has a fairly good idea by now that Brian Burke's a busy man. Between lending his presence to charitable causes, managing his NHL team, or working the phones to improve the mediocrity quality of said team, he never seems to slow down.
The man deserves a break.
But of course, those who've balanced a similar workload in their life know wickedly effective time management skills are critical for success in such circumstances. So much so, in Burke's case, that he extends those practices to his time off. That's right. In order to maximize the relaxation the way he maximizes the trade returns on MLSE's on-ice refuseLebda, Brian's generated a checklist to help him organize his summer vacation. His duties and time off overlap incredibly, leaving him with little choice. The Toronto Truculent has, of course, obtained a copy.
A few items have evidently been highlighted by his personal assistants to indicate high priority, or already completed. It's late July, after all. [more…]
With the explosion of social media and online quasi-reporting, inventing chasing down NHL rumours has evolved into a full time job. Even more difficult is the fans' arduous task of tracking these updates. The vast majority of our message boardianisms are no longer devoted to even discussing the game on the ice itself but, rather, to the potential movement of contracts behind the scenes.
We curse them for their inaccuracy, mock them for their inventiveness, and lament their lack of effort to incorporate any grammar whatsoever into 140 characters or less. Despite this, the rumour business is booming. We all get terribly excited for any new nugget of information, however blatantly false, that these sources provide. [more…]
Probability dictates that, barring a planetary or economic catastrophe of crippling scale, the Toronto Maple Leafs will win another Stanley Cup. At worst, they'll be defeated in a gut wrenching final paralleling their Canadian, specifically British Columbian buddies of last evening. (Fun fact, to distract from that frustrating reminder of it: The province's name was chosen specifically by Queen Victoria in 1858, mainly in reference to the then-British local territory drained by the Columbia river1 – in fact having nothing to do, as I had assumed, with being a tea-swilling version of its Latin American counterpart).
If the fervour, emotion, and insanity with which the city of Vancouver reacted to last night's outcome can be considered a molehill, the passion for hockey in the Greater Toronto Area would undoubtedly be its mountain. Vancouver's a city placated with success in sport, having hosted a wondrously successful Olympics last year and serving as the focal point for intense national pride as Canada again proved that, as a nation, we're pretty much still awesome at that sport we're clearly always awesome at. [more…]
Please welcome Matt Mistele of Toronto Truculent to the MLHS Blogging team. A really funny guy with sublime writing talent and hockey knowledge, we're thrilled to have him.
Let's begin this 'Confidential!' piece with an outright disclaimer:
Kerry Fraser seems like a nice guy. A few epically blown calls aside, he's apparently well-liked by the players both personally and professionally – voted the most consistent NHL referee by the players in a poll that happened in December 2005, according to this. The successes and unique accomplishments of this man's career vastly outweigh the failures on paper. [more…]