2011–12 Toronto Maple Leafs season
KULEMIN with the game winner, and that's all folks!!! Leafs win 4-3 in a thrilling overtime victory!
Now, wasn't that an appropriate Torontosaurus Rex?!
That was the Leafs first OT victory of the season. (1-9)
******
It feels like a spring day, almost like a playoff date.
This isn't a playoff game by any stretch .. There are some interesting scenarios playing out even before puck drop.
Here's the game thread ... you can also follow along on Twitter, @KatsHockey
This is the first game At home for newest Leaf, Luca Caputi (Now with his first goal as a Leaf!!).
This is the first game after the devastating hit my Matt Cooke taking out Savard.
This is the first game At home that will not feature Alex Ponikarovsky as a Leaf.
This is the first game in which Phil Kessel scores his first point as a Leaf against his former club (maybe) ... (Yes! After a change in scoring on the second goal, he got his first assist versus his old team)
The Leafs have given up powerplay markers in consecutive games after going five games without letting in a power play goal.
Despite being one season removed from having won the Vezina Trophy this is the second consecutive start for Tim Thomas I the last games.
And the Puck has dropped .. I'll be refreshing about every 10-15 minutes
Look, I'm not saying I'm a good luck charm, but I attend the game in the press box and a whole lot of good happens .. Caputi's first as a Bud, Kessel registering his first assist .. Just call me lucky Kats.
End of Regulation 3-3
[more…]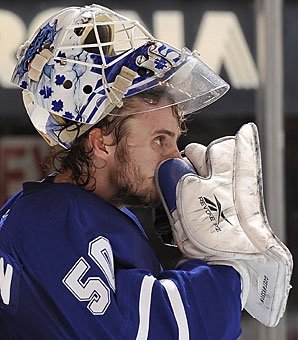 One of the more enigmatic problems facing Brian Burke in an summer that will see much of the contemporary Buds negligible talent headed for the door, is the impending contract crunch of now go-to starter Jonas Gustavsson. Touted by many as the best netminder outside of the NHL last season, Gustavsson has shown exciting, if fleeting moments of the form that earned him widespread acclaim backstopping last season's Elitserien champions Farjestads BK.
Unfortunately, Gustavsson's dominant play in the SEL has failed to translate on a consistent basis in the NHL and much of the season many saw as the coronation of a new number one has been overshadowed by a significant heart problem. Supraventricular tachycardia aside, Gustavsson's woes in the aftermath of his worrisome sidelining have seemingly stemmed from a crisis of confidence borne out of the inconsistent, Jekyll and Hyde defense, The Monster has had to deal with on a night by night basis, as well as the organizations early and now aborted attempts at blooding Vesa Toskala as trade bait.
***Be sure to check out Micheal Aldred's blog on the future of Tyler Bozak!*** The Toronto Maple Leafs have been in search of a number one goaltender since the National Hockey League's lockout, and after a four-year trial period---relinquishing a number of draft picks in the process--- they may have finally found their man.
On the heels of a disheartening loss against the last-place Carolina Hurricanes, it could now be concluded that the Toronto Maple Leafs will not be participating in the playoffs this season.
The stats were not in Toronto's favor. The Red Wings current streak was not in Toronto's favor. Chris Osgood's recent play was not in Toronto's favor. But the Leafs came out last night with such, dare I say it, truculence that fans gave them a standing ovation for their efforts, as well as the Leafs first win at home this season.
[more…]
The Leafs are set to visit the Anaheim Ducks as they continue to search for their first win of the season, and while one awkward stat is starting to creep up on them, it seems Gustavsson is ready, but possibly not completely game ready.
[more…]
UPDATE: Gustavsson is skating on the ice, and Ron Wilson has suggested he might be playing on Saturday despite just one practice. Also, rumors circulating Leafs could be after Frolov. Hockey Central at Noon suggests the possibility of Burke potentially sacrificing future in order to prevent Bruins from landing top 5 pick.
[more…]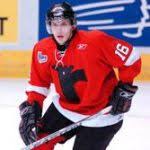 Hockey's Future, the renowned hockey prospects website, announced their Spring Organizational Rankings today and the Toronto Maple Leafs found themselves in the bottom tier of the league at #23. The ranking is based on an assessment of a team's farm system, which takes into account the amount of star power and depth that is likely to be produced. For a team in "rebuilding" mode, that's not a flattering number to see. [more…]