Â
Alex and I will once again continue the Young Guns prospect draft. We are drafting:
6 9 forwards, 4 defensemen, 1 goaltender
Total of 22 young players with a birthday year no later than 1986 (24 yrs old max)
Contract status and/or cap hit will not be taken into account
The draft will take place live in the comments section for all readers to follow, so be sure to come out and provide your two cents as it happens. More details after the jump.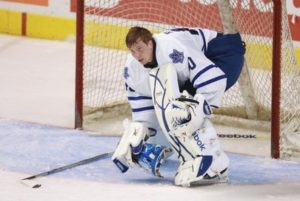 After the jump, Derek Harmsworth recaps last night's action in the NHL Rookie tournament, including locker room access, and looks ahead to today's action.
Finally, the moment a lot of us have been waiting for is upon us. Â The Toronto Maple Leafs announced Tuesday afternoon the full roster of players who will represent the blue and white at the 2010 rookie tournament, taking place this weekend in London, Ontario. Â The event runs from September 11th to the 14th at the John Labatt Centre, and remember Maple Leafs Hot Stove will have wall-to-wall coverage and unprecedented access.
A tap of the pads to Gus Katsaros for providing me the email.
First, a confession. Â Or, more like an obvious statement.
I love covering hockey. Â I love covering it, in all of its forms and states. Â I love writing game recaps and game previews. Â I love writing opinion pieces, and I love talking with those in the hockey business, to pick their brains whenever possible.
Also, one thing most know about me, is that I love the world of radio.
To me, there is nothing better than a day at work when you have the sports radio station on, hours upon hours of good debate, quality guests, and overall exciting programming.
In a perfect world, I'd love to do MLHS radio once a week (if not more) but I know all of us have pretty hectic schedules. Â In my time before I became a writer on this site, I spent most of my time toiling in the minor leagues of sports writing. Â I did a decent job of gaining interviews and access to players. Â I began to develop the practice of recording all interviews I did, for the purpose of later transcribing them. [more…]
The speculation after the Matt Lashoff trade a few days back was that it was a precursor to another move for the Leafs. Sure enough, Clarke MacArthur was announced as the newest Maple Leaf. At a cap friendly $1.1 million, MacArthur is being paid like a 3rd liner. Burke has other things in mind, recently stating to the Toronto Star that MacArthur will spend "significant time" on the top two lines this coming season. With that in mind, let's take a look at the kind of role we can expect from MacArthur. All stats not specifically referenced are borrowed from BehindtheNet.ca.
So it ends, so it continues.  Tomas Kaberle's tenure with the Toronto Maple Leafs did not indeed come to an end this summer.  In an earlier post, I had established a mostly forgotten pool asking the faithful readers to put on their brian burke mask and pretend to be a GM.  Yup, I sure am a trailblazer…suggesting people use the comments section of this site to postulate trade proposals.  Where do I come up with such creative ideas?
In a move that will inevitably add to the frustratingly indecipherable trade rumblings of the last few days, Eric Belanger indicated that he has essentially signed with a team, but is unable to divulge where he will be going. Â The article is French, but the English translation of the title ("Eric Belanger signs...but he won't say where!") says it all. Â The information we can gleam from this is that Belanger can not reveal his new team because they are "working on an exchange that will affect the salary cap". Â Of course, this begs the question: are the Leafs somehow involved?
A Comparison of the Toronto Maple Leafs' Defensemen
By: Byron Nelson (aka: DefenseWinsChampionships)
Bored at work on a Monday afternoon, I found myself wondering which current Maple Leafs' defenseman had the best season in 2009/2010. While the obvious pick would be a flashy, high point-producing player like Tomas Kaberle or Dion Phaneuf, it seemed as if a greater deal of investigation would be required to come up with an informative answer. Needless to say, investigate is exactly what I did. [more…]
A former Leaf is about to sign with Los Angeles, as Alexei Ponikarovsky has agreed to join the Kings (although a deal has not yet been signed).  This ends some speculation that "Poni" would have to take his games overseas, as this summers UFA market has seen a lot of viable NHL players still without a job.  Ponikarovsky was shipped to the Penguins by Toronto at this year's trade deadline, bringing back Luca Caputi in what was a very fair exchange of players.  However, Pittsburgh was expecting the Ukrainian to contribute at the level that saw him pour out 61 points for the Leafs in 2008-2009.  With a disappointing 9 points down the stretch for the recent champs and an awful showing in the playoffs, teams weren't exactly lining up to sign the 30-year old.
The book has (finally) closed on the Ilya Kovalchuk saga, as the Russian winger elected to remain with the New Jersey Devils. Â This ends weeks of mind-numbing speculation and rumour-rehashing, including a recent explosion of news in the hockey world that had all signs pointing towards Los Angeles. Â Thus, while there will be some surprise that Kovalchuk did not head down south, the overwhelming feeling amongst hockey fans today will be relief. Â A side-effect of Kovalchuk's prolonged decision-making has been the absolute cessation of any other hockey activity. Â The dam should finally burst as the remaining free agents and possible trades will now be explored further by the league's general managers.
In the wake of Sunday's blockbuster trades, one cannot help but wonder what's next for the Toronto Maple Leafs? Who's next to go? Who stays?
In any case, I think that it's pretty safe to say that this season is a write-off. We're not making any moves to make a run at the playoffs this season. So, let's look forward and take a look at what the Maple Leafs should look like next season. [more…]
Alec has asked me to add my two cents hereabouts from time to time, and I've agreed to do so with some trepidation.  For those of you who don't know me, I'm Junior, from Heroes in Rehab: the blog.  I don't want to step on the toes of any of the other contributors on the site, so I want to contribute something a little different from the others.  What follows is, at it turns out, a bit of a (lengthy, sorry about that) manifesto for what I hope to produce in the coming weeks for you all.  Some of it's even about hockey and the Leafs!  I don't really see my self as the Stuart Smalley of Leafs Nation, and the affirmations I offer will be far from daily, but...well, just read, won't you?
One lousy heart-stopping, craptastic win-that-almost-wasn't against the Thrashers Predators (update: oops, thanks Nights, I'm an idiot.  Stupid interchangeable southeastern teams!).  One crummy "W" from a five game road trip through the Southeast, the division where NHL hockey goes to die.  The Maple Leafs can't be happy with the way that worked out.  When the trip began ten days ago, it seemed obvious that the Leafs were expecting to get pasted by Ovechkin and the Caps (first clue: starting Vesa Toskala); after getting the better of Bruce Boudreau's squad a couple of times earlier this year, it was essentially a foregone conclusion that the Blue & White would have the least amount of fun in a DC amphitheatre since Abraham Lincoln, and that's exactly how it worked out.  But they had to be hoping for more out of matches against Dixie's puck-playing tomato cans: Nashville, Atlanta, Tampa and Florida.
Of course we know now that it didn't work out that way.  Much to the chagrin of the local populace, Ron Wilson, Brian Burke and the team have arrived home with only two points to declare at Customs.  As far as road trip expectations go, this is the equivalent of a "buddies road trip to Vegas" turning into "an insurance seminar in Peoria." [more…]