Abbotsford Heat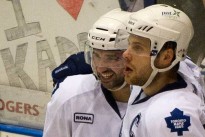 The Game in 6, Dallas Eakins interview and game summary after the jump. [more…]
The Toronto Marlies have a 3-1 lead in the Western Conference Semi-finals and look to deliver a "kill shot" to a team that had their number at the end of the regular season tonight in Abbotsford. The Marlies started the series well in game 1, but had a tough time beating Abbotsford's goaltender, Danny Taylor. Once the Marlies were able to crack Taylor, The Marlies have had a relatively easy time with the Heat in this series, easily picking apart a team that plays a very heavy trap system. Ben Scrivens has been the talk of this series and has played exceptionally well.
Line up notes
Jesse Blacker is back in the lineup, replacing Matt Lashoff. On forward, David Broll is out, Kelsey Wilson is replacing him. Joe Colborne is still out with a bad finger injury to his middle finger.
Abbotsford Heat's top regular season and playoff producers, Kris Kolanos, is back in after being a health scratch over 'internal issues'. That could be an interesting story to follow. [more…]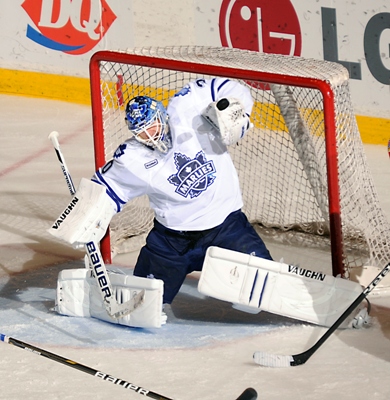 If you haven't been able to get to a game at Ricoh and don't have local Toronto Rogers TV, [more…]
Game 1 of the AHL Western Conference semifinals kicks off this evening with a well rested Toronto Marlies taking on the Abbotsford Heat. With the Marlies fresh off a sweep of division rivals, the Rochester Americans, they will need all the rest they can get. Should the series go beyond 5 games, both teams will have traveled across the country 3 times between Ontario and British Columbia. The series will be a 2-3-2 setup, with the Marlies having home ice advantage.
The Marlies went 2-1-1 against the Heat this season, but the Heat have won the team's two most recent meetings.
But Toronto Marlies head coach Dallas Eakins says he won't make too many changes to the team's gameplan. [more…]