Alex Tran
That Kadri kid is pretty good isn't he? Back when Brian Burke stepped up to the podium at the 2009 NHL Draft in Montreal, I imagine this was the player he was envisioning that night: slick, slippery and drenched in skill. That was an absolute clinic Kadri put on out there against the Lightning, displaying all sorts of offensive creativity, patience and ingenuity with the puck. This is a player who is gaining confidence and progressing by leaps and bounds - a player on the verge of making a lasting imprint in this star-starved market. But before we get too far of ourselves thinking ahead, why don't we take a step back and briefly peruse the timeline  that has led him to the "now" (and enjoy a few memorable quotes along the way).
[more…]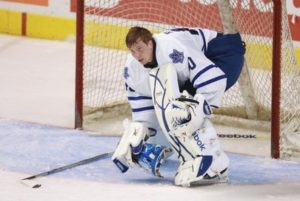 ,
Join us in the comments as Alex Tran and I go head-to-head carving up the Leafs youth.
(Note**) - for the record I will be making the picks for each of us as Alex is boozing busting loose at some bar. I asked him if he was drunk, he said no, but his picks will tell show us the truth.
We've partnered up with Pension Plan Puppets to bring to you a Player Review series, where we will be evaluating and grading the 2009-10 season for every Leaf who featured in a significant number of games for the Blue and White last season, with an eye towards 2010-11. Today we feature Garnet Exelby, profiled by Alex Tran.
The Summary: Exelby came to Toronto from Atlanta as part of the Pavel Kubina trade last summer, when Brian Burke needed to clear cap space for the free agency season. Essentially viewed as a salary dump with one year left on his contract, Exelby was given a shot to show Leafs' management that he could contribute to the team as a useful third pairing defender. But when you're ranked 6th on the defensive depth chart for the 2nd worst defensive team in the NHL, you can imagine expectations were already pretty low.
Dave Nonis on his new two-year contract extension with Toronto:
"I'm very lucky. I have more to say about our team than some GMs do," said Nonis of his unique position as Brian Burke's right hand man. "It's not a job that's comparable with other positions around the league."
"If you look at our roster now and compare it to 16 months ago, it's not only different, it's younger and better," he said. "But we've still got lots of work to do. The job is not done by a longshot. There are more pieces to add."
Cox reports that one of those pieces may be 25-year-old center Roman Cervenka of Czech club HC Slavia Praha, perhaps familiar to you from his international appearances alongside Jaromir Jagr on Czech Republic's Olympic side in February.
The Leafs continued their offseason stockpiling of goaltenders today, announcing that they have signed College free agent Ben Scrivens to a one year contract.
Scrivens compiled an impressive 21-9-4 record with Cornell last year, with a .934 save percentage. Â He was also a top ten Hobey Baker finalist.
According to TSN, It is expected that Scrivens will challenge for playing time on the Toronto Marlies.
More after the jump.
[more…]
This will be the first and only time these two teams will meet this season. Their last tilt took place on November 22, 2008 in Toronto where Chicago won the game 5-4 in overtime.
Note: Be sure to check out Alex Tran's quick hits of the day!
[more…]
UPDATE:
Some changes in information:
Hits newsstands September 8th, available at all Indigo Chapters stores in Canada as well as wherever magazines are sold in the greater Toronto area, including Walmart, grocery stores, drug stores, newsstands, etc. Apparently the the only magazine outlet in the GTA it isn't available at is the Toronto airport.
Should you wish to PREORDER, the SHIPPING FEE has been dropped from $11 to $5.00. Everyone who has already preordered will be credited the $6 difference.
Pre-ordering not only guarantees you a copy but will get you one a week in advance as preorders are shipped August 25th with a 2-5 day waiting period for arrival.
My apologies for the mistakes in my original information.
Debunking growing speculation that I've been kicking my feet up on the beaches of Cancun and ignoring all of you for the last month, myself alongside publishing company Maple Street Press are very pleased to introduce the inaugural Maple Leafs Annual. Before we get into the thick of it, I'd like to first of all thank MSP for offering me the opportunity to edit, and contribute to, this project. Although at times taxing, to see this Annual come together has been an extremely satisfying and mostly fun endeavour. I was put in the unique position of being able to unite the prominent and growing voices of the Leafs' blog-o-sphere into a consolidated project, and for that I'm very thankful. The final product is one that I think all of Leafs Nation can be proud of.
[more…]
Coming into this offseason, GM Brian Burke promised to drastically overhaul the Maple Leafs roster, and he knew that the primary asset at his disposal was cap space: lots and lots of it. After handing out long-term contracts to Orr,  Beauchemin, and Komisarek, he's got a little under $3 million left to play with in order to add an impact top six forward. In an attempt to minimize the amount of outgoing "talent" via trade, it's no secret that he's been trying to corner GM's of teams that are pressed right up against the cap. [more…]
Not a whole lot of news coming out of the NHL ranks these last few days, as the few free agents still available are playing the waiting game (kind of surprising to note that Alex Tanguay's still out there). As we try to make it through the last work day before the weekend, let's touch upon more trade speculation out of Chicago, Leaf prospect Mikhail Stefanovich, early playoff predictions and the Leafs' second annual Coca Cola Fans First Game. [more…]
First, it was the failed courtship of a talented, young Farjestads star forward named Fabian Brunnstrom, who went on to post an impressive 17 goal rookie campaign for the Dallas Stars. Then Toronto went back to the Swedish club and relieved them of one of their top stay at home defenders, bringing over Jonas Frogren to add some much needed grit and toughness. Early into this summer, Brian Burke turned his attention to Farjestads' young goalie phenom, Jonas Gustavsson, in a highly publicized negotiation process. As if that wasn't enough, the Leafs are rumored to now be attempting to steal away Farjestad's captain, forward Rickard Wallin as well. Their rising young forward, top defensive defenseman, top young goaltender and now their captain. Something tells me their fans aren't too thrilled with the Leafs.
The Toronto Maple Leafs' first draft under the watchul eye of Brian Burke displayed a stark change in the team's draft philosophy. The scouting staff searched for the type of players and attributes that would be able to fit into the mold of a tough, physical checking style of game that the Leafs hope to play several years down the road. As a result, we saw a lot more emphasis placed on size and toughness than skill and speed. Not surprisingly, all of Toronto's seven selections were from the North American ranks, four of them from the Ontario Hockey League and three from American hockey programs. [more…]