Angelo Esposito
Stick Work with Fab&Kats went AWOL last week, but is happy to announce this week's lineup of notable guests:
Headling our guests is TSN's Bob [more…]
Leafs prospect Nazem Kadri has successfully passed the first hurdle en route to a possible World Juniors roster spot, by earning an invite to the final selection camp earlier today. The roster currently encompasses 36 invitees in total, a number which Team Canada Head Coach Willie Desjardins will have to narrow down to 22 by the end of camp. [more…]
Part 3: 20 Years of Maple Misery
From Gord Stellick to Cliff Fletcher Version 2.0
It's been over 40 years since the Leafs won the cup and while others make fun of the fans for continuing to cheer, here is an overview of why you shouldn't make fun, but feel bad for them…
[more…]
When Team Canada went for the third straight Gold Medal, they were ruled "too small and lacked the necessary talent" to win. They proved them wrong. When Team Canada went for the fourth straight Gold Medal, they were ruled as "an underdog team with potential but not enough skill" to win. They proved them wrong. This year, Team Canada went for the fifth straight Gold Medal at the World Junior Hockey Championship. They were ruled as "too small" and we're slated to win nothing more than silver. Again, Canada proves them wrong. How can you rule out the Hockey Capital of the World?
[more…]
John Tavares ties the most goals ever by a player in the World Juniors with 12 but managed to do so in 1 less game than Jeff Carter, and 13 less games than Eric Lindros, and the tournament isn't even completed; although, after that performance, it really felt like the Gold medal game. It's hard to top that one.
[more…]

The school break for Kindergarteners to University students; holiday vacation time for the employed; Christmas celebrations; and finally, the start of the IIHF World Junior Hockey Championships. December never feels the same without it.
[more…]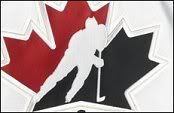 Team Quinn does exactly what the former NHL head coach always demanded from his team. An all out hard hitting war, and that's exactly what fans have gotten.
[more…]
The final roster for Hockey Canada's 2009 World Junior Hockey team was announced early this morning and here were the final 16 cuts:
Memorial Cup winning netminder Tyson Sexsmith and Jake Allen; defencemen Travis Hamoic - who won gold with the under-18 squad - Kevin Marshall, Patrick Wiercioch, Jarred Spurgeon, Brendan Smith and Tyler Cuma, who suffered a knee injury during camp; forwards Evander Kane, Riley Nash, Jamie Arniel, Nazem Kadri, Matt Duchene, Brayden Schenn, Taylor Hall and Matt Calvert.