Atlanta Thrashers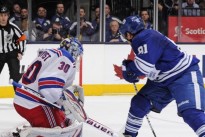 Post game Stats: Kessel now has his 14th of the season and with a hot streak incoming, should be able to hit 30 goals with 8 games left on the schedule. The Leafs' penalty kill continues its excellence with a man down as they killed off three of the Rangers' 20th ranked power-plays. And what a game it was after a first period that put my ADHD afflicted dog to sleep. [more…]
The speculation after the Matt Lashoff trade a few days back was that it was a precursor to another move for the Leafs. Sure enough, Clarke MacArthur was announced as the newest Maple Leaf. At a cap friendly $1.1 million, MacArthur is being paid like a 3rd liner. Burke has other things in mind, recently stating to the Toronto Star that MacArthur will spend "significant time" on the top two lines this coming season. With that in mind, let's take a look at the kind of role we can expect from MacArthur. All stats not specifically referenced are borrowed from BehindtheNet.ca.
According to LeafsTV, the Maple Leafs have signed unrestricted free agent forward Clark MacArthur to a 1-year contract worth $1.1 million. MacArthur has been a [more…]
The Atlanta Thrashers (Maxim Afinogenov) and Montreal Canadiens (Marc-Andre Bergeron) can attest to it: unrestricted free agent signings deep in the off-season could pay dividends.
Yes, those two particular players may not play for those respective teams anymore, but they both provided their clubs with offensive boosts (Afinogenov scored 61 points; Bergeron 13 goals and 34 points in 60 games). The point is that there are plenty of quality players available in free agency if the contract terms are reasonable. Luckily for the Toronto Maple Leafs, they have some breathing room, and options, to maneuver around the salary cap.
The NHLPA filed a grievance against the NHL for rejecting Ilya Kovalchuk and the New Jersey Devils' mammoth 17 year contract. After an arbitration hearing for both sides, today the ruling was in favor of the NHL, thus making Ilya Kovalchuk a free agent.
Excerpt from Michael Stephens Added
[more…]
Colby Armstrong's shiny new 3-year, $9,000,000 contract with the Maple Leafs has been the focus of much debate over the past month. Leaving the contract argument aside, it would be prudent to take a look at Armstrong's advanced statistics in 2009-10, so that we might better gauge our expectations for the coming season. Thanks to BehindtheNet.ca for these fantastic statistics.
Quality of Competition (QoC) and Quality of Teammates (QoT) were very important stats when analyzing the potential impact that Kris Versteeg could have for the Maple Leafs. In Versteeg's case, the QoT stat helped us understand his modest offensive numbers and how they might be improved in Toronto. However, they can tell a different story, namely that of defensive responsibility. Armstrong's QoT was an astoundingly low -0.119. These stats are calculated with advanced +/- statistics being compared between their linemates throughout the season. As before, it is important to note the linemates Armstrong had to work with (courtesy of DobberHockey.com):
According to ESPN's Pierre LeBrun, the Chicago Blackhawks have traded forwards Dustin Byfgulien and Ben Eager along with defenseman Brent Sopel and prospect Akim Aliu [more…]
The NHL Draft is less than 18 days away...can you feel the excitement? The Leafs won't be landing Taylor Hall, but it doesn't mean they can't grab another talented young forward from the Windsor Spitfires, today's feature player: Justin Shugg. Justin's a local kid from Niagara Falls who has been a key cog in for the most powerful offense in Canadian Major Junior, enjoying a 39 goal, 79 point breakout season in the Ontario Hockey League. Word around the scouting circles is that the Leafs are deeply interested in his services, as are the Atlanta Thrashers. [more…]
Whichever way you cut it, the Leafs endured a torrid season that no statistical tinkering can mend. Regardless, if there is one thing most opposing NHL fans can agree on it's the increasing need for an overhaul in the leagues points' structure and the farcical awarding of points in the overall standings.
Where once every game had two points at stake, either by means of two for the win or split after an OT tie, the inclusion of an extra point for teams losing in OT or, more prevalently, after the shootout, has spawned an lopsided points structure that favours teams and coaches who adopt an cautious approach toward the end of regulation time that is the polar opposite of what was originally intended. [more…]
When Brian Burke became the new general manager of the Toronto Maple Leafs in November of 2008, Leafs Nation embarked on a new journey. Â A new beginning. Â With Burke at the helm, the Leafs organization finally had a general manager who had credentials. Â Who had a winning pedigree. Â Who had the exact type of attitude the Toronto market needed.
A man who wouldn't take any nonsense from anyone, and a man who wasn't afraid to pull the trigger on a big move that may set the team up for the better in the long term, a characteristic it seemed so many Leafs GM's lacked in between the time of Fletcher's first run, and Burke being christened as the new head of the front office.
Finally, Leafs fans were able to legitimately talk about the "Big O", and they weren't faking it either.
As you are no doubt well aware, the NHL draft lottery will be held tonight in New York to determine the order of the 14 non-playoff teams heading into the June 25-26 draft in Los Angeles. You can catch coverage of the lottery at 8pm on TSN.
Update
And the winner is ... Edmonton. Â Leafs fans, prepare yourselves to endure "Kessel Trade" debates for the better part of the next decade.
Phil Kessel has but one point in five games against his former side while recurrent Leafs nightmare Tuukka Rask, league leader in goals against average and save percentage, stands 3-1-0 against the club that drafted him. This match-up tonight marks the final opportunity this season to get a little bit of that sour taste out of the fan base's collective mouth and perhaps symbolize that we, too, can make good trades.