Atlantic division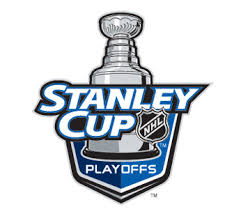 For a full team-by-team breakdown of all playoffs clubs, sure bets and sleeper picks for your playoff pools, visit the McKeen's Playoff Preview where the factors below have been outlined and pointed out in a team-by-team write up.
[more…]
13 goals, 3 tenders, countless defensive errors and ugly goals.  You almost felt sorry for Curtis Joseph after Jeff Carter cruised in for an easy breakaway goal and the camera panned to a thoroughly annoyed Ron Wilson.  The Leafs would attempt a comeback of sorts after going down by six goals, but even with the best efforts of Martin Biron, it all went for naught.
[more…]
With Files from Gil Brown
The current point system is most equitable for playoff races in January and individual franchise marketing, beginning as early as midseason.
Part of the logic behind Detroit Red Wing's GM Ken Holland's proposal, shot down in GM meetings in Naples, Florida in March, to change the season ending tie-breaking measures from Wins, to Regulation Wins is incentive for teams to get the job done in 60-minutes.
It's about motivation, from puck drop in October through to April. But the current point system has greater connotations for marketing games, ticket sales and shaping the playoff race, the biggest issues for owners.
[more…]
In a game that was just as much about the Flyers' failings as it was the Leafs' success, Toronto played an energetic 60 minutes.  Their bombardment of the Philadelphia net resulted in the exit of a shaky Martin Biron and an eventual total of 38 shots on goal.  To be brutally honest, the Flyers were awful on a night when they should have steamrolled a non-playoff team.  Ron Wilson and company must be happy that their team was the only one to show up tonight at the ACC.
[more…]
With Files from Gil Brown
Brian Burke doesn't take credit for the Maple Leafs drafting Luke Schenn 5th overall in 2008, but he's sure glad they did.  Under different circumstances, which we'll get into over a series of posts, Burke's Ducks would have been in the mix for the Saskatoon native at the 2008 draft.
Fortune shined on the blue and white allowing them to trade up to 5th overall pick.  There was an associated cost from their original seventh spot, but the end result is a potential future Maple Leafs captain of the Scott Stevens mold.
Unbelievable as it seems; perhaps, even laughable, Schenn, could have been wearing Ducks colors.
The story doesn't begin in Anaheim, however.  It starts in Edmonton.
During the post-game news conference following the shootout victory over the Rangers, coach Ron Wilson acknowledged that Jeff Finger and John Mitchell, injured during the game, are "99%" unlikely to play against the Islanders on Thursday.
To take their places, Anton Stralman and Tim Stapleton have been recalled.
Just six months ago many a grapevine was carrying rumor of NHL expansion while I lamented the integrity of a revenue bound salary cap. Even into the new season few had foreseen the sheer gravity of the global economic downturn and its impact on jobs, housing, businesses and every facet of life down to sport. Now as international markets stutter into a depression that many an analyst believe could change the face of modern capitalism forever, the NHL seems to remain steadfast in addressing it's minor successes as opposed to it's crippling and potentially devastating financial model.
The Maple Leafs are looking to rebound from probably their worst effort of the season with a win over the John Tavares front-runners inside the Nassau Coliseum tonight.
[more…]
The Maple Leafs look to extend their two game winning streak Tuesday night as they entertain the New Jersey Devils sans Martin Brodeur. Rookie Jeremy Williams looks to continue a streak of his own having scored in each of his first two appearances this season.