Boston Bruins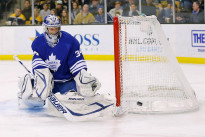 'Tis the season for Leafs trade rumours.
Now, I'm not about to dig up every rumour out there on the internet and go through it, but I do want to provide some thoughts on the team, the direction of the organization, and what's out there before the Leafs do (or don't) make any moves. [more…]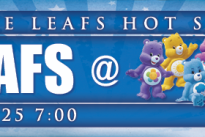 Toronto Maple Leafs (17-12-3) at Boston Bruins (17-9-6)
Last 10: Toronto 4-3-1; Boston 5-2-3
The Leafs did it. They beat the Boston Bruins. As a reward, they get to play them again two nights later.
It took a good mix of a lot of things going right to pull it off their first win over the Bruins in nearly two calendar years. To the Leafs' credit, they finished their hits, got involved in the game early, caused some turnovers and grabbed an early lead. They were patient and the amount of respect they had for their opponent, and their hunger to finally beat them, was apparent in the extra effort the likes of Kadri and Kessel among others were putting in defensively. [more…]
Tonight, Randy Carlyle will stick with James Reimer seemingly in an effort to give Reimer a chance at staking a number one's claim to the crease. Carlyle has stated his preference to have one emerge over the other rather than a 1A/1B rodeo situation, and allowing Reimer to try to play his way through a few shaky goals on Thursday seems to be the approach. Although it could be a simple case of Reimer giving the Bruins a stiffer test than Scrivens in the teams' two meetings so far this season (at least according to the scoresheet; 1-0 loss to Boston in early February with Reimer in net). [more…]
I took in what felt like a one-point win last night at the ACC. I of little faith was thinking "blow out" after the bang-bang goals in the first, but there seems to be something different about this team (visible in the Bruins game as well). They didn't slip silently into the night, and by the end of it you had the feeling Crosby, Malkin and co. snuck away, or limped away, with the extra point.
I'll ignore the awful first period from the Leafs - and how deeply underwater the first line was in its head to head with Crosby's line, or how off Reimer was for the first 20 - because in many ways the fight back was just that good. Reimer played one of his poorer periods of the season in period 1, but his overall performance matched the trajectory of the rest of the team - started slow, but without him the Leafs don't get the point. [more…]
More of the same in Boston. It was less embarrassing than last season's visits to the TD Garden, and there's a small victory in that, but the Leafs fall short nonetheless and drop to 15-10-0 with a 4-2 loss (one empty netter) to the Bruins. [more…]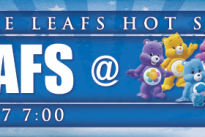 Tickets: Are you watching or going to tonight's Leafs game? RSVP here and be entered to win $200 in free tickets.
We're at the half way point and the Leafs are in great shape at 15-9-0, sitting in fifth in the East with 30 points. .500 hockey from here on in, while not the best way to enter the playoffs, gets the Leafs back to the post-season.
The Leafs recent form, on paper, has also been dandy, with three wins on the trot. On one hand you're happy with those final results, with the team finding different ways to win whether coming from behind or holding on for dear life, on the other you're concerned with the significant portions of game in which the Leafs have been outplayed, outpossessed and outchanced. [more…]
As much as I tried to just sit back and enjoy the game as a fan last night, I couldn't help but take a few notes (this might have been because we ended up sitting among the scouts). So without further ado, here are a few additional observations from last night's tournament opener to supplement Derek Harmsworth's excellent coverage.
No Leafs fan wants to be reminded of that most hated of Finnish goaltenders, Vesa Toskala. He was ushered into the organization as the next great goalie that would surely be the one to finally right this sinking ship. As any fan will tell you, this has been a disaster. In the nature of looking back at previous Leafs from yesteryear, I'm going to show you just how bad Toskala truly was. All stats not specifically referenced are borrowed from BehindtheNet.ca.
We'll start by taking a look at Toskala's season in 09-10. Toskala ended his tenure with Toronto with a record of 7-12-3, appearing in 26 games. His save percentage was a ghastly .874 and his GAA was a monumental 3.66. You don't need to follow hockey closely at all to glance at these stats and understand why they are so bad. This was a far cry from his stats in 07-08, where he had a .904 save percentage and a 2.74 GAA. Even his rather subpar 08-09 season was better, when he had an .891 save percentage and a 3.26 GAA. Could the Leafs being in second last place in the league have something to do with his decreased stats?
In part ten of his 12 burning questions series, Derek Harmsworth takes a look at the importance of a good early start, and if the Leafs can avoid another disastrous start.
There really isn't any other way to put it. Â No matter how you slice it, no matter how you try to spin it, or how you try to put a sugar coating on it, the cold hard fact still shines through.
The Toronto Maple Leafs were not a very good team last year.
Although their stats, and their general play, improved dramatically following the late January trades that saw them overturn nearly half their lineup, the fact remains that the 2009-2010 edition of the Maple Leafs fought inconsistency, as well as young inexperience that had them struggling most of the year.
But it could be argued that never were they worse, than in the first month of the season. [more…]
Hopes and expectations are that the conclusion of the 2010-11 season will see the Maple Leafs  return to playoff action for the first time since Jeremy Roenick ended the Leafs' 2004 post-season run in overtime of game six on May 4, 2004.
Many factors led to the Leafs' demise during the 2009-10 campaign, which ultimately meant the relinquishment of Tyler Seguin to the Boston Bruins. Inconsistency was the primary issue, as many key players were ineffective or downright useless---I'm looking at you, Vesa Toskala. The off-season acquisitions of Mike Komisarek and Francois Beauchemin had fans salivating at the potential of the team's defense corps. However, things took an unfortunate turn for the worse when both defensemen---it was later revealed Komisarek required season-ending surgery for a pre-existing shoulder injury--- struggled mightily out of the gate. Moreover, the combination of Toskala's horrendous goaltending and Luke Schenn feeling the early effects of the dreaded sophomore slump only added to the nightmarish start to the season. Leafs fans had to endure seven torturous games before the club posted its first win. To put it simply, the Leafs didn't even take a step forward before they crashed and burned.
In part six of his 12 burning questions series, Derek Harmsworth takes a look at Leafs sniper Phil Kessel, and whether he can hit the 40 goal plateau.
While January 31st 2010 will go down as a day Leafs fans will never forget as the Leafs acquired Dion Phaneuf, Keith Aulie, Fredrik Sjostrom, and J.S. Giguere in the span of about two hours, the date of September 18th, 2009 will also be remembered, yet highly debated, and much scrutinized.
It was on that day in September, following a preseason game against the Pittsburgh Penguins, that Maple Leafs GM Brian Burke got his man. Â After lots of rumours throughout the year, including one that involved Tomas Kaberle going the other way, Burke signed off on a deal with the Boston Bruins that landed him American born sniper Phil Kessel. [more…]
Toronto Maple Leafs General Manager, Brian Burke should have uttered one phrase to explain the situation, one simple little phrase to envelope the reasoning for the Phil Kessel trade;
"Our picks in our vision of where we ended up are overvalued in accordance to the available crop of prospects."
But in Toronto, to admit that in what's deemed as a 'rebuild' would have been a PR disaster.
Despite popular opinion, he wasn't wrong.
The world is no longer flat, it's round .. like a full-cirle