Brian Burke
The Toronto Maple Leafs are officially in the playoffs.
I hope that felt as good to read as it did to write.
It has been a long nine years since Jeremy Roenick broke Leafs Nations' hearts in 2004. The excitement that year was nuts. The Leafs traded for Hall of Fame defenseman Brian Leetch for a bunch of guys nobody knew existed and Toronto was buzzing with Stanley Cup hopes. I remember Leetch's first game against the Islanders; Leetch had three points and the TV broadcast had this stupid iso-camera on Leetch every time he touched the ice. (Ironic side note: the only player traded in the deal who became relevant in the NHL was drafted with the expended second round pick, a player by the name of Michael Sauer - you know, the guy who had his career ended by Phaneuf). [more…]
Earlier this week, the Leafs director of amateur scouting, Dave Morrison, took some time out of his schedule to talk to me.
We ended up speaking for nearly an hour and we went over so much that I decided to break it down by section and quote him where appropriate. So with that, please do not misconstrue anything said below and contact me for clarification if you are unsure about anything.
With all that out of the way, here are the highlights from our chat: [more…]
With the boats now foolishly burnt and the season 31 games old, the Toronto Maple Leafs sure look like they're reeling into form.  Since starting the season with a record of 15 – 9 – 0, the Leafs have gone 1 – 3 – 3 in the past seven games, collecting only five points in the standings and now sitting precariously in sixth place in the Eastern Conference.
Through the good graces of the Hockey gods and the incompetence of their direct competition (the Jets, Hurricanes and Rangers all lost in regulation last night), the Leafs are just barely keeping their head above water. [more…]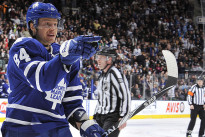 After a good comeback/confidence-building game against the Tampa Bay Lighting, the Toronto Maple Leafs  have perhaps created more questions than answers. The Penalty Kill keeps [more…]
That Kadri kid is pretty good isn't he? Back when Brian Burke stepped up to the podium at the 2009 NHL Draft in Montreal, I imagine this was the player he was envisioning that night: slick, slippery and drenched in skill. That was an absolute clinic Kadri put on out there against the Lightning, displaying all sorts of offensive creativity, patience and ingenuity with the puck. This is a player who is gaining confidence and progressing by leaps and bounds - a player on the verge of making a lasting imprint in this star-starved market. But before we get too far of ourselves thinking ahead, why don't we take a step back and briefly peruse the timeline  that has led him to the "now" (and enjoy a few memorable quotes along the way).
[more…]
Brian Burke held his final press conference as a member of the Toronto Maple Leafs' organization at noon Saturday, the hosting of which is a bizarre decision at best on the part of his still-employer and, at worst, a welcome dose of some universal justice to the fans who still aren't feeling all that great about this. I sort of eulogized his tenure on Thursday and thought that would be the end of it. Today's session, however, did offer a few salient points worth a brief follow-up. [more…]
Brian Burke provided his first interview since his shock firing on Wednesday, speaking to, of course, Damien Cox of The Star.
There's nothing particularly notable or revealing about the interview besides Burke being a beacon of class and grace in the wake of, whether you think it's justified or not, an ugly and untimely move.
[more…]
"He had a good dream. It's the only dream you can have - to come out number-one man. He fought it out here, and this is where I'm gonna win it for him."
- Happy Loman in Arthur Miller's Death of a Salesman
I can't say I am as distraught as some of the other writers on this site about Burke's departure (I'm not). I will say I'm shocked by the timing. Coming out of a Collective Bargaining Agreement that sees many of Burke's personal principles put into play league wide, and the amount of cap space he to work with this summer, it gave me the feeling that he would've been given the benefit of doubt running the team through the 2013-14 season. Guess not. Can I blame them? No. [more…]
When the NHL finally decided to have a season last week, many Leafs fans knew Brian Burke was on thin ice. There was a large segment of fans who believed Burke had only the upcoming shortened season to turn things around. Arguably, there was an even bigger group of fans who believed Burke had the current season, and then the offseason – where two of his former star players could be available - to turn the Leafs into a contender.
No one believed Burke wouldn't oversee the Leafs starting the season on January 19th. [more…]
This feels like writing a eulogy. I hate it.
You win. Let's start with that concession, up front. A straightforward address to every fan who wanted Burke gone. I anxiously and hopefully await confirmation that this still-vague, as-yet-in-progress, largely-similar-but-supposedly-slightly-new direction will provide the amazing results that you've been adamant it hypothetically will. [more…]
The 14th General Manager in Leafs history Dave Nonis sits down with Bob McCown and Damien Cox on Prime Time Sports. Afterwards McCown, Cox, Brian Lawton and Mike Smith have an interesting conversation on the firing of Brian Burke.
[more…]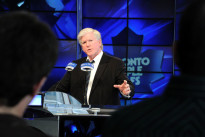 By Alec Brownscombe & Declan Kerin
Shocking, is the only way to put it.
No, this wasn't a move that was waiting in the wings. Last night, Dave Nonis and Brian Burke were taking in a Marlies game expecting to be the assistant GM and President and GM of the Toronto Maple Leafs, respectively, for the upcoming 2012-13 season. It came as a bombshell to absolutely everybody short of Tom Anselmi and some board members. If that's not raising red flags in your head already, it should be. [more…]