Brian Campbell
In case you haven't already heard, the Maple Leafs have broken off negotiations with prospect Bill Sweatt, acquired in the Versteeg trade from the Blackhawks. In a statement to the Toronto Sun, Burke explained that the club would rather keep a spot on the 50 contract limit open than continue discussions with Sweatt. As the talks continued to stall, the Leafs likely turned and upped their offer to Marcel Mueller, whose ELC contract value sits at $1.12 million. Sweatt is likely looking for a figure close to Blake Wheeler's $2.825 cap hit as a 4-year college free agent, which is a steep price to pay for a player with speed but limited offensive upside. [more…]
As much of the league takes a post-draft/free agent frenzy breather for the Canada Day and July 4th long weekend, I figure I'll spark some discussion with a bit of educated speculation. In talking to a source over the past week it's been suggested to me that Brian Burke has a  deal or two on the table for scoring help involving a Leaf asset he's struggling with the idea of parting with. It's said at this time Burke is hoping desperation on the part of the involved GMs reduces the price on a few top six trade options as the off-season continues. [more…]
Pension Plan Puppets' Chemmy has the details on why turn-coating for the Habs for the sake of returning the Cup to Canada is staggeringly ludicrous. Here's why, if you must cheer for someone (a better alternative: perusing Down Goes Brown's youtube Wendel collection for your spring-time fix), the Hawks are your safest bandwagon to board while maintaining some sense of pride and loyalty:
(Be sure to check out Bauman's pre-game article to get yourself ready for tonight's match-up!)
Dion Phaneuf, as of right now, is not a Norris trophy candidate.
Phaneuf took the National Hockey League by storm in his rookie season, producing 20 goals as a 20-year-old defenseman. He then had a successful sophomore campaign, breaking the 50-point barrier. In his third year, he had a 10-point increase and produced 60 points, gaining him consideration for the Norris trophy at only 22 years old.
There's already some discussion going on in the threads, but let's get all of that latest news out on the table:
- TSN's Darren Dreger recently tossed out his list of top 10 candidates to be moved at this year's trade deadline, with Matt Stajan and Alexei Ponikarovsky figuring in at the 4th and 5th spots respectively. He suggests that Stajan would perhaps yield "a decent prospect or drafts picks in return" and that Ponikarovsky would likely fetch a similar price. It's always hard to gauge the trade deadline market as values fluctuate on a yearly basis, but I've got Ponikarovsky pegged as an Antropov comparable (2nd round pick) as a big body and 60 point player while Stajan may compare favorably to Moore (2nd round pick starting price) as a depth centreman who can put up some points in the right situation. [more…]
My Team Canada Roster selections may seem a little vanilla, but they've been selected to play out various situations. Penalty killing, power play and balance on all the forward units took precedent over sheer offensive/defensive ability.
[more…]
It's been widely reported the past few days that Leafs' GM Brian Burke is working on at least two trades in an effort to provide a much-needed shakeup to the team.
Sifting through the vast amounts of information, misinformation, and fanboy longing, two teams keep getting repeated over and over ... enough to raise at least one speculative eyebrow.
Despite an encouraging 3-0-4 record in their past 7 games, the Maple Leafs continue to explore ways to improve their roster with an eye to both the current season and the future. Â  The following is a rundown of the latest rumours making their way around the campfire in reference to the boys in blue.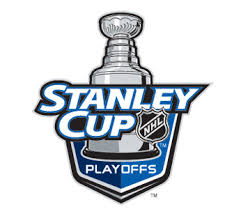 For a full team-by-team breakdown of all playoffs clubs, sure bets and sleeper picks for your playoff pools, visit the McKeen's Playoff Preview where the factors below have been outlined and pointed out in a team-by-team write up.
[more…]
First of six meetings between Leafs & Sabres this season
The Maple Leafs renew acquaintances with their northeast rival Buffalo Sabres at the HBSC tonight, a building home to both some chilling and some rosy Leaf memories, from the Bryan McCabe own goal and other monumental Leaf collapses to some pretty all-around satisfying Ws.
[more…]
Sorry for the delay guys.  We greatly appreciate the flood of great questions and comments, and are sorry to say we couldn't get to them all. We've all been pretty busy lately for a variety of reasons, so without any further ado, let's get started on the 1st ever Maple Leafs HotStove Hockey Panel Discussion.
Forming our panel for this session is Alec Brownscombe of Hockeybuzz and MLHS godfather, Gus Katsaros of Mckeen's and MLHS fantasy expert, and myself, Alex Tran, an MLHS blogger.