Bryan Murray
News broke last evening that Corey Perry had signed an 8 year deal totalling 69 million dollars to stay with the Anaheim Ducks and his newly signed centerman (also of 8 years), Ryan Getzlaf. [more…]
In part four of his 12 burning questions series, Derek Harmsworth examines whether Nazem Kadri will crack this lineup, and where he fits in with the team if and when he does.
In the summer of 2009, the Toronto Maple Leafs and their fans were still finding out first hand what type of brash, confident attitude Brian Burke was going to be bringing to the team. [more…]
Toronto Maple Leafs General Manager, Brian Burke should have uttered one phrase to explain the situation, one simple little phrase to envelope the reasoning for the Phil Kessel trade;
"Our picks in our vision of where we ended up are overvalued in accordance to the available crop of prospects."
But in Toronto, to admit that in what's deemed as a 'rebuild' would have been a PR disaster.
Despite popular opinion, he wasn't wrong.
The world is no longer flat, it's round .. like a full-cirle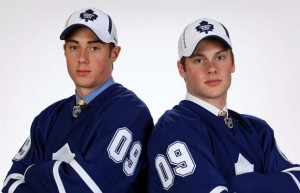 Brian Burke must have felt a lot like the eponymous Old Mother Hubbard when he first reached into the Leafs prospects cupboard. Of course, unlike the elderly dog-mistreating crone of the rhyme, Burke already knew what lay in stock prior to his arrival in Leafs country. In short: a few notable exceptions to a decade of draft property mismanagement.
Subsequently, the draft of 2009 looked to be a vital cornerstone in Brian Burke's rebuild. The first chance for the Leafs to restock in a new, finally directed era.
When Brian Burke became the new general manager of the Toronto Maple Leafs in November of 2008, Leafs Nation embarked on a new journey. Â A new beginning. Â With Burke at the helm, the Leafs organization finally had a general manager who had credentials. Â Who had a winning pedigree. Â Who had the exact type of attitude the Toronto market needed.
A man who wouldn't take any nonsense from anyone, and a man who wasn't afraid to pull the trigger on a big move that may set the team up for the better in the long term, a characteristic it seemed so many Leafs GM's lacked in between the time of Fletcher's first run, and Burke being christened as the new head of the front office.
Finally, Leafs fans were able to legitimately talk about the "Big O", and they weren't faking it either.
There is a lot going on  around the league these days.    Rumours about Kaberle and potential deals abound, a Kessel signing is no longer imminent, Heatley is still a Senator, and the NHL remains hot over the Hossa contract.  Oh, and did I mention the league still has a bounty on the head of Jim Balsillie?
All of these stories have been playing out for months now, and none appear headed toward a resolution prior to the start of the new season. Â  Â It is safe to assume that despite the vast quantity of reporting devoted to these stories throughout the offseason, each will continue to dominate the headlines on days where the box scores do not.
Five trades that almost happened.  Count 'em, five separate deals.   So close, yet so far away.
A very good source has it that Brian Burke saw five separate draft day deals fall apart in the last minute of each.   He worked his tail off on each, only to see the other teams back out in the end for a myriad of reasons.  Yet despite these disappointments,  Burke was still able to land a very good player in Nazim Kadri at #7, so the draft wasn't a total loss by any means.
This time of year pretty much everyone is doing a mock draft of some sort.  So, with one week to go until the Entry Draft, I figure it's time I chip in with my two cents on what may or may not unfold with the top 10 picks come June 26.
Note that the draft projections listed here are made based on current draft positions, and are not reflective of any possible trades involving the top 10 picks.
-Draft pick be damned, being 7-1-1 in our last nine against the Senators is truly heart-warming. P.S., it's time to point the finger where it needs to be pointed, Bryan Murray... trade Jason Spezza and shake things up in the old country club. Also trade Nick Foligno. To us. For Hollweg.
As the trade deadline looms ever closer, the Ottawa Senators have just completed the second major trade in the last few days, by sending San Jose's 2009 1st round pick acquired from Tampa in the Andrej Mezaros trade along with center Dean McAmmond to the New York Islanders in exchange for center Mike Comrie and defenseman Chris Campoli. [more…]
That's what I think of when I hear the rumors and buzz going on about Brian Burke potentially being the next Leafs GM. Everyone associates him with the ability to assemble a championship calibre core and then win it all like he did with the Ducks in '07. The reality of the situation is that he is NOT the right man for the Toronto Maple Leafs job, and I'm going to explain why I think so. [more…]